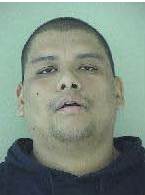 27-year-old Zeferino Alaniz Balderas
BENTON COUNTY, WA - Local law enforcement officers are looking for a 27-year-old man wanted on a felony warrant in Benton County.

Zeferino Alaniz Balderas is 5'11" and weighs about 250 pounds. He has brown hair and brown eyes.

Balderas is wanted for a Benton County felony warrant for violating the conditions of his release. He was originally charged with tampering with a witness/criminal conspiracy.

Balderas was last known to live on North 5th Avenue in Grandview.

If you have any information, contact the Tri-Cities Crime Stoppers at 586-TIPS or 800-222-TIPS. You can also reach Crime Stoppers on the web at www.tricitiescrimestoppers.org.

All calls to Crime Stoppers are confidential.