GODZILLA: King Of The Monsters, Box Office, And Spokane?
Posted:
Updated: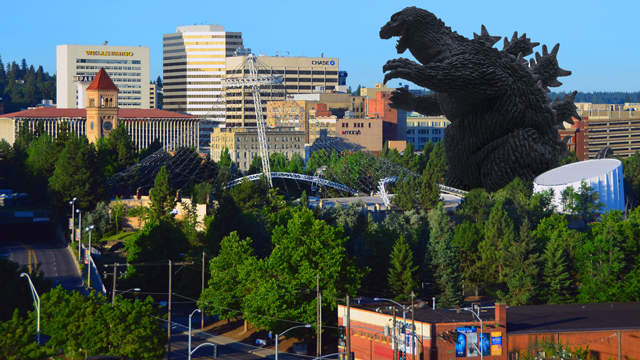 Obviously this picture is not real. We would've reported this had it actually happened. However, the Spokane portion of it was shot by Reed Schmitt.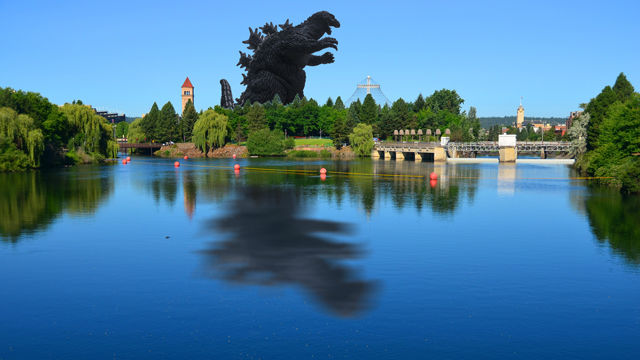 Godzilla taking a stroll through Riverfront Park. Again, this didn't really happen. We would've sent out a breaking news email alert that you can sign up for right here on khq.com, if it had actually taken place.
Most Popular Stories

Most Popular Stories

More>>

COEUR D'ALENE, Idaho - Coeur d'Alene Police are investigating a reported school shooting threat at Coeur d'Alene High School. A spokesperson for the district said that the threat was written on a napkin and shared on Snapchat. It says: "CHS school shooting 10-19-18. Be ready." Police tell us that while they are still investigating whether the threat is credible, they do not believe the CHS that the note mentions is referring to Coeur d'Alene High School.

>>

COEUR D'ALENE, Idaho - Coeur d'Alene Police are investigating a reported school shooting threat at Coeur d'Alene High School. A spokesperson for the district said that the threat was written on a napkin and shared on Snapchat. It says: "CHS school shooting 10-19-18. Be ready." Police tell us that while they are still investigating whether the threat is credible, they do not believe the CHS that the note mentions is referring to Coeur d'Alene High School.

>>

Ramsey Elementary and Coeur d' Alene Police station have been evacuated after an explosive device was brought to the station for disposal. Police have called in a bomb squad to dispose of the device and evacuated the buildings as a precaution. Coeur d' Alene School District released the following statement regarding the situation:

>>

Ramsey Elementary and Coeur d' Alene Police station have been evacuated after an explosive device was brought to the station for disposal. Police have called in a bomb squad to dispose of the device and evacuated the buildings as a precaution. Coeur d' Alene School District released the following statement regarding the situation:

>>

SPOKANE, Wash. - After struggling with medical issues recently, retired Spokane County Sheriff's Office K9 Laslo passed away early Friday morning. "It is with the most heavy heart that I tell you K9 Laslo passed away this morning at 0115hrs," a post on Laslo's Facebook page said Friday morning. "There will be a piece of my heart always missing. To the best partner I ever had, R.I.P."

>>

SPOKANE, Wash. - After struggling with medical issues recently, retired Spokane County Sheriff's Office K9 Laslo passed away early Friday morning. "It is with the most heavy heart that I tell you K9 Laslo passed away this morning at 0115hrs," a post on Laslo's Facebook page said Friday morning. "There will be a piece of my heart always missing. To the best partner I ever had, R.I.P."

>>

LIBERTY LAKE, Wash. - Liberty Lake Police are searching for a suspect in a fatal hit and run crash that happened Thursday morning and are asking the public for help. At around 8:15 a.m., Liberty Lake Police and Spokane Valley Fire Department responded to Country Vista Drive and East Mission Avenue for a reported hit and run crash involving a pedestrian.

>>

LIBERTY LAKE, Wash. - Liberty Lake Police are searching for a suspect in a fatal hit and run crash that happened Thursday morning and are asking the public for help. At around 8:15 a.m., Liberty Lake Police and Spokane Valley Fire Department responded to Country Vista Drive and East Mission Avenue for a reported hit and run crash involving a pedestrian.

>>

ELLENSBURG, Wash. (AP) - Two Central Washington University students have died in what police say was an accidental shooting followed by a suicide. Ellensburg Police spokesman Capt. Dan Hansberry said Friday that officers responded at about 8:50 p.m. Thursday to a report of two gunshot victims at a house in Ellensburg.

>>

ELLENSBURG, Wash. (AP) - Two Central Washington University students have died in what police say was an accidental shooting followed by a suicide. Ellensburg Police spokesman Capt. Dan Hansberry said Friday that officers responded at about 8:50 p.m. Thursday to a report of two gunshot victims at a house in Ellensburg.

>>

SPRING, Texas - Authorities in Texas say a woman who left a toddler alone on a stranger's doorstep could face charges of felony child endangerment.

>>

SPRING, Texas - Authorities in Texas say a woman who left a toddler alone on a stranger's doorstep could face charges of felony child endangerment.

>>
Top Stories from KHQ

Home

More>>

SPOKANE, Wash. - Spokane Police have successfully located and arrested a suspect from a hit-and-run incident on the South Hill Saturday morning. After crashing a Corvette into an SUV near 53rd and Regal, 36-year-old Kristopher Riley fled the scene on foot and left his passenger inside the vehicle. Police say the passenger of the Corvette and driver of the SUV were hospitalized with serious injuries.

>>

SPOKANE, Wash. - Spokane Police have successfully located and arrested a suspect from a hit-and-run incident on the South Hill Saturday morning. After crashing a Corvette into an SUV near 53rd and Regal, 36-year-old Kristopher Riley fled the scene on foot and left his passenger inside the vehicle. Police say the passenger of the Corvette and driver of the SUV were hospitalized with serious injuries.

>>

Spokane, Wash. Deputy Tim Jones is not just a Spokane Sheriff's Deputy to some he is a loving father, but to one girl 7-year-old Avayah Deputy Jones is her hero "Sometimes in our profession we have a moment that might not be related to any of our work. This was a moment that I just felt compelled," said Deputy Tim Jones of the Spokane County Sheriff's Department. Deputy Jones was at Valley Hospital while on duty when he heard screaming coming from one of the rooms in the...

>>

Spokane, Wash. Deputy Tim Jones is not just a Spokane Sheriff's Deputy to some he is a loving father, but to one girl 7-year-old Avayah Deputy Jones is her hero "Sometimes in our profession we have a moment that might not be related to any of our work. This was a moment that I just felt compelled," said Deputy Tim Jones of the Spokane County Sheriff's Department. Deputy Jones was at Valley Hospital while on duty when he heard screaming coming from one of the rooms in the...

>>

Otis Orchards, Wash. Dozens of people came to Ponti Veterinary Hospital in Otis Orchards to pay their final respects to Deputy K-9 Laslo. Some brought the American flag and the thin blue line flag which flapped in the wind. Deputy vehicles lined the side of the building ready to give Laslo one last send off. Laslo had a stellar career in law enforcement the former deputy apprehended nearly 500 suspects in the four years he served on the force. On the night of Laslo's crime-fighting...

>>

Otis Orchards, Wash. Dozens of people came to Ponti Veterinary Hospital in Otis Orchards to pay their final respects to Deputy K-9 Laslo. Some brought the American flag and the thin blue line flag which flapped in the wind. Deputy vehicles lined the side of the building ready to give Laslo one last send off. Laslo had a stellar career in law enforcement the former deputy apprehended nearly 500 suspects in the four years he served on the force. On the night of Laslo's crime-fighting...

>>

A Georgia police officer has been killed after being shot while responding to a suspicious vehicle parked near a middle school. News outlets report multiple law enforcement agencies are searching for suspects following the Saturday afternoon shooting near Snellville. Police say Gwinnett County police officer Antwan Toney died at a hospital. The 30-year-old had been with the department for nearly three years.

>>

A Georgia police officer has been killed after being shot while responding to a suspicious vehicle parked near a middle school. News outlets report multiple law enforcement agencies are searching for suspects following the Saturday afternoon shooting near Snellville. Police say Gwinnett County police officer Antwan Toney died at a hospital. The 30-year-old had been with the department for nearly three years.

>>

Police in South Florida say a suspect fired at an officer, led authorities on a lengthy chase on Florida's Turnpike and then suffered an apparent self-inflicted gunshot wound. Miami-Dade County Police Detective Alvaro Zabaleta tells The Miami Herald that the suspect began to fire Saturday at an officer who tried to approach the driver after noticing a crash.

>>

Police in South Florida say a suspect fired at an officer, led authorities on a lengthy chase on Florida's Turnpike and then suffered an apparent self-inflicted gunshot wound. Miami-Dade County Police Detective Alvaro Zabaleta tells The Miami Herald that the suspect began to fire Saturday at an officer who tried to approach the driver after noticing a crash.

>>

Spokane Valley Police detectives are asking for help to identify some unique items recovered during an investigation. The items are potentially liked to several storage unit burglaries last December on the South Hill. A suspect pawned the items, but a search of reported stolen property to identify the owner(s) has been unsuccessful. It's not known if the items were part of the South Hill burglaries or were stolen at a different time and place.

>>

Spokane Valley Police detectives are asking for help to identify some unique items recovered during an investigation. The items are potentially liked to several storage unit burglaries last December on the South Hill. A suspect pawned the items, but a search of reported stolen property to identify the owner(s) has been unsuccessful. It's not known if the items were part of the South Hill burglaries or were stolen at a different time and place.

>>

BOISE, Idaho (AP) - Idaho's unemployment rate in September dropped to 2.7 percent. The Idaho Department of Labor on Friday says it's the 13th consecutive month Idaho's unemployment rate has been at or below 3 percent. The agency says the number of people in the state age 16 or older working or looking for work is at 853,076.

>>

BOISE, Idaho (AP) - Idaho's unemployment rate in September dropped to 2.7 percent. The Idaho Department of Labor on Friday says it's the 13th consecutive month Idaho's unemployment rate has been at or below 3 percent. The agency says the number of people in the state age 16 or older working or looking for work is at 853,076.

>>

SPOKANE, Wash. - Democratic U.S. Sen. Maria Cantwell and her Republican challenger Susan Hutchison will square off for a second time Saturday at Spokane Community College in Spokane. Cantwell is seeking her fourth term in office, while Hutchison served six years as the Washington state Republican Party Chair before stepping down earlier this year.

>>

SPOKANE, Wash. - Democratic U.S. Sen. Maria Cantwell and her Republican challenger Susan Hutchison will square off for a second time Saturday at Spokane Community College in Spokane. Cantwell is seeking her fourth term in office, while Hutchison served six years as the Washington state Republican Party Chair before stepping down earlier this year.

>>

ELKO, Nevada (AP) - President Donald Trump says he hopes to select a U.N. ambassador to replace Nikki Haley very soon and is interviewing 5 candidates for the job. Trump said Saturday after a campaign rally in Nevada: "We'll have somebody great ... we're going to pick somebody very quickly."

>>

ELKO, Nevada (AP) - President Donald Trump says he hopes to select a U.N. ambassador to replace Nikki Haley very soon and is interviewing 5 candidates for the job. Trump said Saturday after a campaign rally in Nevada: "We'll have somebody great ... we're going to pick somebody very quickly."

>>

Hurricane Michael delivered quite a punch when it hit the Florida teenagers who make up the Mosley High Dolphins football team. But just 10 days later, the Dolphins were ready to punch back. The local high school played against Pensacola on Saturday afternoon in downtown Panama City, providing a little normalcy after a storm that has forever altered their lives.

>>

Hurricane Michael delivered quite a punch when it hit the Florida teenagers who make up the Mosley High Dolphins football team. But just 10 days later, the Dolphins were ready to punch back. The local high school played against Pensacola on Saturday afternoon in downtown Panama City, providing a little normalcy after a storm that has forever altered their lives.

>>