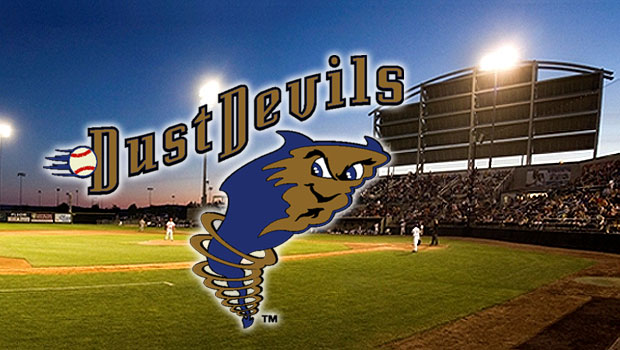 PASCO, WA - The Tri-City Dust Devils tried to erase a three-run deficit in the late innings, but they came up short and fell 8-7 to the Eugene Emeralds at Gesa Stadium Tuesday night.

Tri-City (5-7) was down 8-5 going into the seventh inning. They got two runs in the seventh, but they couldn't muster another in the loss.

Dust Devils starter Grahamm Wiest went 4 1/3 innings and allowed three runs on eight hits. He struck out three Emeralds before leaving the game with a 5-3 lead.

Relief pitcher Dylan Thompson (1-1) took the loss for Tri-City. Thompson pitched 1 1/3 innings in relief of Wiest, allowing five runs on four hits and a pair of walks.

Huascar Brazoban gave up a hit and another runner reached base on an error before he got three straight strikeouts in the ninth inning for the Dust Devils.

The Eugene (5-6) offense took off in the fifth and six innings, scoring three runs in each inning, led by a three-run home run by third baseman Chase Jensen in the sixth.

Jimmy Brasoban (1-1) picked up the win for Eugene. He allowed five runs on eight hits in five innings of work. He struck out six hitters and gave up just one walk on the night.