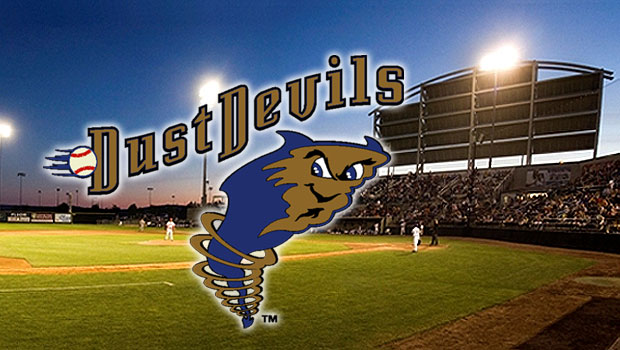 PASCO, WA - The Tri-City Dust Devils scattered six hits, but they weren't able to put a run on the board as they lost 9-0 to the Vancouver Canadians Sunday night at Gesa Stadium. Vancouver pitchers struck out 8 Tri-City batters on their way to the shutout win.
Dust Devils (14-23) first baseman Sean Dwyer went 2-for-3 with a double and a walk. Catcher Robbie Perkins was also 2-for-3 at the plate. Tri-City starter Ryan Castellani pitched his longest outing of the season, going 3 2/3 innings and allowing three runs in the loss. Castellani gave up four hits and had three strikeouts on the night.
Starting pitcher Chase Mallard (2-0) went 5 1/3 shutout innings for the Canadians. He allowed five hits and struck out five Tri-City hitters. Mallard was credited with the win.
Vancouver first baseman Ryan McBroom was 3-for-4 with a double, a home run, and four RBIs. Designated hitter Max Pentecost went 1-for-3 with a pair of RBIs and scored two runs in the game.
The Dust Devils and Canadians will finish up their three game series Monday morning at 11:15am at Gesa Stadium. Righty Blake Shouse will get the start for Tri-City. Shouse will square off with right-hander Miguel Castro for Vancouver. Monday's game will be the last game of the first half of the season for the Dust Devils.