Dust Devils Knock Off Indians 8-7 in 14 Innings
Posted:
Updated: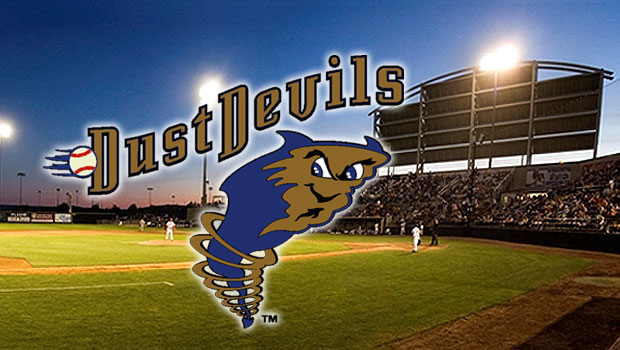 PASCO, WA - Second baseman Miguel Dilone hit a two-run double in the bottom of the 14th inning to give the Tri-City Dust Devils an 8-7 win over the Spokane Indians Wednesday night at Gesa Stadium. The win propels the Dust Devils (10-10 2nd Half, 24-34 Overall) into sole possession of first place in the Northwest League's North Division.

First baseman Sean Dwyer had a huge night, reaching base six times for the Dust Devils. Dwyer went 2-for-3 and had a home run, a double, four walks and three RBIs. Dwyer is riding an eight-game hit streak. He is hitting .464 in the streak with 10 RBIs. Tri-City starter Ryan Castellani pitched five innings. He allowed five hits and three runs, two earned. Castellani walked two and struck out two while getting a no decision for the night. Huascar Brazoban (1-0) got the win for the Dust Devils. Brazoban pitched 2/3 of an inning, without allowing a hit.

Indians (8-12 2nd Half, 33-25 Overall) starter Andrew Barnett pitched five innings and, like Castellani, allowed five hits and three runs, two earned. Barnett struck out three and left the game with a no decision. Reliever Ryan Ledbetter (1-2) took the loss for Spokane. Ledbetter pitched 2 1/3 innings, allowing four hits, two runs and three walks with two strikeouts on the night.

The Dust Devils and Indians will play the middle game of this three game set Thursday night at Gesa Stadium. Right-hander Blake Shouse (1-6) will get the start for Tri-City. Spokane will send righty Nick Gardewine (6-3) to the hill.