PHOTOS: Grizzly bears use tools? WSU study under way
Posted:
Updated: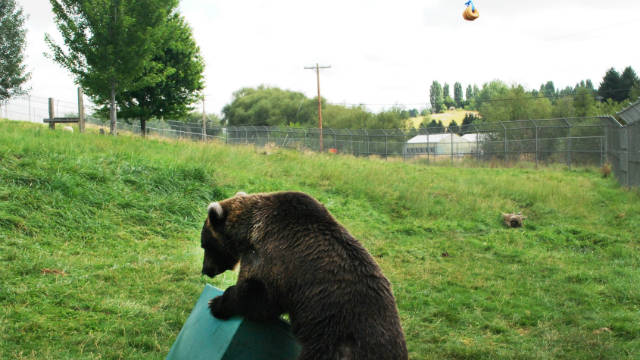 Star of the study: Using her paws, 9-year-old Kio flips a plastic box to position it under the hanging donuts as a footstool. She has started selecting the box over the tree stump, presumably because it is easier to manipulate. (Photos by Linda Weiford, W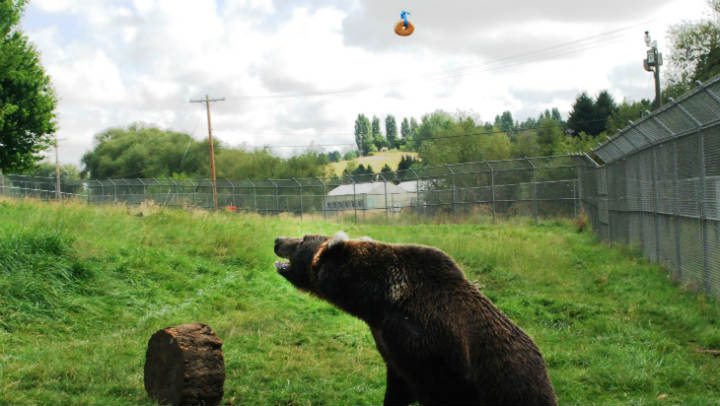 "Kio box 2 print.jpg" - 3-year-old Roan has just figured out that he can move the stump in order to stand upon it.
Most Popular Stories

Most Popular Stories

More>>

SPOKANE, Wash. - A Spokane security guard never thought he'd have to use a tourniquet, but he still carries it with him just about everywhere he goes. "You never know when you're going to come across something where you could be the guy to help because you know what to do," said John Roach. " I wanted to help the guy and I was able to." Roach was driving on Market Street in north Spokane when he came across the aftermath of a hit-and-run.

>>

SPOKANE, Wash. - A Spokane security guard never thought he'd have to use a tourniquet, but he still carries it with him just about everywhere he goes. "You never know when you're going to come across something where you could be the guy to help because you know what to do," said John Roach. " I wanted to help the guy and I was able to." Roach was driving on Market Street in north Spokane when he came across the aftermath of a hit-and-run.

>>

WASHINGTON - Trains that carry oil and other flammable materials near communities won't have to install electronically controlled braking systems to reduce risk of derailments and explosions after the Trump administration reversed an Obama-era safety rule on Monday. In a post on its website, the Pipeline and Hazardous Materials Safety Administration argued that the cost of installing the new brakes outweighs the benefit.

>>

WASHINGTON - Trains that carry oil and other flammable materials near communities won't have to install electronically controlled braking systems to reduce risk of derailments and explosions after the Trump administration reversed an Obama-era safety rule on Monday. In a post on its website, the Pipeline and Hazardous Materials Safety Administration argued that the cost of installing the new brakes outweighs the benefit.

>>

A Florida history teacher says she was fired for refusing to give half-credit to students who didn't turn in their assignments. Diane Tirado says her school along Florida's Treasure Coast had a "no zero" policy, requiring teachers to give students no less than a 50-percent grade on assignments.

>>

A Florida history teacher says she was fired for refusing to give half-credit to students who didn't turn in their assignments. Diane Tirado says her school along Florida's Treasure Coast had a "no zero" policy, requiring teachers to give students no less than a 50-percent grade on assignments.

>>

SPOKANE VALLEY, Wash. - A Spokane Valley neighborhood has banded together to send this message: Slow down. Neighbors say speeding is a serious problem on 28th Ave. between Dishman Mica Rd. and University Rd. "I ask myself where do they get their licenses?" said Carol Gibson. "Out of Cracker Jack boxes? Off the internet? It makes you wonder." Gibson and other neighbors say they've tried calling the police

>>

SPOKANE VALLEY, Wash. - A Spokane Valley neighborhood has banded together to send this message: Slow down. Neighbors say speeding is a serious problem on 28th Ave. between Dishman Mica Rd. and University Rd. "I ask myself where do they get their licenses?" said Carol Gibson. "Out of Cracker Jack boxes? Off the internet? It makes you wonder." Gibson and other neighbors say they've tried calling the police

>>

SEATTLE (AP) - Officials say a man who set fire to a Seattle warehouse killing four firefighters in 1995 is scheduled to be released from prison Thursday. KCPQ-TV reports Martin Pang will leave the Washington State Penitentiary in Walla Walla after serving about 20 years in his 35-year sentence.

>>

SEATTLE (AP) - Officials say a man who set fire to a Seattle warehouse killing four firefighters in 1995 is scheduled to be released from prison Thursday. KCPQ-TV reports Martin Pang will leave the Washington State Penitentiary in Walla Walla after serving about 20 years in his 35-year sentence.

>>
Top Stories from KHQ

Home

More>>

An ongoing, series of issues at Hays Park is making several residents worried about their safety. "I've been threatened to be shot, to be stabbed, to have my head crushed in, to have my dogs head crushed in," Jon Nolend, a resident living by the park, said. Nolend and his wife, Quinn Rapp, said they're both witnesses and victims to daily disturbances involving narcotics, property crime and harassment. Some instances have resulted in physical confrontations, according to No...

>>

An ongoing, series of issues at Hays Park is making several residents worried about their safety. "I've been threatened to be shot, to be stabbed, to have my head crushed in, to have my dogs head crushed in," Jon Nolend, a resident living by the park, said. Nolend and his wife, Quinn Rapp, said they're both witnesses and victims to daily disturbances involving narcotics, property crime and harassment. Some instances have resulted in physical confrontations, according to No...

>>

SPOKANE, Wash. - A Spokane security guard never thought he'd have to use a tourniquet, but he still carries it with him just about everywhere he goes. "You never know when you're going to come across something where you could be the guy to help because you know what to do," said John Roach. " I wanted to help the guy and I was able to." Roach was driving on Market Street in north Spokane when he came across the aftermath of a hit-and-run.

>>

SPOKANE, Wash. - A Spokane security guard never thought he'd have to use a tourniquet, but he still carries it with him just about everywhere he goes. "You never know when you're going to come across something where you could be the guy to help because you know what to do," said John Roach. " I wanted to help the guy and I was able to." Roach was driving on Market Street in north Spokane when he came across the aftermath of a hit-and-run.

>>

SEATTLE (AP) - Officials say a man who set fire to a Seattle warehouse killing four firefighters in 1995 is scheduled to be released from prison Thursday. KCPQ-TV reports Martin Pang will leave the Washington State Penitentiary in Walla Walla after serving about 20 years in his 35-year sentence.

>>

SEATTLE (AP) - Officials say a man who set fire to a Seattle warehouse killing four firefighters in 1995 is scheduled to be released from prison Thursday. KCPQ-TV reports Martin Pang will leave the Washington State Penitentiary in Walla Walla after serving about 20 years in his 35-year sentence.

>>

Here are the extended versions of the KHQ Local News 11 at 11 Mad Minute stories from Tuesday, September 25th.

>>

Here are the extended versions of the KHQ Local News 11 at 11 Mad Minute stories from Tuesday, September 25th.

>>

FORT LAUDERDALE, Fla. (AP) - Parkland school shooting suspect Nikolas Cruz is headed back to a Florida courtroom for a status hearing on his death penalty case. Officials say a number of issues could come up in Wednesday's hearing, including the release of evidence and witness interviews by prosecutors to Cruz's defense lawyers.

>>

FORT LAUDERDALE, Fla. (AP) - Parkland school shooting suspect Nikolas Cruz is headed back to a Florida courtroom for a status hearing on his death penalty case. Officials say a number of issues could come up in Wednesday's hearing, including the release of evidence and witness interviews by prosecutors to Cruz's defense lawyers.

>>

WASHINGTON (AP) - President Donald Trump denounced Democratic efforts to block Brett Kavanaugh's Supreme Court confirmation as a cynical "con job" on Tuesday and launched a dismissive attack on a second woman accusing the nominee of sexual misconduct in the 1980s, asserting she "has nothing."

>>

WASHINGTON (AP) - President Donald Trump denounced Democratic efforts to block Brett Kavanaugh's Supreme Court confirmation as a cynical "con job" on Tuesday and launched a dismissive attack on a second woman accusing the nominee of sexual misconduct in the 1980s, asserting she "has nothing."

>>

SPOKANE, Wash. - It may be hard to believe, but the leading cause of death in Spokane is falling. More deadly than drug overdoses and car accidents. But one assisted living home is helping their seniors avoid bad falls. Everyone has seen the commercials that show an elderly person yelling for help after a fall.

>>

SPOKANE, Wash. - It may be hard to believe, but the leading cause of death in Spokane is falling. More deadly than drug overdoses and car accidents. But one assisted living home is helping their seniors avoid bad falls. Everyone has seen the commercials that show an elderly person yelling for help after a fall.

>>

SPOKANE VALLEY, Wash. - A Spokane Valley neighborhood has banded together to send this message: Slow down. Neighbors say speeding is a serious problem on 28th Ave. between Dishman Mica Rd. and University Rd. "I ask myself where do they get their licenses?" said Carol Gibson. "Out of Cracker Jack boxes? Off the internet? It makes you wonder." Gibson and other neighbors say they've tried calling the police

>>

SPOKANE VALLEY, Wash. - A Spokane Valley neighborhood has banded together to send this message: Slow down. Neighbors say speeding is a serious problem on 28th Ave. between Dishman Mica Rd. and University Rd. "I ask myself where do they get their licenses?" said Carol Gibson. "Out of Cracker Jack boxes? Off the internet? It makes you wonder." Gibson and other neighbors say they've tried calling the police

>>

SPOKANE, Wash. - A Spokane woman is facing charges after she was arrested for starting a fire inside her downtown apartment complex. That woman, 39-year-old Lisa Milliken, was arrested for arson after officers say she lit her mattress on fire. Neighbors say they'd called police about her, but there really wasn't anything officers could do until it was too late. She is now being held on a $50,000 bond.

>>

SPOKANE, Wash. - A Spokane woman is facing charges after she was arrested for starting a fire inside her downtown apartment complex. That woman, 39-year-old Lisa Milliken, was arrested for arson after officers say she lit her mattress on fire. Neighbors say they'd called police about her, but there really wasn't anything officers could do until it was too late. She is now being held on a $50,000 bond.

>>

KOOTENAI COUNTY, Idaho - "911 what's the location of your emergency?" It was the end of August around 1:30 in the afternoon. A 911 call took Talina Moyer by surprise. "I did have to get up after that call and step outside and get a couple breaths in," Moyer said. A woman had drove into Lake Coeur d'Alene off Highway 97 near Harrison.

>>

KOOTENAI COUNTY, Idaho - "911 what's the location of your emergency?" It was the end of August around 1:30 in the afternoon. A 911 call took Talina Moyer by surprise. "I did have to get up after that call and step outside and get a couple breaths in," Moyer said. A woman had drove into Lake Coeur d'Alene off Highway 97 near Harrison.

>>