Dust Devils Fall to Everett, Eliminated from Post-Season
Posted:
Updated: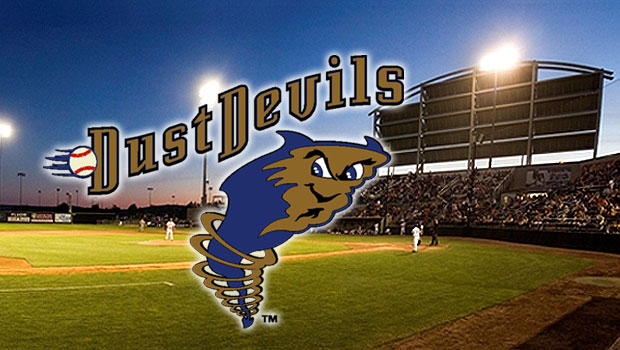 By Dust Devils Media Relations
PASCO, WA - The Tri-city Dust Devils scored a first inning run, but they couldn't push another one across the plate as they lost to the Everett AquaSox 3-1 Sunday night at Gesa Stadium. The Dust Devils threw out two runners at home plate in the loss.
Third baseman Shane Hoelscher went 2-for-4 on Sunday night with a double and the only RBI for Tri-City. Hoelscher finished the game with a .328 batting average. He is tied for the fourth highest batting average in a season in Dust Devils history. Right fielder Denzel Richardson also went 2-for-4 and stole two bases.

Starter Ryan Castellani pitched 4 2/3 innings for the Dust Devils. He allowed six hits and a run and struck out three Everett hitters. Reliever Dylan Thompson (3-2) took the loss for Tri-City. Thompson allowed two runs on two hits and a hit batsman. Thompson struck out two.

Catcher Adam Martin gave the AquaSox the lead with a two-run double in the top of the seventh inning. Martin finished the night going 2-for-4 with the two RBIs. Everett starter Ryan Yarbrough lasted 3 2/3 innings and allowed one run on four hits and a walk. He had four strikeouts on the night. Reliever Brett Ash earned the win for the AquaSox. Ash pitched 3 1/3 innings in relief of Yarbrough. He struck out four and allowed two hits and a walk.

The Dust Devils will play their final game of the Northwest League's 60th season against the AquaSox Monday night at Gesa Stadium, and there will be a Fireworks Show immediately following the game. Southpaw Helmis Rodriguez (4-7) will take the mound for Tri-City to take on lefty Luiz Gohara (0-6) for Everett.