Judge grants plea deal for Preston Maher
Posted:
Updated: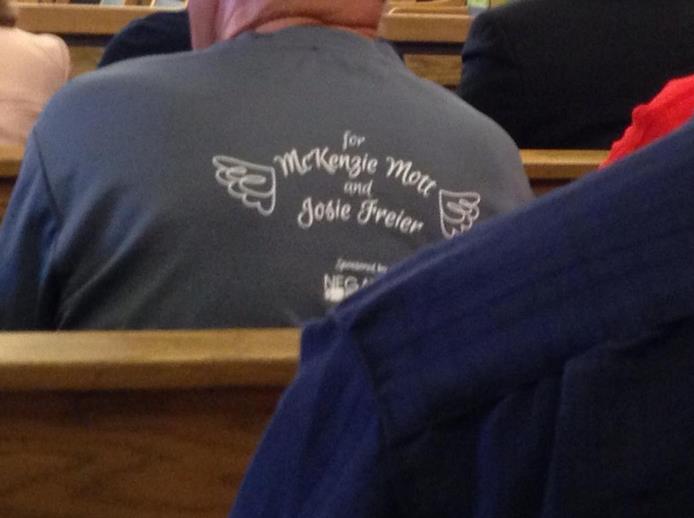 During the plea hearing for Preston Maher, the courtroom was packed with supporters for Josie Freier and McKenzie Mott.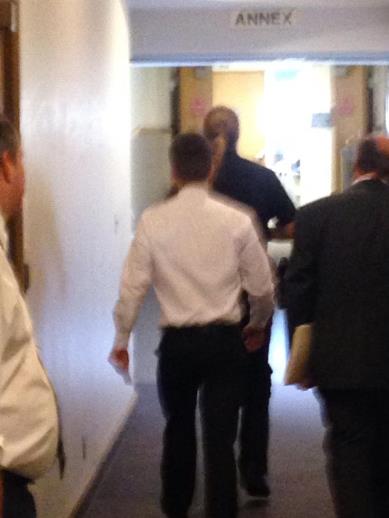 Preston Maher leaving the courtroom after judge granted plea of 60 days juvenile detention.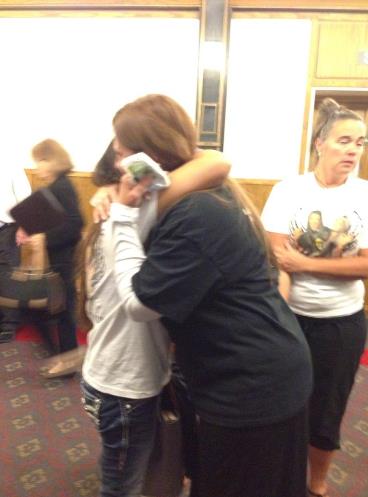 McKenzie Mott's mother embraced after leaving courtroom. Judge declined her family's request for a longer sentence.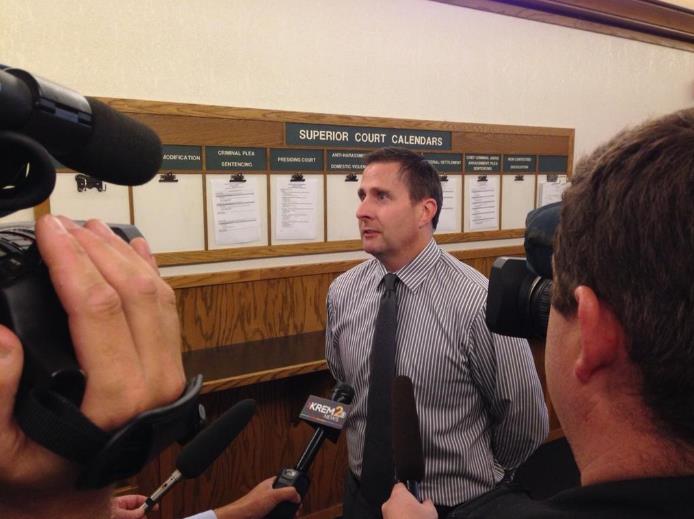 Preston Maher's father says he & son finally had chance to apologize to families today.
Most Popular Stories

Most Popular Stories

More>>

SPOKANE, Wash. - "He told me to pull over, and my jaw just dropped," a Spokane woman, who says a fake police officer tried to pull her over, doesn't want to be named. In fear, this could happen again. "It really scared me and kind of threw me off that night. I don't even want to drive by myself anymore," she said. She tells me that she was driving around North Spokane at night on her way home from work.

>>

SPOKANE, Wash. - "He told me to pull over, and my jaw just dropped," a Spokane woman, who says a fake police officer tried to pull her over, doesn't want to be named. In fear, this could happen again. "It really scared me and kind of threw me off that night. I don't even want to drive by myself anymore," she said. She tells me that she was driving around North Spokane at night on her way home from work.

>>

MARYSVILLE, Wash. - An Olympia woman wouldn't pull over for a Washington State Patrol trooper because she drives a Prius, according to an arrest report.

>>

MARYSVILLE, Wash. - An Olympia woman wouldn't pull over for a Washington State Patrol trooper because she drives a Prius, according to an arrest report.

>>

SPOKANE, Wash. (AP) - Court documents indicate that a man who was killed by Cheney police officers earlier this month had reported himself to police the evening of the shooting. The Spokesman-Review reports 40-year-old Steve Anderson was shot by three officers in a grocery store parking lot after police say he was wielding a knife and moved toward officers.

>>

SPOKANE, Wash. (AP) - Court documents indicate that a man who was killed by Cheney police officers earlier this month had reported himself to police the evening of the shooting. The Spokesman-Review reports 40-year-old Steve Anderson was shot by three officers in a grocery store parking lot after police say he was wielding a knife and moved toward officers.

>>

A Maryland man is facing a simple assault charge after using a dog leash to lead his wife around a Pennsylvania fair because she has late-stage dementia. West Manchester police say Walter Wolford yanked the 8-inch long red nylon leash, causing his wife's head to jerk back and leave red marks around her throat. But the 66-year-old Hagerstown man says he only gently tugged on the leash, which he uses to keep his wife from getting lost.

>>

A Maryland man is facing a simple assault charge after using a dog leash to lead his wife around a Pennsylvania fair because she has late-stage dementia. West Manchester police say Walter Wolford yanked the 8-inch long red nylon leash, causing his wife's head to jerk back and leave red marks around her throat. But the 66-year-old Hagerstown man says he only gently tugged on the leash, which he uses to keep his wife from getting lost.

>>

COEUR D'ALENE, Idaho - As she gets ready for her maiden voyage, the "White House" is already off its foundation. The 115-year old home, located on the Orchard Ridge property, was home to the Coeur d'Alene College president. In 1903, the college opened up and by 1917 it folded when college co-eds went to serve their country in World War I.

>>

COEUR D'ALENE, Idaho - As she gets ready for her maiden voyage, the "White House" is already off its foundation. The 115-year old home, located on the Orchard Ridge property, was home to the Coeur d'Alene College president. In 1903, the college opened up and by 1917 it folded when college co-eds went to serve their country in World War I.

>>

Police in Wisconsin say they pulled a 15-year-old boy over for reckless driving and discovered the teen was drunk and had a baby in the back seat. Mount Pleasant police say the baby's mother and another teen in the car were also intoxicated. Sgt. Eric Relich says police responded to a report of a reckless driver about 10:30 p.m. Sunday. Relich says someone saw the driver swerving and driving into oncoming traffic.

>>

Police in Wisconsin say they pulled a 15-year-old boy over for reckless driving and discovered the teen was drunk and had a baby in the back seat. Mount Pleasant police say the baby's mother and another teen in the car were also intoxicated. Sgt. Eric Relich says police responded to a report of a reckless driver about 10:30 p.m. Sunday. Relich says someone saw the driver swerving and driving into oncoming traffic.

>>
Top Stories from KHQ

Home

More>>

BOULDER, Colo. - A mountain lion has been caught on surveillance camera dashing to the doorstep of a Colorado motel office, venturing toward the open doorway and then wandering away. Colorado Parks and Wildlife spokesman Jason Clay says nobody was hurt in the Sept. 9 encounter. The Boulder Daily Camera reported Tuesday the lion approached the Foot of the Mountain Motel on Boulder's west side.

>>

BOULDER, Colo. - A mountain lion has been caught on surveillance camera dashing to the doorstep of a Colorado motel office, venturing toward the open doorway and then wandering away. Colorado Parks and Wildlife spokesman Jason Clay says nobody was hurt in the Sept. 9 encounter. The Boulder Daily Camera reported Tuesday the lion approached the Foot of the Mountain Motel on Boulder's west side.

>>

RENTON, Wash. - Authorities say a woman who was serving an eviction notice in the Seattle suburb of Renton was shot. The Renton Police Department said on Twitter Tuesday afternoon that officers responded to a shooting near Highlands Elementary School. Renton Fire officials say the 40-year-old woman was at an apartment complex serving an eviction notice when the home's occupant began firing at her.

>>

RENTON, Wash. - Authorities say a woman who was serving an eviction notice in the Seattle suburb of Renton was shot. The Renton Police Department said on Twitter Tuesday afternoon that officers responded to a shooting near Highlands Elementary School. Renton Fire officials say the 40-year-old woman was at an apartment complex serving an eviction notice when the home's occupant began firing at her.

>>

SEATTLE - Washington state's King County Council has approved $135 million in public funding for improvements at Safeco Field where the Seattle Mariners play. The funding package narrowly passed in a 5-4 vote on Monday.

>>

SEATTLE - Washington state's King County Council has approved $135 million in public funding for improvements at Safeco Field where the Seattle Mariners play. The funding package narrowly passed in a 5-4 vote on Monday.

>>

OLYMPIA, Wash. - A marksman with Washington state has shot and killed a young member of a wolf pack that was targeted because it attacked cattle in northeast Washington. The state Department of Fish and Wildlife said Tuesday that a wolf from the so-called Old Profanity Territory was shot from a helicopter Sunday.

>>

OLYMPIA, Wash. - A marksman with Washington state has shot and killed a young member of a wolf pack that was targeted because it attacked cattle in northeast Washington. The state Department of Fish and Wildlife said Tuesday that a wolf from the so-called Old Profanity Territory was shot from a helicopter Sunday.

>>

SPOKANE, Wash. - Investigators with the Spokane Fire Department say improperly discarded smoking materials caused last week's fatal apartment fire. Just after 1 a.m. on Friday, September 14, the Spokane Fire Department responded to the 4100 block of N. Cook St. and found flames coming from a second story window.

>>

SPOKANE, Wash. - Investigators with the Spokane Fire Department say improperly discarded smoking materials caused last week's fatal apartment fire. Just after 1 a.m. on Friday, September 14, the Spokane Fire Department responded to the 4100 block of N. Cook St. and found flames coming from a second story window.

>>

SPOKANE, Wash. - The Spokane Police Department is asking for the public's help to identify a woman involved in an attempted forgery. The woman is believed to have tried to use the victim's debit card in late June after a burglary at the victim's home. Just after 5 a.m. on June 29, officers responded to a house in the 100 block of east Wedgewood for a report of a burglary.

>>

SPOKANE, Wash. - The Spokane Police Department is asking for the public's help to identify a woman involved in an attempted forgery. The woman is believed to have tried to use the victim's debit card in late June after a burglary at the victim's home. Just after 5 a.m. on June 29, officers responded to a house in the 100 block of east Wedgewood for a report of a burglary.

>>

Construction is continuing on high drive. High Drive is closed from 29th to 21st Avenue. The purpose of all this work is to replace the old sewer line with a new one. Other improvements include infiltration swales, drainage structures, landscaping and irrigation, curb and sidewalk improvements as well as walkway for pedestrians. Officials say the project is going well and is on time.

>>

Construction is continuing on high drive. High Drive is closed from 29th to 21st Avenue. The purpose of all this work is to replace the old sewer line with a new one. Other improvements include infiltration swales, drainage structures, landscaping and irrigation, curb and sidewalk improvements as well as walkway for pedestrians. Officials say the project is going well and is on time.

>>

Julie Chen has left the cast of the CBS daytime show "The Talk" a week after her husband, CBS Corp. boss Leslie Moonves, was ousted from the company due to sexual misconduct charges. Chen announced her decision via a taped message on the show Tuesday, saying she needed to spend more time at home with her husband and their son. She appeared from the set of "Big Brother," the prime-time CBS show where she is the host.

>>

Julie Chen has left the cast of the CBS daytime show "The Talk" a week after her husband, CBS Corp. boss Leslie Moonves, was ousted from the company due to sexual misconduct charges. Chen announced her decision via a taped message on the show Tuesday, saying she needed to spend more time at home with her husband and their son. She appeared from the set of "Big Brother," the prime-time CBS show where she is the host.

>>

Talk about being at the right place at the right time. A volunteer with an Arizona Sheriff's Office helps rescue a dog attached to a moving semi-truck. The Yavapai County "volunteer in protection" officer pulling out of a gas station during his break at the same time tractor trailer heads up the interstate with forgotten cargo. The patrol notices the dog running as the pet's leash remains attached to the rig.

>>

Talk about being at the right place at the right time. A volunteer with an Arizona Sheriff's Office helps rescue a dog attached to a moving semi-truck. The Yavapai County "volunteer in protection" officer pulling out of a gas station during his break at the same time tractor trailer heads up the interstate with forgotten cargo. The patrol notices the dog running as the pet's leash remains attached to the rig.

>>

New Jersey authorities say a police officer and a firefighter were among 24 men who tried to lure teenagers for sexual activity. Attorney General Gurbir Grewal says the men charged in the statewide sting used social media and chat apps to communicate with people they thought were teenage boys and girls. But they were actually talking with undercover officers.

>>

New Jersey authorities say a police officer and a firefighter were among 24 men who tried to lure teenagers for sexual activity. Attorney General Gurbir Grewal says the men charged in the statewide sting used social media and chat apps to communicate with people they thought were teenage boys and girls. But they were actually talking with undercover officers.

>>