Kenan Adams-Kinard pleads guilty to killing Delbert 'Shorty' Belton
Posted:
Updated: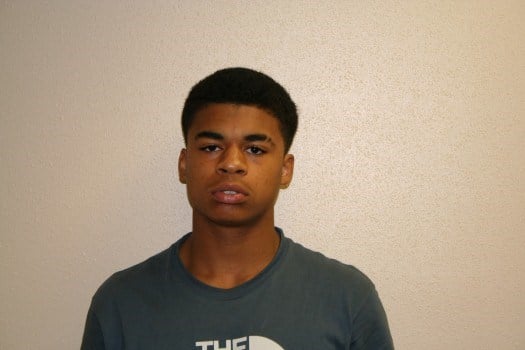 Murder suspect Kenan Adams-Kinard is scheduled to enter a change of plea Wednesday in a Spokane courtroom.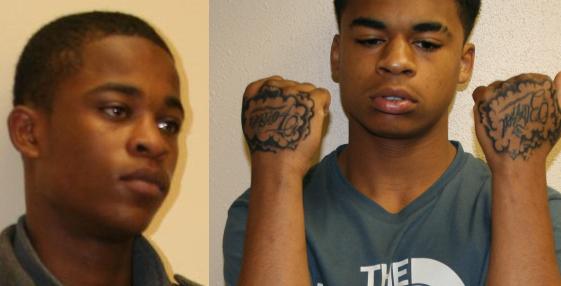 Demetrius Glenn (left) and Kenan Adams-Kinard (right) seen in evidence photos shortly after being arrested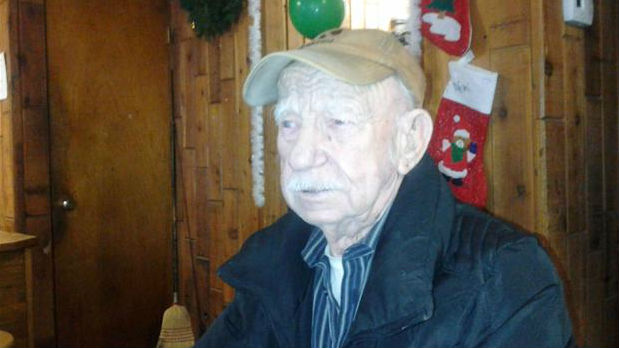 Delbert Belton was found badly beaten in his car in north Spokane in August 2013. He later died.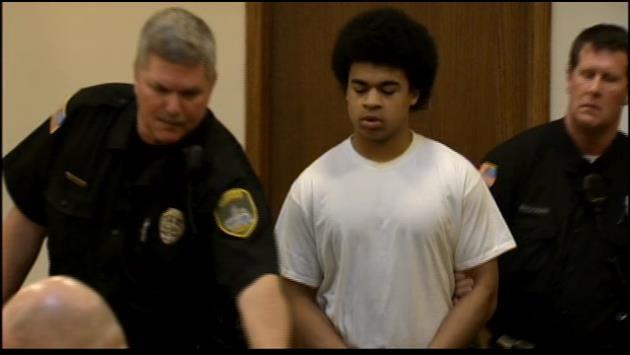 Now 17-years-old, Kenan Adams-Kinard changed his plea to guilty on Wednesday.
Also on KHQ.com

More>>

Law Professor George Critchlow explained what a plea deal could mean for the sentencing of Kenan Adams-Kinard. He said since there are two suspects in this case, part of the plea deal could include Kinard giving information about the other murder suspect, Demetrius Glenn. Critchlow was very clear that he has no way of knowing if that is the case in the murder trial of Delbert Belton, but he explained why it could be.

>>

Law Professor George Critchlow explained what a plea deal could mean for the sentencing of Kenan Adams-Kinard. He said since there are two suspects in this case, part of the plea deal could include Kinard giving information about the other murder suspect, Demetrius Glenn. Critchlow was very clear that he has no way of knowing if that is the case in the murder trial of Delbert Belton, but he explained why it could be.

>>

SPOKANE, Wash. - One day before a plea change is expected by one of the teens suspected of murdering 88 year old WWII veteran Delbert Belton, Belton's sister is speaking out. Belton was beaten to death in August of 2013. Belton has two living sisters remaining of 10 kids, Edna McDonald and Alberta Tosh, who still live in the Spokane area. On Tuesday KHQ's Dylan Wohlenhaus spoke with Tosh.

>>

SPOKANE, Wash. - One day before a plea change is expected by one of the teens suspected of murdering 88 year old WWII veteran Delbert Belton, Belton's sister is speaking out. Belton was beaten to death in August of 2013. Belton has two living sisters remaining of 10 kids, Edna McDonald and Alberta Tosh, who still live in the Spokane area. On Tuesday KHQ's Dylan Wohlenhaus spoke with Tosh.

>>

The following are excerpts from a letter obtained by police shortly after murder suspect Kenan Adams-Kinard was taken into custody.


>>

The following are excerpts from a letter obtained by police shortly after murder suspect Kenan Adams-Kinard was taken into custody. Kinard's lawyers say he didn't write it, and the letter appears to have been written by a girl. The excerpts below are exactly as they were written. Spelling errors were not fixed by KHQ:


>>

KHQ.COM - Newly released court documents reveal what happened the night that a local veteran was beaten to death.

>>

SPOKANE, Wash. - Court documents released Wednesday unveil new details about what happened the night Delbert Belton was brutally attacked and details about the morning Kenan Adams-Kinard was taken into custody. READ MORE DETAILS INSIDE OF THE STORY>>>>


>>

Court records show 16-year-old murder suspect Demetrius Glenn has a record dating back two years.

>>

Court records show 16-year-old murder suspect Demetrius Glenn has a record dating back two years. In the afternoon on September 29, 2011, Glenn was with a group in Rochester Park near Rowan and Magnolia in north Spokane. Documents say Glenn and the group of teenagers he was with surrounded and confronted another teenager because they saw a black bandana on the ground which they took as an act of disrespect.

>>

Early Monday morning the second suspect, 16-year-old Kenan Adams-Kinard, wanted in connection with the beating death of 88-year-old Delbert Belton, was taken into custody.

>>

Early Monday morning the second suspect, 16-year-old Kenan Adams-Kinard, wanted in connection with the beating death of 88-year-old Delbert Belton, was taken into custody. Kenan's Uncle and Father say they are both happy the search for him is over and that he was taken into custody safely. The Kinard family had asked anyone who knew of Kenan's whereabouts to call them, so the family could turn him in.

>>
Most Popular Stories

Most Popular Stories

More>>

KHQ.COM - Most mothers can only hope by the time their children grow up and move out of the house, they've learned all the necessary things to be a successful adult, including the basic knowledge that a turkey must be cooked in an oven, or perhaps in a smoker... NOT in a microwave. For this reason a new prank-challenge going around on Facebook is resulting in some hilarious text conversations between mothers and their grown children.

>>

KHQ.COM - Most mothers can only hope by the time their children grow up and move out of the house, they've learned all the necessary things to be a successful adult, including the basic knowledge that a turkey must be cooked in an oven, or perhaps in a smoker... NOT in a microwave. For this reason a new prank-challenge going around on Facebook is resulting in some hilarious text conversations between mothers and their grown children.

>>

SPOKANE, Wash. - Spokane Police are investigating the death of a man who reportedly shot himself in the head during sex. In a search warrant filed Nov. 8 in Spokane Superior Court, a detective wrote that around 2 a.m. on Nov. 4, police were called to a home in the 7800 block of North Morton Ave. after a woman said her partner shot himself in the head.

>>

SPOKANE, Wash. - Spokane Police are investigating the death of a man who reportedly shot himself in the head during sex. In a search warrant filed Nov. 8 in Spokane Superior Court, a detective wrote that around 2 a.m. on Nov. 4, police were called to a home in the 7800 block of North Morton Ave. after a woman said her partner shot himself in the head.

>>

MOUNT HOLLY, N.J. - Authorities say a New Jersey couple and a homeless man made up a "feel good" story about the man helping them so they could raise money through an online fundraiser. Burlington County prosecutors outlined the allegations against Mark D'Amico, Katelyn McClure and Johnny Bobbitt on Thursday.

>>

MOUNT HOLLY, N.J. - Authorities say a New Jersey couple and a homeless man made up a "feel good" story about the man helping them so they could raise money through an online fundraiser. Burlington County prosecutors outlined the allegations against Mark D'Amico, Katelyn McClure and Johnny Bobbitt on Thursday.

>>

Wildlife officials who seized a mountain lion kitten from a southern Colorado home say the feline fell ill after the residents fed it bratwurst. Travis Sauder with Colorado Parks and Wildlife says the kitten appeared to be in good health otherwise and was sent to a wildlife rehabilitation center Tuesday.

>>

Wildlife officials who seized a mountain lion kitten from a southern Colorado home say the feline fell ill after the residents fed it bratwurst. Travis Sauder with Colorado Parks and Wildlife says the kitten appeared to be in good health otherwise and was sent to a wildlife rehabilitation center Tuesday.

>>

The Coeur d'Alene Police Department has determined that bones found at a construction site Wednesday morning are between 50 and 200 years old.

>>

The Coeur d'Alene Police Department has determined that bones found at a construction site Wednesday morning are between 50 and 200 years old.

>>

SANTA CLARA, Calif. - Police in California are looking for a missing Spokane man who went missing during the San Francisco 49ers game Monday night. 32-year-old Ian Powers was last seen at the game with his family Monday night. He went to the restroom alone late in the game and hasn't been seen since, police told local media.

>>

SANTA CLARA, Calif. - Police in California are looking for a missing Spokane man who went missing during the San Francisco 49ers game Monday night. 32-year-old Ian Powers was last seen at the game with his family Monday night. He went to the restroom alone late in the game and hasn't been seen since, police told local media.

>>
Top Stories from KHQ

Home

More>>

The National Rifle Association is suing to block a new, voter-approved gun control measure in Washington state. Initiative 1639 passed with 60 percent of the vote last week.

>>

The National Rifle Association is suing to block a new, voter-approved gun control measure in Washington state. Initiative 1639 passed with 60 percent of the vote last week.

>>

A controversial tweet by WSU head football coach Mike Leach cost the University $1.6 million in pledged donations. The tweet, which was sent in June, depicted a doctored video of a speech by former President Barack Obama.

>>

A controversial tweet by WSU head football coach Mike Leach cost the University $1.6 million in pledged donations. The tweet, which was sent in June, depicted a doctored video of a speech by former President Barack Obama.

>>

Wildlife officials who seized a mountain lion kitten from a southern Colorado home say the feline fell ill after the residents fed it bratwurst. Travis Sauder with Colorado Parks and Wildlife says the kitten appeared to be in good health otherwise and was sent to a wildlife rehabilitation center Tuesday.

>>

Wildlife officials who seized a mountain lion kitten from a southern Colorado home say the feline fell ill after the residents fed it bratwurst. Travis Sauder with Colorado Parks and Wildlife says the kitten appeared to be in good health otherwise and was sent to a wildlife rehabilitation center Tuesday.

>>

Authorities have reported seven more fatalities from a blaze in Northern California, bringing the total number of fatalities so far to 63 in the deadliest wildfire in state history.

>>

Authorities have reported seven more fatalities from a blaze in Northern California, bringing the total number of fatalities so far to 63 in the deadliest wildfire in state history.

>>

An inmate fled a Georgia jail with the help of his mom and then went out for pancakes. News outlets report 27-year-old Joshua Gullatt and 54-year-old Kathy Lynn Pence were arrested Tuesday at an IHOP restaurant where they met with his children. Gullatt had slipped out a side door of the Heard County jail hours earlier. Investigators then listened to a phone call Gullatt made to Pence about the escape.

>>

An inmate fled a Georgia jail with the help of his mom and then went out for pancakes. News outlets report 27-year-old Joshua Gullatt and 54-year-old Kathy Lynn Pence were arrested Tuesday at an IHOP restaurant where they met with his children. Gullatt had slipped out a side door of the Heard County jail hours earlier. Investigators then listened to a phone call Gullatt made to Pence about the escape.

>>

The FBI has created replicas of decoy heads used by prisoners to mount their infamous escape from Alcatraz Island in 1962. Authorities on Thursday unveiled 3D-printed copies of the decoys that inmates had constructed with soap, plaster and human hair to distract guards from their plan.

>>

The FBI has created replicas of decoy heads used by prisoners to mount their infamous escape from Alcatraz Island in 1962. Authorities on Thursday unveiled 3D-printed copies of the decoys that inmates had constructed with soap, plaster and human hair to distract guards from their plan.

>>

Spokane, Wash. I got results following this story about a power pole left standing in the middle of a Spokane Valley road but just afterward I received an email detailing another road problem, and I had my work cut out for me. Doug Kaer says a road project at the intersection of Havana and Eighth Avenue just a half mile down the street from that power pole has been fouling up traffic for months. It's become a real hazard he says and he had a close call of his own...

>>

Spokane, Wash. I got results following this story about a power pole left standing in the middle of a Spokane Valley road but just afterward I received an email detailing another road problem, and I had my work cut out for me. Doug Kaer says a road project at the intersection of Havana and Eighth Avenue just a half mile down the street from that power pole has been fouling up traffic for months. It's become a real hazard he says and he had a close call of his own...

>>

SPOKANE, Wash. - Spokane's oldest retail business is closing its doors. After 131 years in the diamond business, Dodson's Jewelers is saying goodbye. "My wife and I decided to go out on top," said Owner, John Penn Fix III. "We had the best year ever last year so we decided to make the decision without being forced to make the decision." Fix is a fourth generation owner. The business was passed down from George R. Dodson

>>

SPOKANE, Wash. - Spokane's oldest retail business is closing its doors. After 131 years in the diamond business, Dodson's Jewelers is saying goodbye. "My wife and I decided to go out on top," said Owner, John Penn Fix III. "We had the best year ever last year so we decided to make the decision without being forced to make the decision." Fix is a fourth generation owner. The business was passed down from George R. Dodson

>>

The Kootenai County Adult Misdemeanor Probation is looking for information leading to the apprehension of Brian Jason Sheppard and Rick Lee Carr. Both men have absconded from probation and have active arrest warrants.

>>

The Kootenai County Adult Misdemeanor Probation is looking for information leading to the apprehension of Brian Jason Sheppard and Rick Lee Carr. Both men have absconded from probation and have active arrest warrants.

>>

Spokane firefighters were just wrapping up from a long fire season. But when California called for help, one man from District Four didn't hesitate to make the drive, and lead his fellow firefighters.

>>

Spokane firefighters were just wrapping up from a long fire season. But when California called for help, one man from District Four didn't hesitate to make the drive, and lead his fellow firefighters.

>>