Zags fan honors daughter with teddy bear
Posted:
Updated: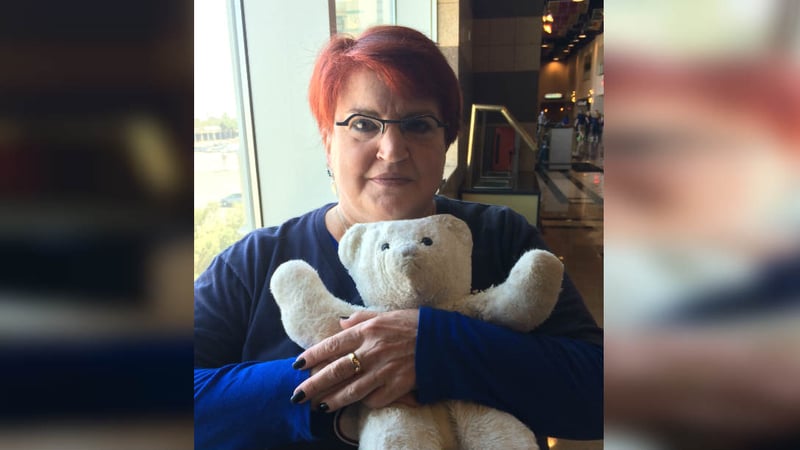 Beth Hope attends games with a stuffed animal that reminds her of her daughter Jessica, who died 19 years ago.
LAS VEGAS, Nev. -
In a stadium decorated by a sea of Gonzaga red and blue, you'd hardly notice a little white teddy bear with a long story.
Beth Hope attends games with a stuffed animal that reminds her of her daughter Jessica, who died 19 years ago.
Jessica was diagnosed with leukemia in high school. She died her junior year. She was 16.
"I didn't just lose Jessica, I lost her future," Hope said. "Who knows what she would have done or who she would have been. Those are the things I miss most."
While Jessica was sick, basketball was Beth's escape.
"Basketball was just a way to forget," Beth said.
She fell in love with the sport as a kid, and became a Zags fanatic later in life.
"To me, college basketball is real basketball," Hope said. "It's about these guys who are going to become men."
She's been attending Gonzaga games for years, and has made the trip to Vegas for the WCC Tournament five times. But this is the first time she's traveled down alone.
"I usually go down with my two other daughters," Hope said. "But they couldn't go this year and I didn't want to miss it."
She decided she'd make the trip anyway, but not without the companion she's had for nearly two decades.
When Jessica was sick, Beth bought her daughter a stuffed bear, which she named Courage. It would sit at Jessica's side throughout her battle. The family buried Courage with Jessica after she passed. Then, to honor Jessica's courage, her classmates collected nearly 300 teddy bears to be given to sick children at the hospital where she fought cancer for a year.
"One of them was just a little too loved to be given," Beth said. "So I kept it."
That bear, now well known to the family as Lovey, accompanies Beth wherever she goes. The 63-year-old says in 19 years she's only had 3 days without Lovey by her side, because she once left the bear at her brother's home in California and had to have her shipped.
"Lovey is the physical thing when I don't have a physical thing to hold onto," Beth said.
Beth says she'll never truly recover from the loss of her daughter. She may always need her furry companion to give her strength, and help her on her own journey. A journey she believes will end with a beautiful reunion.
"I think having Lovey is nice, but even more is the hope I have that I'll see her one day," Beth said.
"Heaven is just a long way away."