Sheriff Knezovich says letter from Holyk attorney shows no support for motorcycle club
Posted:
Updated: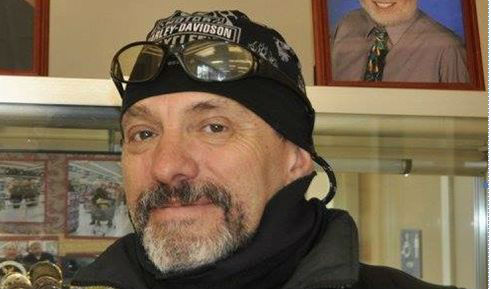 The family of Ryan Holyk say they don't want Rattlesnake Motorcycle Club founder Scott Maclay (Pictured) using their son's name and legacy to further their political agenda.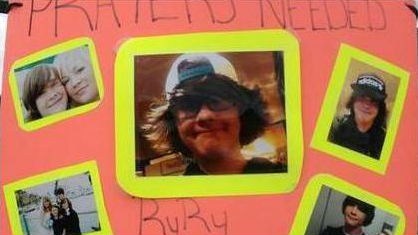 Ryan Holyk died in May 2014 in Spokane Valley. An investigation showed that he fell off his bicycle and hit his head.
Also on KHQ.com

More>>

SPOKANE, Wash. - Following a letter sent to Spokane County Sheriff Ozzie Knezovich on behalf of the family of Ryan Holyk, in which the requests Scott Maclay to stop using Ryan Holyk's name to further its "political agenda", KHQ reached Scott Maclay, on the phone, for comment. Upon being told about the letter Maclay's first response was, "then stop sending us money."

>>

SPOKANE, Wash. - Following a letter sent to Spokane County Sheriff Ozzie Knezovich on behalf of the family of Ryan Holyk, in which the requests Scott Maclay to stop using Ryan Holyk's name to further its "political agenda", KHQ reached Scott Maclay, on the phone, for comment. Upon being told about the letter Maclay's first response was, "then stop sending us money."

>>

SPOKANE VALLEY, Wash. - On Wednesday Sheriff Ozzie Knezovich released video that he says proves one of his deputies did not hit a 15-year-old with his patrol car last spring.

>>

SPOKANE VALLEY, Wash. - On Wednesday Sheriff Ozzie Knezovich released video that he says proves one of his deputies did not hit a 15-year-old with his patrol car last spring. The accident occurred at the intersection of Sprague and Vista around 10:30 p.m. May 29, 2014 while Deputy Joe Bodman was on duty.

>>

The parents of Ryan Holyk, the 15-year-old boy who died in a bicycle crash last May in Spokane Valley, filed a lawsuit against Spokane County, the Spokane County Sheriff's Department, and Joseph Bodman, the deputy involved.The lawsuit alleges Deputy Bodman negligently drove upwards of 74 miles per hour without the use of his lights and sirens at the time of the accident, when he was not acting as an emergency vehicle.The lawsuit also claims Spokane County and the Sheriff's Department are resp...

>>

The parents of Ryan Holyk, the 15-year-old boy who died in a bicycle crash last May in Spokane Valley, filed a lawsuit against Spokane County, the Spokane County Sheriff's Department, and Joseph Bodman, the deputy involved.The lawsuit alleges Deputy Bodman negligently drove upwards of 74 miles per hour without the use of his lights and sirens at the time of the accident, when he was not acting as an emergency vehicle.The lawsuit also claims Spokane County and the Sheriff's Department are resp...

>>
Most Popular Stories

Most Popular Stories

More>>

SPOKANE VALLEY, Wash. - A 30-year-old male is facing attempted murder charges after stabbing an eight-year-old boy at a HiCo store in Spokane Valley Saturday night. Around 4:30 p.m, Spokane Valley Deputies responded to a call of two males fighting along with the reported stabbing.

>>

SPOKANE VALLEY, Wash. - A 30-year-old male is facing attempted murder charges after stabbing an eight-year-old boy at a HiCo store in Spokane Valley Saturday night. Around 4:30 p.m, Spokane Valley Deputies responded to a call of two males fighting along with the reported stabbing.

>>

Almost a week after 32-year-old Ian Powers of Spokane went missing after a San Francisco 49ers game, Santa Clara police receive reports that a man's body was discovered nearby.

>>

Almost a week after 32-year-old Ian Powers of Spokane went missing after a San Francisco 49ers game, Santa Clara police receive reports that a man's body was discovered nearby.

>>

Montana wildlife officials say three deer in Blaine County have tested positive for a brain wasting disease. The Great Falls Tribune reports that the deer found to have chronic wasting disease were all harvested within a priority surveillance area.

>>

Montana wildlife officials say three deer in Blaine County have tested positive for a brain wasting disease. The Great Falls Tribune reports that the deer found to have chronic wasting disease were all harvested within a priority surveillance area.

>>

KHQ.COM - Most mothers can only hope by the time their children grow up and move out of the house, they've learned all the necessary things to be a successful adult, including the basic knowledge that a turkey must be cooked in an oven, or perhaps in a smoker... NOT in a microwave. For this reason a new prank-challenge going around on Facebook is resulting in some hilarious text conversations between mothers and their grown children.

>>

KHQ.COM - Most mothers can only hope by the time their children grow up and move out of the house, they've learned all the necessary things to be a successful adult, including the basic knowledge that a turkey must be cooked in an oven, or perhaps in a smoker... NOT in a microwave. For this reason a new prank-challenge going around on Facebook is resulting in some hilarious text conversations between mothers and their grown children.

>>

SPOKANE, Wash. - Spokane Police are investigating the death of a man who reportedly shot himself in the head during sex. In a search warrant filed Nov. 8 in Spokane Superior Court, a detective wrote that around 2 a.m. on Nov. 4, police were called to a home in the 7800 block of North Morton Ave. after a woman said her partner shot himself in the head.

>>

SPOKANE, Wash. - Spokane Police are investigating the death of a man who reportedly shot himself in the head during sex. In a search warrant filed Nov. 8 in Spokane Superior Court, a detective wrote that around 2 a.m. on Nov. 4, police were called to a home in the 7800 block of North Morton Ave. after a woman said her partner shot himself in the head.

>>

All eastbound I-90 lanes near Evergreen in Spokane Valley were closed this morning after a semi flipped onto its side. It started with an erratic driver in a black pickup truck slamming into a passenger car.

>>

All eastbound I-90 lanes near Evergreen in Spokane Valley were closed this morning after a semi flipped onto its side. It started with an erratic driver in a black pickup truck slamming into a passenger car.

>>
Top Stories from KHQ

Home

More>>

Police say a man has been arrested after leading officers on a high-speed chase, crashing into a building and climbing to the roof of a Domino's Pizza in Butte.

>>

Police say a man has been arrested after leading officers on a high-speed chase, crashing into a building and climbing to the roof of a Domino's Pizza in Butte.

>>

Ceremonies at a California cemetery marked the mass murders and suicides 40 years ago of 900 Americans orchestrated by the Rev. Jim Jones at a jungle settlement in Guyana, South America.

>>

Ceremonies at a California cemetery marked the mass murders and suicides 40 years ago of 900 Americans orchestrated by the Rev. Jim Jones at a jungle settlement in Guyana, South America.

>>

The Spokane Valley Firefighter Stairclimb Team is raising money for blood cancer patients and their families. From 10:00 a.m. to 2:00 p.m., the firefighters are collecting donations at the Spokane Valley Rosauers at 10618 E Sprague Ave.

>>

The Spokane Valley Firefighter Stairclimb Team is raising money for blood cancer patients and their families. From 10:00 a.m. to 2:00 p.m., the firefighters are collecting donations at the Spokane Valley Rosauers at 10618 E Sprague Ave.

>>

Gun dealers and shooting ranges in King County in western Washington will have to post warning signs about the danger of firearms. The Seattle Times reports that the King County Board of Health voted unanimously Thursday to approve the regulation that will take effect next month.

>>

Gun dealers and shooting ranges in King County in western Washington will have to post warning signs about the danger of firearms. The Seattle Times reports that the King County Board of Health voted unanimously Thursday to approve the regulation that will take effect next month.

>>

Police are investigating after a woman was found shot at a fast-food restaurant south of Seattle. KOMO-TV reports police responded to a Jack in the Box in Federal Way after 6 p.m. Saturday to find an 18-year-old woman with a gunshot wound to the chest.

>>

Police are investigating after a woman was found shot at a fast-food restaurant south of Seattle. KOMO-TV reports police responded to a Jack in the Box in Federal Way after 6 p.m. Saturday to find an 18-year-old woman with a gunshot wound to the chest.

>>

Former New York Mayor Michael Bloomberg is donating $1.8 billion to his alma mater, Johns Hopkins University. Bloomberg and the Baltimore university said Sunday that the gift is the largest ever to any education institution in the U.S.

>>

Former New York Mayor Michael Bloomberg is donating $1.8 billion to his alma mater, Johns Hopkins University. Bloomberg and the Baltimore university said Sunday that the gift is the largest ever to any education institution in the U.S.

>>

Authorities say a man who disappeared on the last day of his 2008 murder trial has been captured in Mexico and returned to Texas. Hidalgo County prosecutors say in a news release that 35-year-old Oscar Davila Rodriguez was returned to the U.S. Wednesday.

>>

Authorities say a man who disappeared on the last day of his 2008 murder trial has been captured in Mexico and returned to Texas. Hidalgo County prosecutors say in a news release that 35-year-old Oscar Davila Rodriguez was returned to the U.S. Wednesday.

>>

Police outside Olympia are investigating a double homicide after finding two roommates dead inside a home. Authorities in Lacey have arrested and charged another resident of the home with murder.

>>

Police outside Olympia are investigating a double homicide after finding two roommates dead inside a home. Authorities in Lacey have arrested and charged another resident of the home with murder.

>>

A Florida woman is charged with exposing a 3-month-old baby to cocaine, leaving him with significant brain damage. The Tampa Bay Times reports 29-year-old Angelica Lopez was arrested Thursday on a charge of child neglect causing great bodily harm.

>>

A Florida woman is charged with exposing a 3-month-old baby to cocaine, leaving him with significant brain damage. The Tampa Bay Times reports 29-year-old Angelica Lopez was arrested Thursday on a charge of child neglect causing great bodily harm.

>>

A mystery man is providing cheer to Walmart shoppers in Vermont. The man paid off the entire lot of layaway items at the store in Derby, near the Canadian border.

>>

A mystery man is providing cheer to Walmart shoppers in Vermont. The man paid off the entire lot of layaway items at the store in Derby, near the Canadian border.

>>