Do you find this Halloween decoration offensive?
WHAT DO YOU THINK: Does Halloween decoration go too far? Or is it just holiday spirit?
Posted:
Updated: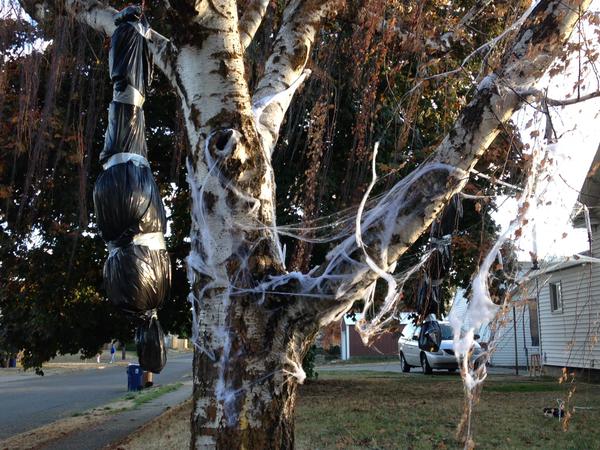 This is part of a Halloween display in one Spokane neighborhood.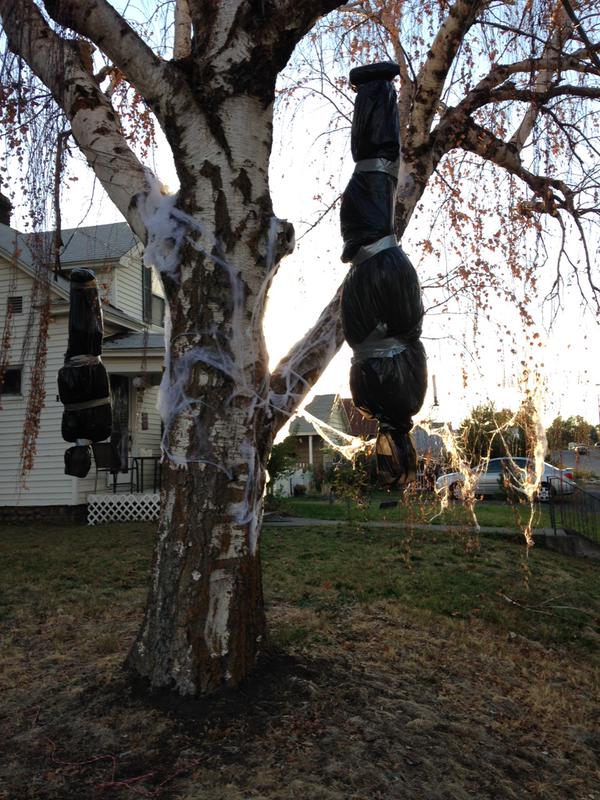 Here's another view. Do you think this is too much? Or just part of the Halloween spirit?
Most Popular Stories

Most Popular Stories

More>>

SPOKANE, Wash. - Windy conditions and wildfire smoke have hit the Inland Northwest hard as air quality levels rose throughout the day, ending up in the hazardous range Sunday evening. Changes in wind direction have brought over more smoke to the area from wildfires around northern and central Washington, as well as from British Columbia.

>>

SPOKANE, Wash. - Windy conditions and wildfire smoke have hit the Inland Northwest hard as air quality levels rose throughout the day, ending up in the hazardous range Sunday evening. Changes in wind direction have brought over more smoke to the area from wildfires around northern and central Washington, as well as from British Columbia.

>>

PULLMAN, Wash. - Six-year-old Denny Curran should be enjoying his last few days of summer before first grade. He should be teasing his brother, splashing in the pool, giving his parents a hard time about vegetables. Instead, Denny is dead, the victim of a horrific, freak bicycle accident that could happen to your child too. "Denny was an extraordinary child," his father Keith Curran told KHQ.

>>

PULLMAN, Wash. - Six-year-old Denny Curran should be enjoying his last few days of summer before first grade. He should be teasing his brother, splashing in the pool, giving his parents a hard time about vegetables. Instead, Denny is dead, the victim of a horrific, freak bicycle accident that could happen to your child too. "Denny was an extraordinary child," his father Keith Curran told KHQ.

>>

SPOKANE VALLEY, Wash.- Spokane Valley firefighters are working to put out a fire at an apartment building on 6th Avenue.

Firefighters brought in extra resources because they were worried the fire could spread to nearby brush but they have been fighting it for about an hour. They tell KHQ that they have managed to keep it contained to one building, although there are multiple units inside.

>>

SPOKANE VALLEY, Wash.- Spokane Valley firefighters are working to put out a fire at an apartment building on 6th Avenue.

Firefighters brought in extra resources because they were worried the fire could spread to nearby brush but they have been fighting it for about an hour. They tell KHQ that they have managed to keep it contained to one building, although there are multiple units inside.

>>

SPOKANE VALLEY, Wash. - A male suspect has died after being involved in a police shooting following a standoff situation in Spokane Valley Sunday morning. Police say the matter originated as a vandalism call after a man pulled into a gas station and began breaking windows in a vehicle. They later found the male to be armed and possibly suicidal, leading to a standoff at Trent and Evergreen where he was barricaded in the vehicle.

>>

SPOKANE VALLEY, Wash. - A male suspect has died after being involved in a police shooting following a standoff situation in Spokane Valley Sunday morning. Police say the matter originated as a vandalism call after a man pulled into a gas station and began breaking windows in a vehicle. They later found the male to be armed and possibly suicidal, leading to a standoff at Trent and Evergreen where he was barricaded in the vehicle.

>>

SEATTLE (AP) - Forecasters are warning of unhealthy air in parts of the Pacific Northwest as winds push smoke from surrounding wildfires into the region. The National Weather Service has issued air quality alerts for much of Washington state. The service says air quality in Western Washington is expected to worsen starting Sunday. Some improvement is expected by Wednesday. An air quality alert is also in place across Eastern Washington and North Idaho.

>>

SEATTLE (AP) - Forecasters are warning of unhealthy air in parts of the Pacific Northwest as winds push smoke from surrounding wildfires into the region. The National Weather Service has issued air quality alerts for much of Washington state. The service says air quality in Western Washington is expected to worsen starting Sunday. Some improvement is expected by Wednesday. An air quality alert is also in place across Eastern Washington and North Idaho.

>>

SPOKANE, Wash. - The rumor that was quickly spread Saturday about a Chick-Fil-A franchise coming to Gonzaga University is false, according to a Gonzaga official. Mary Joan Hahn, the Senior Director of Community & Public Relations at Gonzaga, tells KHQ that this information is inaccurate. She wasn't able to explain how the information got out in the first place, but Gonzaga is looking into it.

>>

SPOKANE, Wash. - The rumor that was quickly spread Saturday about a Chick-Fil-A franchise coming to Gonzaga University is false, according to a Gonzaga official. Mary Joan Hahn, the Senior Director of Community & Public Relations at Gonzaga, tells KHQ that this information is inaccurate. She wasn't able to explain how the information got out in the first place, but Gonzaga is looking into it.

>>
Top Stories from KHQ

Home

More>>

SPOKANE VALLEY, Wash.- Spokane Valley firefighters are working to put out a fire at an apartment building on 6th Avenue.

Firefighters brought in extra resources because they were worried the fire could spread to nearby brush but they have been fighting it for about an hour. They tell KHQ that they have managed to keep it contained to one building, although there are multiple units inside.

>>

SPOKANE VALLEY, Wash.- Spokane Valley firefighters are working to put out a fire at an apartment building on 6th Avenue.

Firefighters brought in extra resources because they were worried the fire could spread to nearby brush but they have been fighting it for about an hour. They tell KHQ that they have managed to keep it contained to one building, although there are multiple units inside.

>>

SPOKANE, Wash. - Windy conditions and wildfire smoke have hit the Inland Northwest hard as air quality levels rose throughout the day, ending up in the hazardous range Sunday evening. Changes in wind direction have brought over more smoke to the area from wildfires around northern and central Washington, as well as from British Columbia.

>>

SPOKANE, Wash. - Windy conditions and wildfire smoke have hit the Inland Northwest hard as air quality levels rose throughout the day, ending up in the hazardous range Sunday evening. Changes in wind direction have brought over more smoke to the area from wildfires around northern and central Washington, as well as from British Columbia.

>>

SPOKANE, Wash. - A firefighter from the Spokane Fire Department was transported to a local hospital and later released after an early-morning house fire. The firefighter was treated for possible heat exhaustion and later released from the hospital. At around 3 a.m. Sunday, crews responded to the 800 block of E. Bridgeport Ave. and there were reports of smoke filling the structure.

>>

SPOKANE, Wash. - A firefighter from the Spokane Fire Department was transported to a local hospital and later released after an early-morning house fire. The firefighter was treated for possible heat exhaustion and later released from the hospital. At around 3 a.m. Sunday, crews responded to the 800 block of E. Bridgeport Ave. and there were reports of smoke filling the structure.

>>

SPOKANE, Wash. - The Spokane Fire Department is conducting an investigation on a house fire that happened on Friday evening. Around 11 p.m. Friday, crews responded to a reported building fire on the 400 block of E. Carlisle Ave. Upon arrival, crews noted fire on the side of a residence that appeared to be moving into the attic. Crews were able to knock down the fire and search the building within five minutes of arrival. The house was unoccupied at the time.

>>

SPOKANE, Wash. - The Spokane Fire Department is conducting an investigation on a house fire that happened on Friday evening. Around 11 p.m. Friday, crews responded to a reported building fire on the 400 block of E. Carlisle Ave. Upon arrival, crews noted fire on the side of a residence that appeared to be moving into the attic. Crews were able to knock down the fire and search the building within five minutes of arrival. The house was unoccupied at the time.

>>

SPOKANE VALLEY, Wash. - A male suspect has died after being involved in a police shooting following a standoff situation in Spokane Valley Sunday morning. Police say the matter originated as a vandalism call after a man pulled into a gas station and began breaking windows in a vehicle. They later found the male to be armed and possibly suicidal, leading to a standoff at Trent and Evergreen where he was barricaded in the vehicle.

>>

SPOKANE VALLEY, Wash. - A male suspect has died after being involved in a police shooting following a standoff situation in Spokane Valley Sunday morning. Police say the matter originated as a vandalism call after a man pulled into a gas station and began breaking windows in a vehicle. They later found the male to be armed and possibly suicidal, leading to a standoff at Trent and Evergreen where he was barricaded in the vehicle.

>>

SOAP LAKE, Wash. - Police say an officer-involved shooting happened Sunday morning near the Soap Lake area, with a male suspect being shot and later hospitalized. The Grant County Sheriff's Office says the shooting happened around 10:45 a.m. Sunday in the 100 block of Adrian Ave. Northwest in Lakeview. Police were responding to the report of a wanted person sighting.

>>

SOAP LAKE, Wash. - Police say an officer-involved shooting happened Sunday morning near the Soap Lake area, with a male suspect being shot and later hospitalized. The Grant County Sheriff's Office says the shooting happened around 10:45 a.m. Sunday in the 100 block of Adrian Ave. Northwest in Lakeview. Police were responding to the report of a wanted person sighting.

>>

BRIDGEWATER, N.J. (AP) - Move over, alternative facts. Now, truth isn't truth. President Donald Trump's personal attorney Rudy Giuliani used the line Sunday on NBC's "Meet the Press" with Chuck Todd. Giuliani was trying to make the case that having Trump sit down for an interview with special counsel Robert Mueller's team wouldn't accomplish much because of the he-said-she-said nature of witnesses' recollections.

>>

BRIDGEWATER, N.J. (AP) - Move over, alternative facts. Now, truth isn't truth. President Donald Trump's personal attorney Rudy Giuliani used the line Sunday on NBC's "Meet the Press" with Chuck Todd. Giuliani was trying to make the case that having Trump sit down for an interview with special counsel Robert Mueller's team wouldn't accomplish much because of the he-said-she-said nature of witnesses' recollections.

>>

THATCHER, Ariz. (AP) - A 72-year-old man has been arrested on suspicion of waving a gun at a high school dance in Arizona because he didn't like the loud music. Police in the small southeastern Arizona town of Thatcher say Robert Layton drove to the high school parking lot around 11:45 p.m. Friday and complained about the loud music. Witnesses say Layton pulled a 9mm handgun out of his pocket and waved it around before pulling wires to disable the music.

>>

THATCHER, Ariz. (AP) - A 72-year-old man has been arrested on suspicion of waving a gun at a high school dance in Arizona because he didn't like the loud music. Police in the small southeastern Arizona town of Thatcher say Robert Layton drove to the high school parking lot around 11:45 p.m. Friday and complained about the loud music. Witnesses say Layton pulled a 9mm handgun out of his pocket and waved it around before pulling wires to disable the music.

>>

SEATTLE (AP) - Forecasters are warning of unhealthy air in parts of the Pacific Northwest as winds push smoke from surrounding wildfires into the region. The National Weather Service has issued air quality alerts for much of Washington state. The service says air quality in Western Washington is expected to worsen starting Sunday. Some improvement is expected by Wednesday. An air quality alert is also in place across Eastern Washington and North Idaho.

>>

SEATTLE (AP) - Forecasters are warning of unhealthy air in parts of the Pacific Northwest as winds push smoke from surrounding wildfires into the region. The National Weather Service has issued air quality alerts for much of Washington state. The service says air quality in Western Washington is expected to worsen starting Sunday. Some improvement is expected by Wednesday. An air quality alert is also in place across Eastern Washington and North Idaho.

>>

GLACIER NATIONAL PARK, Mont. (AP) - A wildfire in northwest Montana's Glacier National Park is forcing evacuations and has burned within a mile (1.6 kilometers) of the scenic Going-to-the-Sun Road. The Missoulian reported Sunday that the Howe Ridge fire had grown to more than 12 square miles (31 square kilometers), and shifting winds are forecast over the next day and a half.

>>

GLACIER NATIONAL PARK, Mont. (AP) - A wildfire in northwest Montana's Glacier National Park is forcing evacuations and has burned within a mile (1.6 kilometers) of the scenic Going-to-the-Sun Road. The Missoulian reported Sunday that the Howe Ridge fire had grown to more than 12 square miles (31 square kilometers), and shifting winds are forecast over the next day and a half.

>>