3 men arrested in fatal shooting of Milwaukee girl, 5
Posted:
Updated: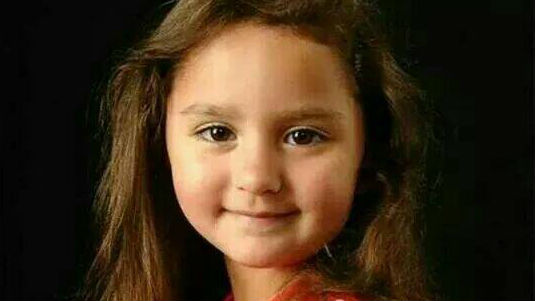 Laylah's father, R.J. Petersen, thanked police for their work in finding those believed to be responsible for his daughter's death.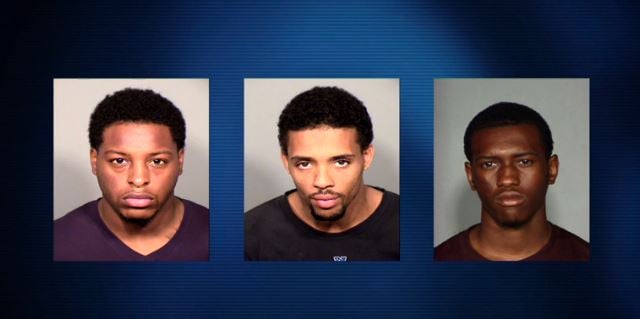 Twenty-four-year-old Paul Farr and 20-year-old Carl Barrett were arrested on October 14 in Milwaukee. The third suspect, 23-year-old Arlis Gordon, was arrested in suburban Chicago on October 17 on unrelated charges.
Most Popular Stories

Most Popular Stories

More>>

SPOKANE, Wash. - The rumor that was quickly spread Saturday about a Chick-Fil-A franchise coming to Gonzaga University is false, according to a Gonzaga official. Mary Joan Hahn, the Senior Director of Community & Public Relations at Gonzaga, tells KHQ that this information is inaccurate. She wasn't able to explain how the information got out in the first place, but Gonzaga is looking into it.

>>

SPOKANE, Wash. - The rumor that was quickly spread Saturday about a Chick-Fil-A franchise coming to Gonzaga University is false, according to a Gonzaga official. Mary Joan Hahn, the Senior Director of Community & Public Relations at Gonzaga, tells KHQ that this information is inaccurate. She wasn't able to explain how the information got out in the first place, but Gonzaga is looking into it.

>>

FREDERICK, Colo. (AP) - A Colorado judge has denied a request by a defense attorney for a man accused of killing his wife and two daughters to require a coroner to collect DNA from the necks of the young girls. KMGH-TV and the Daily Camera newspaper in Boulder reported the judge said in an order he would not tell the medical examiner's office involved in the case how to do its job.

>>

FREDERICK, Colo. (AP) - A Colorado judge has denied a request by a defense attorney for a man accused of killing his wife and two daughters to require a coroner to collect DNA from the necks of the young girls. KMGH-TV and the Daily Camera newspaper in Boulder reported the judge said in an order he would not tell the medical examiner's office involved in the case how to do its job.

>>

Firefighters in Spokane Valley have contained brush fire in the area of Pines and Mansfield near Mirabeau Park.


>>

Firefighters in Spokane Valley have contained brush fire in the area of Pines and Mansfield near Mirabeau Park. It took firefighters about an hour to knock it down, and DNR will remain on scene throughout the night to make sure nothing flares up.


>>

Forecasters are warning of unhealthy air parts of the Pacific Northwest as winds push smoke from surrounding wildfires into the region.

>>

Forecasters are warning of unhealthy air parts of the Pacific Northwest as winds push smoke from surrounding wildfires into the region.

>>

SPOKANE, Wash. - Beacon Hill Fire: Update 2:50 p.m.: Washington State Patrol reports all evacuations for the Wellesley Fire (formerly known as the Beacon Hill fire) have been cancelled Monday afternoon. They tell drivers to drive cautiously in the area as firefighters will remain on scene to monitor the fire.

>>

SPOKANE, Wash. - Beacon Hill Fire: Update 2:50 p.m.: Washington State Patrol reports all evacuations for the Wellesley Fire (formerly known as the Beacon Hill fire) have been cancelled Monday afternoon. They tell drivers to drive cautiously in the area as firefighters will remain on scene to monitor the fire.

>>

SPOKANE, Wash. - Court documents are offering more details about a disturbing case of child abuse in Spokane. Investigators arrested 33-year-old Erik Sherman in the death of his baby Thursday. One doctor who witnessed the abuse told investigators in court documents it was "one of the worst cases of child abuse he had seen in 23 years of practice."

>>

SPOKANE, Wash. - Court documents are offering more details about a disturbing case of child abuse in Spokane. Investigators arrested 33-year-old Erik Sherman in the death of his baby Thursday. One doctor who witnessed the abuse told investigators in court documents it was "one of the worst cases of child abuse he had seen in 23 years of practice."

>>
Top Stories from KHQ

Home

More>>

SPOKANE VALLEY, Wash. - A male suspect has died after being involved in a police shooting following a standoff situation in Spokane Valley Sunday morning. Police say the matter originated as a vandalism call after a window was broken. They later found the male to be armed and possibly suicidal, leading to a standoff at Trent and Evergreen where he was barricaded in a vehicle.

>>

SPOKANE VALLEY, Wash. - A male suspect has died after being involved in a police shooting following a standoff situation in Spokane Valley Sunday morning. Police say the matter originated as a vandalism call after a window was broken. They later found the male to be armed and possibly suicidal, leading to a standoff at Trent and Evergreen where he was barricaded in a vehicle.

>>

SOAP LAKE, Wash. - Police say an officer-involved shooting happened Sunday morning near the Soap Lake area, with a male suspect being shot and later hospitalized. The Grant County Sheriff's Office says the shooting happened around 10:30 a.m. Sunday in the 100 block of Adrian Ave. Northwest in Lakeview. A male suspect was shot and later taken to Samaritan Hospital in Moses Lake, where his condition is unknown.

>>

SOAP LAKE, Wash. - Police say an officer-involved shooting happened Sunday morning near the Soap Lake area, with a male suspect being shot and later hospitalized. The Grant County Sheriff's Office says the shooting happened around 10:30 a.m. Sunday in the 100 block of Adrian Ave. Northwest in Lakeview. A male suspect was shot and later taken to Samaritan Hospital in Moses Lake, where his condition is unknown.

>>

GLACIER NATIONAL PARK, Mont. (AP) - A wildfire in northwest Montana's Glacier National Park is forcing evacuations and has burned within a mile (1.6 kilometers) of the scenic Going-to-the-Sun Road. The Missoulian reported Sunday that the Howe Ridge fire had grown to more than 12 square miles (31 square kilometers), and shifting winds are forecast over the next day and a half.

>>

GLACIER NATIONAL PARK, Mont. (AP) - A wildfire in northwest Montana's Glacier National Park is forcing evacuations and has burned within a mile (1.6 kilometers) of the scenic Going-to-the-Sun Road. The Missoulian reported Sunday that the Howe Ridge fire had grown to more than 12 square miles (31 square kilometers), and shifting winds are forecast over the next day and a half.

>>

FERRY COUNTY, Wash. - Crews continue to make progress on the Boyds fire near Kettle Falls, nearing the halfway mark for containment percentage as of Sunday morning. The 3,065-acre fire is now reported at 43 percent containment with 923 personnel working on it. Crews made good progress Saturday strengthening containment lines, mopping up, doing burnout operations and monitoring for hotspots.

>>

FERRY COUNTY, Wash. - Crews continue to make progress on the Boyds fire near Kettle Falls, nearing the halfway mark for containment percentage as of Sunday morning. The 3,065-acre fire is now reported at 43 percent containment with 923 personnel working on it. Crews made good progress Saturday strengthening containment lines, mopping up, doing burnout operations and monitoring for hotspots.

>>

SPOKANE, Wash. - The rumor that was quickly spread Saturday about a Chick-Fil-A franchise coming to Gonzaga University is false, according to a Gonzaga official. Mary Joan Hahn, the Senior Director of Community & Public Relations at Gonzaga, tells KHQ that this information is inaccurate. She wasn't able to explain how the information got out in the first place, but Gonzaga is looking into it.

>>

SPOKANE, Wash. - The rumor that was quickly spread Saturday about a Chick-Fil-A franchise coming to Gonzaga University is false, according to a Gonzaga official. Mary Joan Hahn, the Senior Director of Community & Public Relations at Gonzaga, tells KHQ that this information is inaccurate. She wasn't able to explain how the information got out in the first place, but Gonzaga is looking into it.

>>

FREDERICK, Colo. (AP) - A Colorado judge has denied a request by a defense attorney for a man accused of killing his wife and two daughters to require a coroner to collect DNA from the necks of the young girls. KMGH-TV and the Daily Camera newspaper in Boulder reported the judge said in an order he would not tell the medical examiner's office involved in the case how to do its job.

>>

FREDERICK, Colo. (AP) - A Colorado judge has denied a request by a defense attorney for a man accused of killing his wife and two daughters to require a coroner to collect DNA from the necks of the young girls. KMGH-TV and the Daily Camera newspaper in Boulder reported the judge said in an order he would not tell the medical examiner's office involved in the case how to do its job.

>>

PALM BAY, Fla. (AP) - An 88-year-old Florida man was arrested after police said he burned a trapped raccoon alive because the animal had eaten his mangoes. Ezra James told WKMG-TV in a story Saturday that he threw gasoline on the raccoon and lit a match. In addition to the mangoes, James says he was afraid the raccoon might give him rabies. James lives in the coastal town of Palm Bay, located about 75 miles (120 kilometers) southeast of Orlando.

>>

PALM BAY, Fla. (AP) - An 88-year-old Florida man was arrested after police said he burned a trapped raccoon alive because the animal had eaten his mangoes. Ezra James told WKMG-TV in a story Saturday that he threw gasoline on the raccoon and lit a match. In addition to the mangoes, James says he was afraid the raccoon might give him rabies. James lives in the coastal town of Palm Bay, located about 75 miles (120 kilometers) southeast of Orlando.

>>

LOS ANGELES (AP) - U.S. Immigration and Customs Enforcement says that the California man who was arrested by its agents as he drove his wife to the hospital so she could give birth had a warrant for his arrest in Mexico. In a statement, spokeswoman Lori Haley says Joel Arrona Lara "was brought to ICE's attention due to an outstanding warrant issued for his arrest in Mexico on homicide charges." Arrona remains in custody pending removal proceedings.

>>

LOS ANGELES (AP) - U.S. Immigration and Customs Enforcement says that the California man who was arrested by its agents as he drove his wife to the hospital so she could give birth had a warrant for his arrest in Mexico. In a statement, spokeswoman Lori Haley says Joel Arrona Lara "was brought to ICE's attention due to an outstanding warrant issued for his arrest in Mexico on homicide charges." Arrona remains in custody pending removal proceedings.

>>

CHELAN COUNTY, Wash. - The Cougar Creek fire remains at 35 percent contained, but has increased in size approaching 36,000 acres as of Saturday. The fire burning in Chelan County is now at 35,809 acres with 1,106 personnel on scene. Wind conditions helped push smoke out of the valleys, but increased fire behavior across the area Friday.

>>

CHELAN COUNTY, Wash. - The Cougar Creek fire remains at 35 percent contained, but has increased in size approaching 36,000 acres as of Saturday. The fire burning in Chelan County is now at 35,809 acres with 1,106 personnel on scene. Wind conditions helped push smoke out of the valleys, but increased fire behavior across the area Friday.

>>

WASHINGTON (AP) - A federal judge has upheld a decision by the Department of Housing and Urban Development to delay an Obama-era anti-discrimination rule. Chief Judge Beryl A. Howell of the U.S. District Court for the District of Columbia on Friday threw out a lawsuit filed by civil rights groups challenging HUD's delay of the rule.

>>

WASHINGTON (AP) - A federal judge has upheld a decision by the Department of Housing and Urban Development to delay an Obama-era anti-discrimination rule. Chief Judge Beryl A. Howell of the U.S. District Court for the District of Columbia on Friday threw out a lawsuit filed by civil rights groups challenging HUD's delay of the rule.

>>