Suspect who shot at deputies during Washington/Idaho pursuit identified
Posted:
Updated: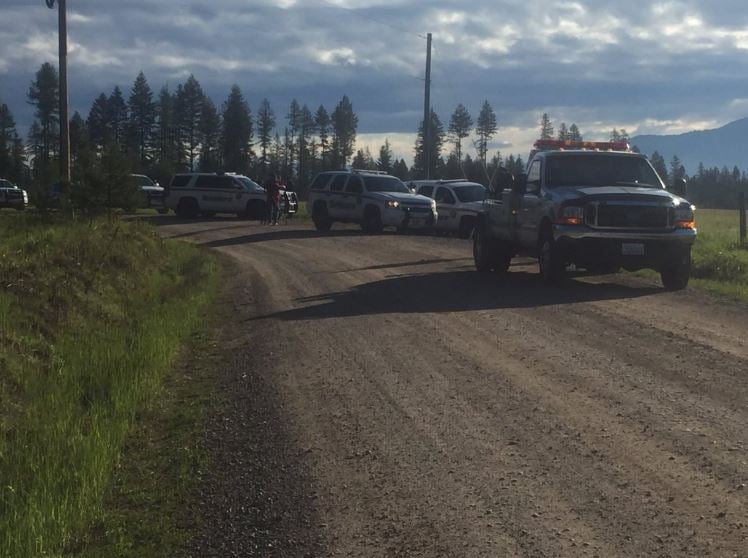 The scene at Elmers Loop and Spring Valley Rd. as the Pend Oreille County Sheriff's continues to search for two armed suspects who shot at police overnight during a chase, then ditched their car and fled on foot.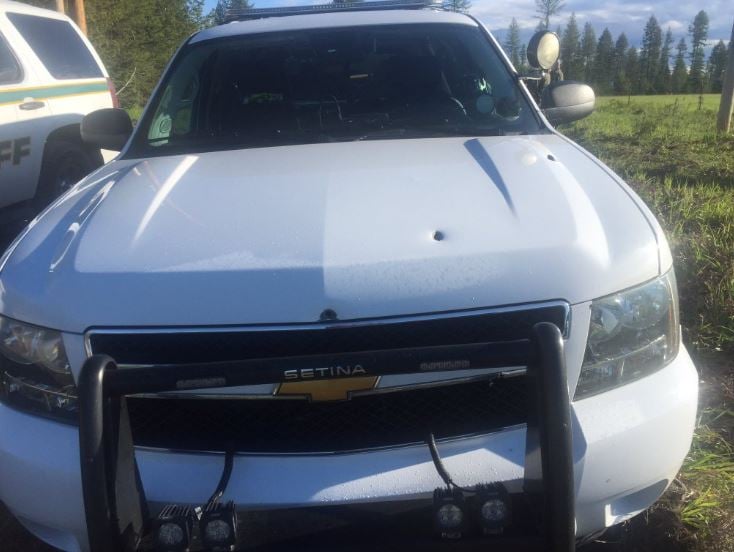 At least 3 bullet holes can be seen in Bonner County Sheriff's car. Deputies say suspects shot at them before ditching their vehicle and fleeing on foot.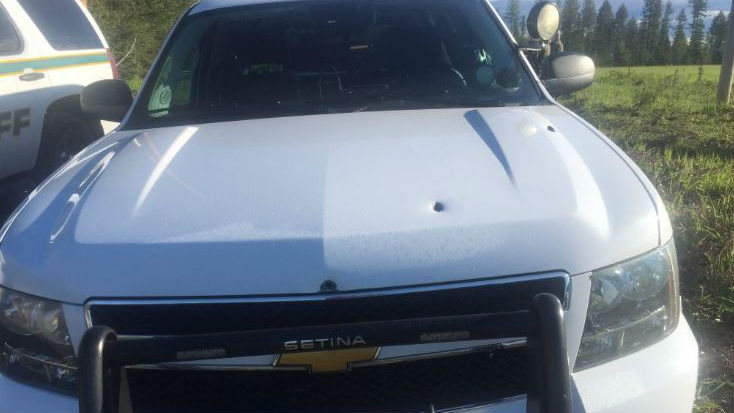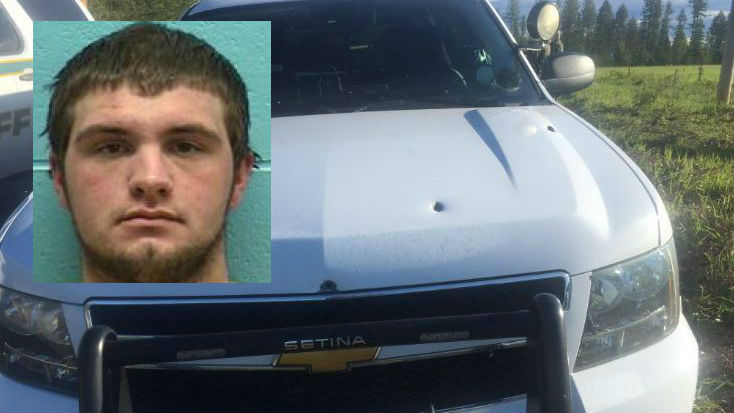 Also on KHQ.com

More>>

Wake up with KHQ and The Wake Up Show -- everyday from 7 to 9 a.m.

>>

Wake up with KHQ and The Wake Up Show -- everyday from 7 to 9 a.m.

>>
Most Popular Stories

Most Popular Stories

More>>

COEUR D'ALENE, Idaho - Coeur d'Alene Police are investigating a reported school shooting threat at Coeur d'Alene High School. A spokesperson for the district said that the threat was written on a napkin and shared on Snapchat. It says: "CHS school shooting 10-19-18. Be ready." Police tell us that while they are still investigating whether the threat is credible, they do not believe the CHS that the note mentions is referring to Coeur d'Alene High School.

>>

COEUR D'ALENE, Idaho - Coeur d'Alene Police are investigating a reported school shooting threat at Coeur d'Alene High School. A spokesperson for the district said that the threat was written on a napkin and shared on Snapchat. It says: "CHS school shooting 10-19-18. Be ready." Police tell us that while they are still investigating whether the threat is credible, they do not believe the CHS that the note mentions is referring to Coeur d'Alene High School.

>>

A vigil is scheduled for Eddie Daniels, a 15-year-old shot and killed in downtown Spokane on Wednesday. The memorial will be at 115 E. Pacific Avenue in Spokane. It's open to the public and free to attend. Donations will be collected for Daniel's family to help with funeral costs. "All donations are going to the family, to mom, to help for any need acquired through this tragedy," Chris Hart, an organizer, said. The vigil is also organized by Jeff Ross, the City Life..

>>

A vigil is scheduled for Eddie Daniels, a 15-year-old shot and killed in downtown Spokane on Wednesday. The memorial will be at 115 E. Pacific Avenue in Spokane. It's open to the public and free to attend. Donations will be collected for Daniel's family to help with funeral costs. "All donations are going to the family, to mom, to help for any need acquired through this tragedy," Chris Hart, an organizer, said. The vigil is also organized by Jeff Ross, the City Life..

>>

SPRING, Texas - Authorities in Texas say a woman who left a toddler alone on a stranger's doorstep could face charges of felony child endangerment.

>>

SPRING, Texas - Authorities in Texas say a woman who left a toddler alone on a stranger's doorstep could face charges of felony child endangerment.

>>

SPOKANE, Wash. - Update: Spokane Police Department SWAT Team officers took a homicide suspect into custody following an afternoon shooting in downtown Spokane. That suspect was identified as 27-year-old Joel C. Taitch. He was found blocks away from the crime scene and booked for 2nd degree murder.

>>

SPOKANE, Wash. - Update: Spokane Police Department SWAT Team officers took a homicide suspect into custody following an afternoon shooting in downtown Spokane. That suspect was identified as 27-year-old Joel C. Taitch. He was found blocks away from the crime scene and booked for 2nd degree murder.

>>

SPOKANE, Wash. - The man suspected of shooting a 15-year-old boy in downtown Spokane made his first appearance in court Thursday. 27-year-old Joel C. Taitch's bond was set at $200,000 during a hearing in Spokane. Newly released court documents are giving a better idea of what exactly led up to the shooting at Washington and Main.

>>

SPOKANE, Wash. - The man suspected of shooting a 15-year-old boy in downtown Spokane made his first appearance in court Thursday. 27-year-old Joel C. Taitch's bond was set at $200,000 during a hearing in Spokane. Newly released court documents are giving a better idea of what exactly led up to the shooting at Washington and Main.

>>

LIBERTY LAKE, Wash. - Liberty Lake Police are searching for a suspect in a fatal hit and run crash that happened Thursday morning and are asking the public for help. At around 8:15 a.m., Liberty Lake Police and Spokane Valley Fire Department responded to Country Vista Drive and East Mission Avenue for a reported hit and run crash involving a pedestrian.

>>

LIBERTY LAKE, Wash. - Liberty Lake Police are searching for a suspect in a fatal hit and run crash that happened Thursday morning and are asking the public for help. At around 8:15 a.m., Liberty Lake Police and Spokane Valley Fire Department responded to Country Vista Drive and East Mission Avenue for a reported hit and run crash involving a pedestrian.

>>
Top Stories from KHQ

Home

More>>

A vigil is scheduled for Eddie Daniels, a 15-year-old shot and killed in downtown Spokane on Wednesday. The memorial will be at 115 E. Pacific Avenue in Spokane. It's open to the public and free to attend. Donations will be collected for Daniel's family to help with funeral costs. "All donations are going to the family, to mom, to help for any need acquired through this tragedy," Chris Hart, an organizer, said. The vigil is also organized by Jeff Ross, the City Life..

>>

A vigil is scheduled for Eddie Daniels, a 15-year-old shot and killed in downtown Spokane on Wednesday. The memorial will be at 115 E. Pacific Avenue in Spokane. It's open to the public and free to attend. Donations will be collected for Daniel's family to help with funeral costs. "All donations are going to the family, to mom, to help for any need acquired through this tragedy," Chris Hart, an organizer, said. The vigil is also organized by Jeff Ross, the City Life..

>>

Here are the extended versions of the KHQ Local News 11 at 11 Mad Minute stories from Thursday, October 18th.

>>

Here are the extended versions of the KHQ Local News 11 at 11 Mad Minute stories from Thursday, October 18th.

>>

MISSOULA, Mont. (AP) - President Donald Trump is defending Republican congressman Greg Gianforte, who pleaded guilty to assaulting a reporter who asked him a question last year. At a campaign rally in Montana on Thursday, Trump said, "Any guy that can do a body slam - he's my kind of guy."

>>

MISSOULA, Mont. (AP) - President Donald Trump is defending Republican congressman Greg Gianforte, who pleaded guilty to assaulting a reporter who asked him a question last year. At a campaign rally in Montana on Thursday, Trump said, "Any guy that can do a body slam - he's my kind of guy."

>>

COEUR D'ALENE, Idaho - Coeur d'Alene Police are investigating a reported school shooting threat at Coeur d'Alene High School. A spokesperson for the district said that the threat was written on a napkin and shared on Snapchat. It says: "CHS school shooting 10-19-18. Be ready." Police tell us that while they are still investigating whether the threat is credible, they do not believe the CHS that the note mentions is referring to Coeur d'Alene High School.

>>

COEUR D'ALENE, Idaho - Coeur d'Alene Police are investigating a reported school shooting threat at Coeur d'Alene High School. A spokesperson for the district said that the threat was written on a napkin and shared on Snapchat. It says: "CHS school shooting 10-19-18. Be ready." Police tell us that while they are still investigating whether the threat is credible, they do not believe the CHS that the note mentions is referring to Coeur d'Alene High School.

>>

LIBERTY LAKE, Wash. - Liberty Lake Police are searching for a suspect in a fatal hit and run crash that happened Thursday morning and are asking the public for help. At around 8:15 a.m., Liberty Lake Police and Spokane Valley Fire Department responded to Country Vista Drive and East Mission Avenue for a reported hit and run crash involving a pedestrian.

>>

LIBERTY LAKE, Wash. - Liberty Lake Police are searching for a suspect in a fatal hit and run crash that happened Thursday morning and are asking the public for help. At around 8:15 a.m., Liberty Lake Police and Spokane Valley Fire Department responded to Country Vista Drive and East Mission Avenue for a reported hit and run crash involving a pedestrian.

>>

A New Orleans-area man has admitted keeping an autistic relative captive in a tent, a shed and a cage installed for animals. Jody Lambert of Amite also admitted shoving the woman to the ground, regularly insulting and threatening her, and knowing about other physical and emotional abuse. As part of a plea agreement, Lambert pleaded guilty Thursday to one count of civil rights conspiracy.

>>

A New Orleans-area man has admitted keeping an autistic relative captive in a tent, a shed and a cage installed for animals. Jody Lambert of Amite also admitted shoving the woman to the ground, regularly insulting and threatening her, and knowing about other physical and emotional abuse. As part of a plea agreement, Lambert pleaded guilty Thursday to one count of civil rights conspiracy.

>>

SPRING, Texas - Authorities in Texas say a woman who left a toddler alone on a stranger's doorstep could face charges of felony child endangerment.

>>

SPRING, Texas - Authorities in Texas say a woman who left a toddler alone on a stranger's doorstep could face charges of felony child endangerment.

>>

The death toll from Hurricane Florence has increased again, more than a month after the storm made landfall in North Carolina. Virginia's Department of Emergency Management announced Thursday that the state Office of the Chief Medical Examiner has attributed the drowning death of a person found in Roanoke this week to Florence.

>>

The death toll from Hurricane Florence has increased again, more than a month after the storm made landfall in North Carolina. Virginia's Department of Emergency Management announced Thursday that the state Office of the Chief Medical Examiner has attributed the drowning death of a person found in Roanoke this week to Florence.

>>

Are you heading to Pullman this weekend as the Washington State Cougars take on the University of Oregon Ducks? If so, here's what you need to know. Below is a list of tips from the Washington State Department of Transportation: Allow yourself extra travel time. With a large number of fans headed to town, roads could easily become congested. Know your routes. There are several ways into Pullman; plan your trip carefully and have alternate routes planned. Prepar...

>>

Are you heading to Pullman this weekend as the Washington State Cougars take on the University of Oregon Ducks? If so, here's what you need to know. Below is a list of tips from the Washington State Department of Transportation: Allow yourself extra travel time. With a large number of fans headed to town, roads could easily become congested. Know your routes. There are several ways into Pullman; plan your trip carefully and have alternate routes planned. Prepar...

>>

PULLMAN, Wash. - This Saturday might be the biggest game day WSU has ever seen. So it's no surprise the hotels are booked solid. But, there is still one room available, depending on what lengths you want to go to support Cougar football. Drew Kuzmin-Batchelor is a sophomore at WSU, and he's renting out his fraternity room for the night on Airbnb.

>>

PULLMAN, Wash. - This Saturday might be the biggest game day WSU has ever seen. So it's no surprise the hotels are booked solid. But, there is still one room available, depending on what lengths you want to go to support Cougar football. Drew Kuzmin-Batchelor is a sophomore at WSU, and he's renting out his fraternity room for the night on Airbnb.

>>