Death penalty sought for Florida man accused of burning girlfriend at Golden Corral
Posted:
Updated: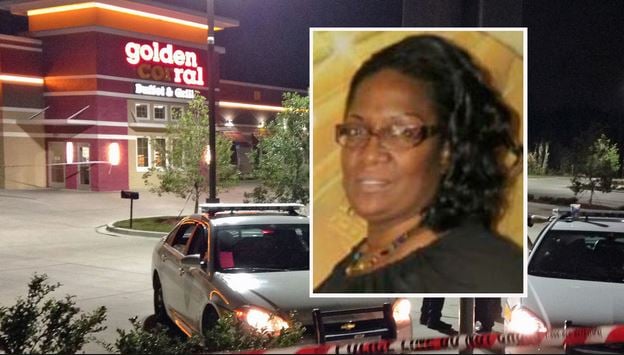 56-year-old Carol Demmons, was doused with lighter fluid and ignited with a lighter by her boyfriend while she was working at the Golden Corral in Jacksonville, Florida.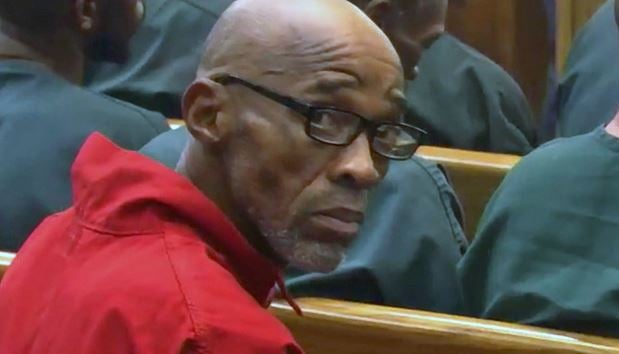 Prosecutors say they'll seek the death penalty for Darryl Whipple who set his girlfriend on fire at the Golden Corral where she worked. She later died at the hospital.
Most Popular Stories

Most Popular Stories

More>>

SAN FRANCISCO - The Santa Clara Police Department has confirmed the body of 32-year-old Ian Powers from Spokane was found in the water near Alviso Marina on Saturday. According to the department, the Coroner's Office has determined that the cause of death was salt water drowning. The manner of death has been ruled an accident.

>>

SAN FRANCISCO - The Santa Clara Police Department has confirmed the body of 32-year-old Ian Powers from Spokane was found in the water near Alviso Marina on Saturday. According to the department, the Coroner's Office has determined that the cause of death was salt water drowning. The manner of death has been ruled an accident.

>>

NEW YORK - U.S. health officials are telling people to avoid eating romaine lettuce because of an E. coli outbreak that has sickened 32 people in 11 states. The Food and Drug Administration says it's working with officials in Canada, where people are also being warned to stay away from romaine lettuce.

>>

NEW YORK - U.S. health officials are telling people to avoid eating romaine lettuce because of an E. coli outbreak that has sickened 32 people in 11 states. The Food and Drug Administration says it's working with officials in Canada, where people are also being warned to stay away from romaine lettuce.

>>

Several locals are trying to help the family of an eight-year-old boy, who was randomly stabbed at a gas station Saturday. Rayel Von Quade said she and three others (Salem Rose Sovereign, Quincey Brooks and Dani Loup) have been in touch with the Bush family. (KHQ has reached out to the family and have not heard back.) "They're, of course, very overwhelmed and stressed out right now and she's been dealing with a lot of messages from a lot of people coming through. But she says t...

>>

Several locals are trying to help the family of an eight-year-old boy, who was randomly stabbed at a gas station Saturday. Rayel Von Quade said she and three others (Salem Rose Sovereign, Quincey Brooks and Dani Loup) have been in touch with the Bush family. (KHQ has reached out to the family and have not heard back.) "They're, of course, very overwhelmed and stressed out right now and she's been dealing with a lot of messages from a lot of people coming through. But she says t...

>>

JBS USA has recalled nearly 100,000 pounds of ground beef due to concerns about possible e-coli contamination. The products have the establishment number Est.628 and were produced on October 24th. Products that were recalled were shipped to distributors in retail locations in California, Nevada, Oregon, Utah and Washington.

>>

JBS USA has recalled nearly 100,000 pounds of ground beef due to concerns about possible e-coli contamination. The products have the establishment number Est.628 and were produced on October 24th. Products that were recalled were shipped to distributors in retail locations in California, Nevada, Oregon, Utah and Washington.

>>

A man, claiming to be "the spawn of Lucifer," said he stabbed an eight-year-old boy because he "felt like he had to kill a child" and that it was "almost like a sacrifice." 30-year-old Bruce Derek Landahl was arrested Saturday for allegedly entering the HiCo store on Sprague, walking up to an eight-year-old boy playing on an iPad and stabbing him multiple times before the boy's father was able to stop him.

>>

A man, claiming to be "the spawn of Lucifer," said he stabbed an eight-year-old boy because he "felt like he had to kill a child" and that it was "almost like a sacrifice." 30-year-old Bruce Derek Landahl was arrested Saturday for allegedly entering the HiCo store on Sprague, walking up to an eight-year-old boy playing on an iPad and stabbing him multiple times before the boy's father was able to stop him.

>>

FLATHEAD COUNTY, Mont. - It's been roughly 18 months since a 26-year-old Spokane Valley man traveled to Montana for work, never to be seen again. The many loved ones of Corey Flannigan try to stay optimistic that one day, answers about what happened to him, will come. "I hate to call it a cold case after 18 months," said Flathead County Sheriff's Office Detective Rich Schuster.

>>

FLATHEAD COUNTY, Mont. - It's been roughly 18 months since a 26-year-old Spokane Valley man traveled to Montana for work, never to be seen again. The many loved ones of Corey Flannigan try to stay optimistic that one day, answers about what happened to him, will come. "I hate to call it a cold case after 18 months," said Flathead County Sheriff's Office Detective Rich Schuster.

>>
Top Stories from KHQ

Home

More>>

A Coeur d'Alene man is accused of giving his fiancé's five-year old daughter a sexually transmitted disease. Corey McGrath was arraigned in Kootenai County District Court Tuesday on charges of lewd conduct with a minor.

>>

A Coeur d'Alene man is accused of giving his fiancé's five-year old daughter a sexually transmitted disease. Corey McGrath was arraigned in Kootenai County District Court Tuesday on charges of lewd conduct with a minor.

>>

A man with a long-term addiction to DXM, who said he's "the spawn of Lucifer," admitted to stabbing an eight-year-old boy because he "felt like he had to kill a child" while he was high. 30-year-old Bruce Derek Landahl was arrested Saturday for allegedly entering the HiCo store on Sprague, walking up to an eight-year-old boy playing on an iPad and stabbing him multiple times before the boy's father was able to stop him. Landahl was booked into the ...

>>

A man with a long-term addiction to DXM, who said he's "the spawn of Lucifer," admitted to stabbing an eight-year-old boy because he "felt like he had to kill a child" while he was high. 30-year-old Bruce Derek Landahl was arrested Saturday for allegedly entering the HiCo store on Sprague, walking up to an eight-year-old boy playing on an iPad and stabbing him multiple times before the boy's father was able to stop him. Landahl was booked into the ...

>>

The Coeur d'Alene School District wants your input on a proposed levy. The levy funds school operations and maintenance and is currently totaled at $16 million, but the district is proposing an additional $4 million to help fund several areas of importance.

>>

The Coeur d'Alene School District wants your input on a proposed levy. The levy funds school operations and maintenance and is currently totaled at $16 million, but the district is proposing an additional $4 million to help fund several areas of importance.

>>

SPOKANE, Wash. - If there is anyone who knows their way around a KC-135 Stratotanker, it's Tech. Sgt. Shawn Roberge. Roberge is an Aircraft Structural Maintenance Section Chief; in other words, he fixes things. And since Roberge is constantly working on planes that were built in the 1950's, it's fair to say he stays busy. "The Air Force depends more and more on the 135's before the new tanker comes online," said Roberge.

>>

SPOKANE, Wash. - If there is anyone who knows their way around a KC-135 Stratotanker, it's Tech. Sgt. Shawn Roberge. Roberge is an Aircraft Structural Maintenance Section Chief; in other words, he fixes things. And since Roberge is constantly working on planes that were built in the 1950's, it's fair to say he stays busy. "The Air Force depends more and more on the 135's before the new tanker comes online," said Roberge.

>>

Spokane fire investigators determine Tuesday house fire was caused by keeping combustibles too close to a wood stove. Firefighters responded to the house fire in the 9600 block of N Seminole Drive on Tuesday morning.

>>

Spokane fire investigators determine Tuesday house fire was caused by keeping combustibles too close to a wood stove. Firefighters responded to the house fire in the 9600 block of N Seminole Drive on Tuesday morning.

>>

Vehicle prowling suspect apprehended by police while they investigate other vehicle prowling incidents. On Monday, officers were investigating reports of vehicle prowling in the area of Wall Street and Riverside Avenue.

>>

Vehicle prowling suspect apprehended by police while they investigate other vehicle prowling incidents. On Monday, officers were investigating reports of vehicle prowling in the area of Wall Street and Riverside Avenue.

>>

A $5,000 reward is being offered in the death of a grizzly bear in north Idaho. Idaho Department of Fish and Game officers received a mortality signal from the bear's collar and later found the bear's carcass near Spruce Lake in Boundary County on Sept. 9.

>>

A $5,000 reward is being offered in the death of a grizzly bear in north Idaho. Idaho Department of Fish and Game officers received a mortality signal from the bear's collar and later found the bear's carcass near Spruce Lake in Boundary County on Sept. 9.

>>

The Pentagon is estimating the cost of the military's mission on the U.S.-Mexico border will be about $210 million under current plans. The total includes about $72 million for the 5,900 active-duty troops providing support to Customs and Border Protection, plus $138 million so far for 2,100 National Guard troops who have been performing a separate border mission since April.

>>

The Pentagon is estimating the cost of the military's mission on the U.S.-Mexico border will be about $210 million under current plans. The total includes about $72 million for the 5,900 active-duty troops providing support to Customs and Border Protection, plus $138 million so far for 2,100 National Guard troops who have been performing a separate border mission since April.

>>

PULLMAN, Wash. - The Pullman Police Department will be increasing patrols during the Apple Cup. Pullman Police Chief Gary Jenkins says his officers will be making sure everyone who is in Pullman for Apple Cup is safe for the big game. Chief Jenkins also added that police will be on the look out for suspicious behavior.

>>

PULLMAN, Wash. - The Pullman Police Department will be increasing patrols during the Apple Cup. Pullman Police Chief Gary Jenkins says his officers will be making sure everyone who is in Pullman for Apple Cup is safe for the big game. Chief Jenkins also added that police will be on the look out for suspicious behavior.

>>

NEW YORK - U.S. health officials are telling people to avoid eating romaine lettuce because of an E. coli outbreak that has sickened 32 people in 11 states. The Food and Drug Administration says it's working with officials in Canada, where people are also being warned to stay away from romaine lettuce.

>>

NEW YORK - U.S. health officials are telling people to avoid eating romaine lettuce because of an E. coli outbreak that has sickened 32 people in 11 states. The Food and Drug Administration says it's working with officials in Canada, where people are also being warned to stay away from romaine lettuce.

>>