Homeowner searches for teens that body slam, destroy fence
Posted:
Updated: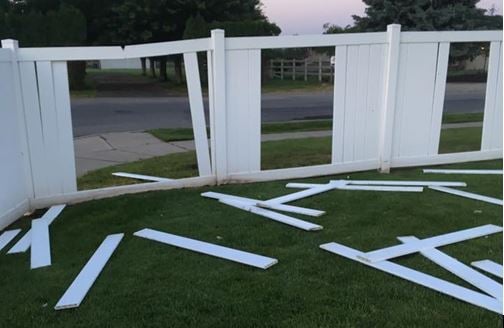 A Spokane homeowner is confused and frustrated after his fence was destroyed by two teens, for no apparent reason that he can see.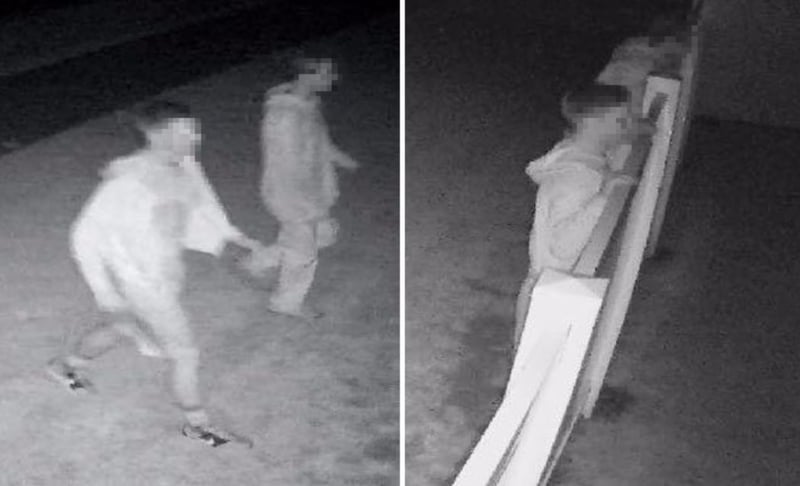 These two young men were caught on surveillance destroying a fence for no apparent reason. We have chosen to blur their faces because police have not officially identified them as suspects but they do say they are investigating the vandalism.
Also on KHQ.com

More>>

Wake up with KHQ and The Wake Up Show -- everyday from 7 to 9 a.m.

>>

Wake up with KHQ and The Wake Up Show -- everyday from 7 to 9 a.m.

>>
Most Popular Stories

Most Popular Stories

More>>

POST FALLS, Idaho - Kootenai County Deputies arrested a man for involuntary manslaughter after they say he shot and killed another man Saturday evening near Post Falls. Deputies responded to reports of a shooting on Gallatin Way near Post Falls just before 7 pm. Deputies and medical personnel arrived and found a man, identified as Tyler S. Liles, with a single gunshot wound.

>>

POST FALLS, Idaho - Kootenai County Deputies arrested a man for involuntary manslaughter after they say he shot and killed another man Saturday evening near Post Falls. Deputies responded to reports of a shooting on Gallatin Way near Post Falls just before 7 pm. Deputies and medical personnel arrived and found a man, identified as Tyler S. Liles, with a single gunshot wound.

>>

SPOKANE, Wash. - Spokane Police have successfully located and arrested a suspect from a hit-and-run incident on the South Hill Saturday morning. After crashing a Corvette into an SUV near 53rd and Regal, 36-year-old Kristopher Riley fled the scene on foot and left his passenger inside the vehicle. Police say the passenger of the Corvette and driver of the SUV were hospitalized with serious injuries.

>>

SPOKANE, Wash. - Spokane Police have successfully located and arrested a suspect from a hit-and-run incident on the South Hill Saturday morning. After crashing a Corvette into an SUV near 53rd and Regal, 36-year-old Kristopher Riley fled the scene on foot and left his passenger inside the vehicle. Police say the passenger of the Corvette and driver of the SUV were hospitalized with serious injuries.

>>

Spokane Valley Police detectives are asking for help to identify some unique items recovered during an investigation. The items are potentially liked to several storage unit burglaries last December on the South Hill. A suspect pawned the items, but a search of reported stolen property to identify the owner(s) has been unsuccessful. It's not known if the items were part of the South Hill burglaries or were stolen at a different time and place.

>>

Spokane Valley Police detectives are asking for help to identify some unique items recovered during an investigation. The items are potentially liked to several storage unit burglaries last December on the South Hill. A suspect pawned the items, but a search of reported stolen property to identify the owner(s) has been unsuccessful. It's not known if the items were part of the South Hill burglaries or were stolen at a different time and place.

>>

SPOKANE, Wash. - One person was taken to the hospital after being stabbed in downtown Spokane early Sunday morning and police are still looking for a suspect. Spokane Police say they received a report of a stabbing near Sprague and Washington just before 1 am on Sunday. Arriving officers found a man who had been stabbed in a parking lot near the intersection.

>>

SPOKANE, Wash. - One person was taken to the hospital after being stabbed in downtown Spokane early Sunday morning and police are still looking for a suspect. Spokane Police say they received a report of a stabbing near Sprague and Washington just before 1 am on Sunday. Arriving officers found a man who had been stabbed in a parking lot near the intersection.

>>

Otis Orchards, Wash. Dozens of people came to Ponti Veterinary Hospital in Otis Orchards to pay their final respects to Deputy K-9 Laslo. Some brought the American flag and the thin blue line flag which flapped in the wind. Deputy vehicles lined the side of the building ready to give Laslo one last send off. Laslo had a stellar career in law enforcement the former deputy apprehended nearly 500 suspects in the four years he served on the force. On the night of Laslo's crime-fighting...

>>

Otis Orchards, Wash. Dozens of people came to Ponti Veterinary Hospital in Otis Orchards to pay their final respects to Deputy K-9 Laslo. Some brought the American flag and the thin blue line flag which flapped in the wind. Deputy vehicles lined the side of the building ready to give Laslo one last send off. Laslo had a stellar career in law enforcement the former deputy apprehended nearly 500 suspects in the four years he served on the force. On the night of Laslo's crime-fighting...

>>

Spokane, Wash. Deputy Tim Jones is not just a Spokane Sheriff's Deputy to some he is a loving father, but to one girl 7-year-old Avayah Deputy Jones is her hero "Sometimes in our profession we have a moment that might not be related to any of our work. This was a moment that I just felt compelled," said Deputy Tim Jones of the Spokane County Sheriff's Department. Deputy Jones was at Valley Hospital while on duty when he heard screaming coming from one of the rooms in the...

>>

Spokane, Wash. Deputy Tim Jones is not just a Spokane Sheriff's Deputy to some he is a loving father, but to one girl 7-year-old Avayah Deputy Jones is her hero "Sometimes in our profession we have a moment that might not be related to any of our work. This was a moment that I just felt compelled," said Deputy Tim Jones of the Spokane County Sheriff's Department. Deputy Jones was at Valley Hospital while on duty when he heard screaming coming from one of the rooms in the...

>>
Top Stories from KHQ

Home

More>>

BAKER CITY, Ore. (AP) - A man was killed on Oregon Route 86 near Baker City while checking the air pressure on his trailer's tires. KBOI reports Dennis Tim Cheney of Walla Walla, Washington had pulled his truck and trailer over on the shoulder of the westbound lane to check tire pressure. Oregon State Police say another vehicle traveling westbound crossed into the shoulder and hit Cheney.

>>

BAKER CITY, Ore. (AP) - A man was killed on Oregon Route 86 near Baker City while checking the air pressure on his trailer's tires. KBOI reports Dennis Tim Cheney of Walla Walla, Washington had pulled his truck and trailer over on the shoulder of the westbound lane to check tire pressure. Oregon State Police say another vehicle traveling westbound crossed into the shoulder and hit Cheney.

>>

HELENA-WEST HELENA, Ark. (AP) - An eastern Arkansas animal shelter says people have broken in to use dogs there for dogfighting for the second time in two weeks, leaving five animals injured. In a Facebook post, the Humane Society of the Delta said a worker discovered the injured dogs Sunday morning at the shelter in Helena-West Helena, about 100 miles (160 kilometers) east of Little Rock.

>>

HELENA-WEST HELENA, Ark. (AP) - An eastern Arkansas animal shelter says people have broken in to use dogs there for dogfighting for the second time in two weeks, leaving five animals injured. In a Facebook post, the Humane Society of the Delta said a worker discovered the injured dogs Sunday morning at the shelter in Helena-West Helena, about 100 miles (160 kilometers) east of Little Rock.

>>

One person is dead and three others are injured after an early morning shooting at a nightclub in Lakewood. Police responded to the scene at New World VIP Lounge at around 1:25 a.m. Sunday. They helped three victims with gunshot wounds and took them to a hospital, where one died of his injuries. Friends took a fourth victim to the hospital.

>>

One person is dead and three others are injured after an early morning shooting at a nightclub in Lakewood. Police responded to the scene at New World VIP Lounge at around 1:25 a.m. Sunday. They helped three victims with gunshot wounds and took them to a hospital, where one died of his injuries. Friends took a fourth victim to the hospital.

>>

Some 30 people were hurt when a floor collapsed early Sunday during a party at an apartment in South Carolina near the campus of Clemson University, news reports say. A large portion of a floor on the first level caved in as people were dancing, causing dozens to fall through to the basement.

>>

Some 30 people were hurt when a floor collapsed early Sunday during a party at an apartment in South Carolina near the campus of Clemson University, news reports say. A large portion of a floor on the first level caved in as people were dancing, causing dozens to fall through to the basement.

>>

JACKSONVILLE, Fla. (AP) - Authorities say six people have been wounded, some seriously, in what possibly was a gang-related shooting blocks from the NFL stadium in Jacksonville where the Jaguars were hosting the Houston Texans. Ron Lendvay, director of investigations for the Jacksonville Sheriff's Office, says the shooting erupted near a laundromat at 12:35 p.m. Sunday and that five men and one woman ranging in age from their 20s to the 70s were rushed for medical care.

>>

JACKSONVILLE, Fla. (AP) - Authorities say six people have been wounded, some seriously, in what possibly was a gang-related shooting blocks from the NFL stadium in Jacksonville where the Jaguars were hosting the Houston Texans. Ron Lendvay, director of investigations for the Jacksonville Sheriff's Office, says the shooting erupted near a laundromat at 12:35 p.m. Sunday and that five men and one woman ranging in age from their 20s to the 70s were rushed for medical care.

>>

WASHINGTON (AP) - A Republican senator says the U.S. needs a president who "celebrates the First Amendment," not one who "pretends that beating up a reporter is OK." Nebraska's Ben Sasse (sas) has frequently criticized President Donald Trump for what he considers Trump's uncivil rhetoric. Sasse has said he "regularly" considers leaving his party and becoming an independent.

>>

WASHINGTON (AP) - A Republican senator says the U.S. needs a president who "celebrates the First Amendment," not one who "pretends that beating up a reporter is OK." Nebraska's Ben Sasse (sas) has frequently criticized President Donald Trump for what he considers Trump's uncivil rhetoric. Sasse has said he "regularly" considers leaving his party and becoming an independent.

>>

HEBER, Utah (AP) - Authorities in Utah say a man suspected of driving under the influence has been jailed without bond after a crash killed six men in a pickup truck. Court records show 41-year-old Jamie Don McKenzie remains in Wasatch County Jail for investigation of six counts of vehicular homicide and two counts of driving under the influence causing serious injury, as well as having an open container, reckless driving and speeding violations.

>>

HEBER, Utah (AP) - Authorities in Utah say a man suspected of driving under the influence has been jailed without bond after a crash killed six men in a pickup truck. Court records show 41-year-old Jamie Don McKenzie remains in Wasatch County Jail for investigation of six counts of vehicular homicide and two counts of driving under the influence causing serious injury, as well as having an open container, reckless driving and speeding violations.

>>

BARCELONA, Spain - A viral video showing a man's racist tirade towards an elderly black woman prior to a European flight has led to thousands calling for a boycott of the airline. According to the Guardian and CambridgeshireLive, many felt the situation that transpired on a Ryanair flight from Barcelona to London Stansted was mishandled.

>>

BARCELONA, Spain - A viral video showing a man's racist tirade towards an elderly black woman prior to a European flight has led to thousands calling for a boycott of the airline. According to the Guardian and CambridgeshireLive, many felt the situation that transpired on a Ryanair flight from Barcelona to London Stansted was mishandled.

>>

Florida officials say a woman lying on a hammock was killed after a palm tree fell on her. Hillsborough County Sheriff's officers say 20-year-old Isabel Melendez was in the hammock on Egmont Key Park on Saturday in late afternoon. The palm tree crashed on her, and she was taken to a hospital in St. Petersburg, where she later died of her injuries.

>>

Florida officials say a woman lying on a hammock was killed after a palm tree fell on her. Hillsborough County Sheriff's officers say 20-year-old Isabel Melendez was in the hammock on Egmont Key Park on Saturday in late afternoon. The palm tree crashed on her, and she was taken to a hospital in St. Petersburg, where she later died of her injuries.

>>

CHICAGO (AP) - With the Mega Millions lottery jackpot at a record $1.6 billion, people are snapping up tickets across the U.S. The Powerball jackpot also has climbed. It's up to an estimated $620 million for Wednesday's drawing. That would make it the fifth-largest jackpot in U.S. history. But much of the focus has been on Tuesday's Mega Millions drawing and what would be the largest jackpot prize in U.S. history.

>>

CHICAGO (AP) - With the Mega Millions lottery jackpot at a record $1.6 billion, people are snapping up tickets across the U.S. The Powerball jackpot also has climbed. It's up to an estimated $620 million for Wednesday's drawing. That would make it the fifth-largest jackpot in U.S. history. But much of the focus has been on Tuesday's Mega Millions drawing and what would be the largest jackpot prize in U.S. history.

>>