Get spooked with the best horror movies on Netflix, Hulu, and more
Updated: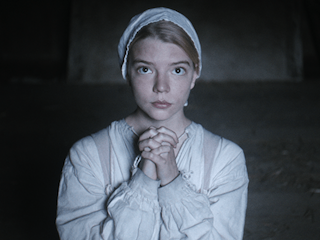 © Digital Trends

By Will Nicol
October means many things: Colorful leaves, pumpkin-flavored everything, and of course, Halloween. If you're looking for a cheap thrill to get you in the mood but would prefer not to visit a haunted house, we've picked out some of the best horror movies on Netflix, Amazon, Hulu, and HBO. Turn off the lights, turn on the TV, and settle in for a spooky Halloween marathon.
'The Witch'
Subtitled A New-England Folktale, Robert Eggers' The Witch draws on America's Puritan heritage to craft a story that is both unsettling and refreshingly straightforward. Opening on a small New England village, the film finds William (Ralph Ineson), along with his family, facing exile for unorthodox religious views. William chooses to leave of his own accord, taking his family out into the wild, where they settle on the edge of a forest. Although they view their new property as God-given, dissonant strings and a wailing chorus play as the camera lingers on the dark woods, the first indication that the wilderness holds evil. From there, The Witch unfolds slowly and sadistically, as supernatural forces plague the family in increasingly awful ways. Eggers prioritizes authenticity, with formal dialogue and period-accurate clothing and sets, each scene lit only by natural light, whether from the evening sun peeking through the trees or a candle wavering in the dark.
'The Babadook'
Reeling from the death of her husband, Amelia (Essie Davis) struggles to raise her son, Samuel (Noah Wiseman), who is prone to frequent outbursts. Juggling her career as a nurse with a troublesome child, Amelia's problems intensify when Sam asks her to read a disturbing pop-up book about a creature called Mister Babadook. After she reads the book to Sam, his behavior worsens, and Amelia begins to see a shadowy figure moving about their house. The Babadook is an intensely personal horror film, focusing on Amelia's grief and her relationship with her son, who's outbursts are so awful one might suspect he is possessed. Director Jennifer Kent keeps the camera tightly focused on her subjects, at times trapping Amelia in the frame, and giving the film a frightening intimacy.
'It Follows'
The worst thing you can do in a horror movie — outside of maybe splitting up or stumbling into the basement — is to have sex. Nothing draws the attention of a movie monster like the sound of young people in the throes of passion. For Jay (Maika Monroe), a night with her shady boyfriend Hugh (Jake Weary), has life-threatening consequences, as Hugh reveals that he has passed on to her a curse, which entails a shapeshifting creature that will pursue her, slowly but unstoppably, until it catchers her or she passes the curse on to someone else. With the help of her friends, Jay struggles to stay on the move and find the origin of the curse. It Follows takes a simple concept — it's creepy to have a stranger staring at you — and builds a great horror movie around it. Director David Robert Mitchell employs a number of techniques to heighten the terror, manipulating the camera to keep audiences guessing as to whether anyone in the background of any scene could be the creature.
'The Woman in Black'
Set in the early 20th century, The Woman in Black is a period piece both in setting and form, telling a slow-burning ghost story in the Gothic tradition. Still mourning the death of his wife, lawyer Arthur Kipps (Daniel Radcliffe) ventures out to the village of Crythin Gifford, where he is to oversee the sale of an old house out in the marshland. The villagers are aloof, and Arthur soon discovers why. While rummaging through the old house, he awakens a spirit who, when sighted, causes the children of the village to kill themselves. The Woman in Black aims to creep rather than shock. The movie keeps the titular phantom in the background for the most part, letting the viewer steep in an atmosphere of dread.
'The Innkeepers'
Ti West's The Innkeepers begins in a strangely relaxed fashion for a horror movie, introducing the viewer to Claire (Sara Paxton) and Luke (Pat Healy), employees at the Yankee Pedlar Inn. It is the last night before the hotel closes down forever, and with business at a crawl, that the two are free to spend their night talking and goofing off. It could be the start of any slacker-comedy, and the casual opening helps define the characters before the movie kicks into gear, as Claire and Luke decide to spend their last night on the job investigating the inn's resident ghost, a woman who killed herself after being left at the altar. From here, the film plays out in typical ghost story fashion; the duo use sound equipment to detect paranormal activity, a psychic shows up and warns them of danger, objects move on their own. West's firm direction and careful pacing elevate the film above its formula, however, making for an eerie tale.
'Let the Right One in'
Oskar (Kåre Hedebrant) lives in a quiet, chilly Swedish suburb. Tormented by bullies, the 12-year-old boy spends his nights reading about murder and plotting revenge. It's a lonely existence; that is, until he meets new neighbor Eli (Lina Leandersson), a pale child who only comes out at night and drinks blood. Let the Right One In is a vampire film, and like the best vampire stories, it does not lose sight of the inherent horror of its bloodsucking subject. While Eli is friendly with Oskar, the film constantly reminds the audience that she is a predator, one who will pounce on victims like a small leopard. The relationship between Oskar and Eli is central to the film, and despite Eli's murderous habits, it is easy to see why Oskar would be drawn to this stranger, who has all the strength and confidence he wants. The film is beautifully shot, with steady camera movements that suit the icy stillness of the film's setting. Frequently disturbing, but also charming at times, Let the Right One In is the perfect antidote for those tired of sappy vampire romances.
'Honeymoon'
One of the most effective paths to horror is to take something mundane, particularly something people cherish, and turn it inside out. In Honeymoon, director Leigh Janiak turns a newlywed couple's getaway into a parade of nightmares. The couple in question, Bea (Rose Leslie) and Paul (Harry Treadaway), have chosen a remote cabin in the woods for their honeymoon. Although the vacation seems normal enough at first, the local restaurant owner and his wife are unwelcoming, strange lights appear in the woods at night, and Bea starts to behave erratically, leading Paul to investigate what is actually going on. The film wisely explores the couple's relationship before hurling them into danger. Leslie and Treadaway bring charm and nuance to their characters, too, and that makes the terror all the more intense when things start to go wrong.
'The Host'
Horror enthusiasts weary of vampire, zombies, and stringy-haired ghosts may find some refreshment in The Host, a Korean film about a giant mutant fish and the band of people hunting it. Following a brief prologue in which American military scientists dump formaldehyde into the Han River, the film cuts to a few years later, when a massive creature emerges from the river and wreaks havoc on the nearby populace. When the creature retreats to its lair, it takes with it the daughter of food cart owner Park Gang-du (Song Kang-ho). Escaping from government quarantine, Gang-du and his family gather up weapons and set off into the sewers, hoping to rescue his daughter. The Host presents a simple, thrilling monster hunt, one that breaks the cardinal rule of creature features by showing the monster near the beginning. The beast is grotesque and stunningly animated, and its first attack is a masterpiece of disaster cinema.
'We Are Still Here'
Hoping to move on after the death of their son, Bobby, Anne (Barbara Crampton) and Paul (Andrew Sensenig) buy a house in a remote New England town. The house has a dark history, having previously being used as a funeral home, and Anne begins to feel a supernatural presence that she thinks is Bobby's spirit. Anne invites her amateur psychic friends May (Lisa Marie) and Jacob (Larry Fessenden) over to investigate. Unbeknownst to them all, the townsfolk know more than they are letting on. We Are Still Here draws on a standard premise — the town with a dark secret — but it executes it well, slowly building tension before unleashing a bloody climax. The film draws heavily on the slower-paced horror movies of the '70s, but it sprinkles moments of fright throughout to keep things interesting.
'I Am the Pretty Thing That Lives In the House'
Osgood Perkins' haunted house film begins in darkness, with crackly narration as a woman dresses in white drifts into frame. From there, the camera wanders through a house at night, a small circle of dull light revealing the interior. The story proper doesn't begin until roughly four minutes in, but I Am The Pretty Thing That Lives in the House is far more concerned with atmosphere than plot, and that droning intro establishes a tone of pure dread. The film follows Lily (Ruth Wilson), a young nurse assigned to take care of elderly author Iris Blum (Paula Prentiss). Lily is a bundle of nerves, and Iris' house, full of foreboding doorways and oppressive shadows, wreak havoc on her mind, as do the strange noises she hears at night. This is a slowly paced film, one that gently cranks up the tension, rather than offering a series of bloody climaxes. It's the cinematic equivalent of the climb at the start of a roller coaster, stretched out for an hour and a half.
'Gerald's Game'
An adaptation of a Stephen King novella, Gerald's Game follows a couple's romantic getaway as it goes horribly wrong. Jessie (Carla Gugino) and Gerald Burlingame (Bruce Greenwood) spend the weekend at a remote lake house, hoping to rekindle their relationship. Gerald wants to spice up their evening with some bondage, handcuffing Jessie to the bed. So far, so good. Gerald gets a little too rough, however, and in the middle of an argument he dies of a heart attack, leaving Jessie handcuffed to the bed with no help for miles. As dehydration sets in, she begins to see visions of Gerald, taunting her, and must think of a way out. With its limited setting and cast, Gerald's Game is a taut, constricting thriller built around an outstanding performance from Gugino.
'Hellraiser'
This classic, franchise-spawning horror movie opens on Frank Cotton (Sean Chapman) solving an ornate puzzle box. When he completes it, hooked chains appear and rend him to bits. Frank's brother (Andrew Robinson) later moves into his house, along with his wife, Julia (Clare Higgins); and daughter, Kirsty (Ashley Laurence). After Larry cuts his hand during the move, the spilled blood resurrects Frank, who sets about consuming people in order to restore his body. If Kirsty is to survive and send Frank back to Hell, she must use the puzzle box, and strike a deal with its nightmarish owners. Hellraiser is a gruesome work of body horror. Despite the gory special effects, however, it's a methodical film, unfolding in a slow but unrelenting fashion.
'The Void'
Cosmic horror films are a rarity these days, which is a shame, given the enduring quality of films like John Carpenter's The Thing. That made 2016's The Void a welcome surprise. It's a film rooted in old horror traditions, an homage to the works of Carpenter featuring disgusting practical effects and disturbing creatures from beyond. The film is set in a hospital, where Deputy Sheriff Daniel Carter (Aaron Poole) brings an injured man he found by the road. Carter and the hospital staff soon find themselves besieged by a crowd of robed cultists who encircle the hospital, but the true horrors are already within the walls. Although the plot is a bit of a mess — particularly some absurd twists in the third act — The Void is a solid tribute to '80s horror, with some striking imagery throughout.
'The Monster'
Often, the simplest concepts work best in horror. Bryan Bertino's The Monster keeps things very simple; an alcoholic woman named Kathy (Zoe Kazan) and her daughter Lizzy (Ella Ballentine) are driving down a dark road at night, when they hit a wolf. Lizzy calls a tow truck, but the driver is quickly attacked by an unseen creature. Trapped in the car, Kathy and Lizzy try to avoid drawing the monster's attention. It's a sparse premise, and the film makes excellent use of its limited setting, using the darkness outside the car to keep the characters and the audience on edge.
'The Conjuring'
James Wan may have kicked off the unfortunate torture porn renaissance with 2004's Saw, but he made up for it with his later, supernatural horror films, particularly The Conjuring. The film follows paranormal investigators Ed (Patrick Wilson) and Lorraine Warren (Vera Farmiga), whose latest case is their most disturbing. The Perron family recently moved into an old farmhouse in Rhode Island. Before long, strange events plague the Perrons, and they turn to the Warrens for help. The Conjuring is the work of a master craftsman, with clever camerawork, unsettling sound design, and a remarkable sense of restraint. Although it doesn't do anything radical for a horror movie, the execution makes it one of the best haunted house films in years.
'The Texas Chainsaw Massacre'
One of the most influential films in the history of horror, The Texas Chainsaw Massacre follows a group of young friends, including brother and sister Sally (Marilyn Burns) and Franklin Hardesty (Paul A. Partain) on a road trip through Texas. After a bizarre encounter with a creepy hitchhiker, they make their way to a swimming hole to relax. When they investigate sounds at a nearby house, however, they find themselves in a tale of grisly horror. While many elements of The Texas Chainsaw Massacre have appeared in later slasher movies, the film holds up thanks to skilled craftsmanship. Despite the name, the movie is light on gore, leaving most of the violence implied; it frightens through sustained tension and grotesque set design. It's a movie that isn't just creepy. In his depiction of an overgrown, sun-soaked Texas far from civilization, director Tobe Hooper tapped into the paranoia of the '70s, when faith in American institutions was crumbling.
This article was originally posted on Digital Trends
Content provided by


INFORMATIONAL DISCLAIMER The information contained on or provided through this site is intended for general consumer understanding and education only and is not intended to be and is not a substitute for professional financial or accounting advice. Always seek the advice of your accountant or other qualified personal finance advisor for answers to any related questions you may have. Use of this site and any information contained on or provided through this site is at your own risk and any information contained on or provided through this site is provided on an "as is" basis without any representations or warranties.