Search continues for possible Tampa serial killer after 4th death
Posted:
Updated: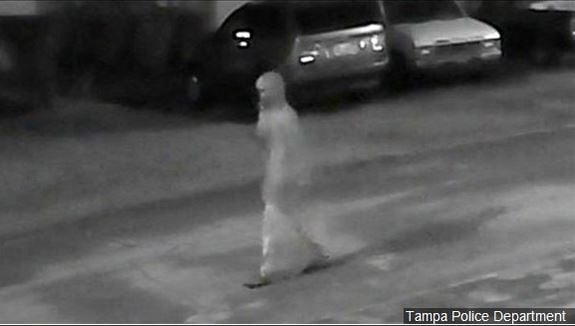 Tampa Police are asking the public for help identifying this person of interest in the recent Seminole Heights neighborhood murders in Tampa Florida, Photo Date: 10/23/17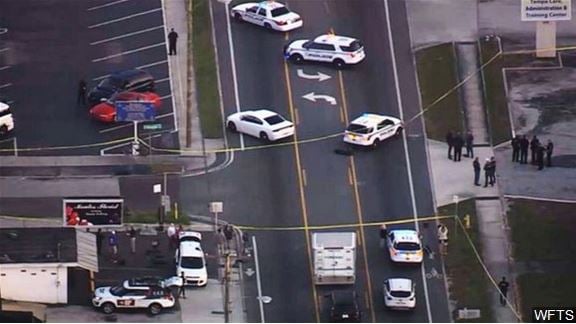 4th person murdered in Seminole Heights. Linked to the 3 previous murders, Photo Date: 11/14/17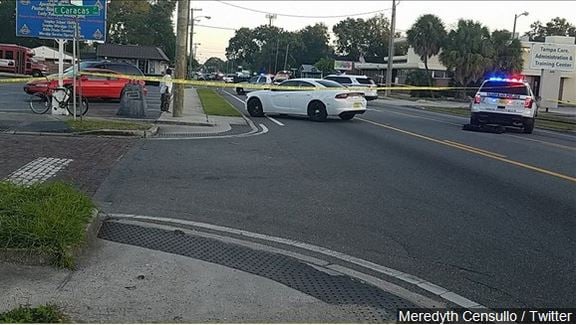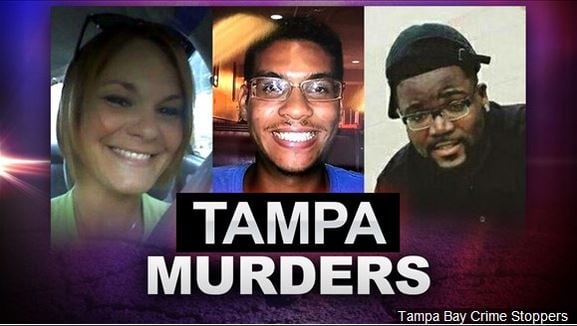 (L-R) Monica Hoffa, Anthony Naiboa and Benjamin Mitchell are believed to be victims of the Seminole Heights neighborhood killer in Tampa Bay Florida. And now, a 4th victim has been named as Ronald Felton.
Also on KHQ.com

More>>

Wake up with KHQ and The Wake Up Show -- everyday from 7 to 9 a.m.

>>

Wake up with KHQ and The Wake Up Show -- everyday from 7 to 9 a.m.

>>
Most Popular Stories

Most Popular Stories

More>>

STEVENS COUNTY, Wash. - It's been nearly two years since anyone has seen or heard from Paul Brazeau. He was last seen at his son's wedding. His brokenhearted family reached out to KHQ's Hayley Guenthner with a letter asking for his case to be featured in our Q6 Cold Case series. The day Paul vanished started out so wonderful. "It was a happy day," said Paul's aunt Georgine Glatt.

>>

STEVENS COUNTY, Wash. - It's been nearly two years since anyone has seen or heard from Paul Brazeau. He was last seen at his son's wedding. His brokenhearted family reached out to KHQ's Hayley Guenthner with a letter asking for his case to be featured in our Q6 Cold Case series. The day Paul vanished started out so wonderful. "It was a happy day," said Paul's aunt Georgine Glatt.

>>

SPOKANE, Wash. - Multiple fire crews from Spokane County and the Department of Natural Resources are working to mop up a series of fires that broke out along Interstate 90 west of Spokane. Crews on scene tell us that while they don't have an exact count, there were at least 3 different fires burning, all about 5-acres in size, along I-90 between exit 272 and 277.

>>

SPOKANE, Wash. - Multiple fire crews from Spokane County and the Department of Natural Resources are working to mop up a series of fires that broke out along Interstate 90 west of Spokane. Crews on scene tell us that while they don't have an exact count, there were at least 3 different fires burning, all about 5-acres in size, along I-90 between exit 272 and 277.

>>

COEUR D'ALENE, Idaho - The Kootenai County Sheriff's Office says one man was detained following a SWAT situation near Rockford Bay Monday morning. The incident happened near Highway 95 and Bellgrove Road. Deputies say it was a domestic dispute and the 2nd time they had been called the home in the past 24 hours.

>>

COEUR D'ALENE, Idaho - The Kootenai County Sheriff's Office says one man was detained following a SWAT situation near Rockford Bay Monday morning. The incident happened near Highway 95 and Bellgrove Road. Deputies say it was a domestic dispute and the 2nd time they had been called the home in the past 24 hours.

>>

LAKEWOOD, N.J. - Authorities say a baby girl found crawling across a busy New Jersey street was unharmed after a neighbor and passing motorist came to her aid. The child was spotted around 5 p.m. Saturday in Lakewood, in southern New Jersey. The motorist, 41-year-old Cory Cannon of Eatontown, told the Asbury Park Press he saw the girl on Joe Parker Road and initially thought she was a toy.

>>

LAKEWOOD, N.J. - Authorities say a baby girl found crawling across a busy New Jersey street was unharmed after a neighbor and passing motorist came to her aid. The child was spotted around 5 p.m. Saturday in Lakewood, in southern New Jersey. The motorist, 41-year-old Cory Cannon of Eatontown, told the Asbury Park Press he saw the girl on Joe Parker Road and initially thought she was a toy.

>>

SPOKANE, Wash. - Spokane Firefighters battled a large fire at a downtown Spokane apartment complex in downtown Spokane Monday morning. Responding to crews saw flames coming from a second-story window in the complex near 2nd and Pine St., just east of Division and immediately upgraded the call to a 2nd alarm. Firefighters began searching for anyone inside the building but they say it appears everyone made it out safely.

>>

SPOKANE, Wash. - Spokane Firefighters battled a large fire at a downtown Spokane apartment complex in downtown Spokane Monday morning. Responding to crews saw flames coming from a second-story window in the complex near 2nd and Pine St., just east of Division and immediately upgraded the call to a 2nd alarm. Firefighters began searching for anyone inside the building but they say it appears everyone made it out safely.

>>
Top Stories from KHQ

Home

More>>

SPOKANE, Wash. - A problem within a solution – it's a phrase so oxymoronic that it almost doesn't make sense, but it's crystal clear for a specific group of students at Lewis and Clark High School.

>>

SPOKANE, Wash. - A problem within a solution – it's a phrase so oxymoronic that it almost doesn't make sense, but it's crystal clear for a specific group of students at Lewis and Clark High School.

>>

YAKIMA, Wash. (AP) - Despite Republican leaders calling on Washington lawmaker Rep. Matt Manweller to resign in the wake of new sexual misconduct allegations, Manweller says he will finish his term but will resign if re-elected. The Yakima Herald-Republic reports Manweller said in a message Monday that it's important he's re-elected so the seat can be filled with another Republican when he resigns.

>>

YAKIMA, Wash. (AP) - Despite Republican leaders calling on Washington lawmaker Rep. Matt Manweller to resign in the wake of new sexual misconduct allegations, Manweller says he will finish his term but will resign if re-elected. The Yakima Herald-Republic reports Manweller said in a message Monday that it's important he's re-elected so the seat can be filled with another Republican when he resigns.

>>

WASHINGTON (AP) - After a long weekend spent wondering if he should resign or would be fired, Deputy Attorney General Rod Rosenstein still has his job — for now. President Donald Trump gave Rosenstein a three-day reprieve pending their face-to-face White House showdown Thursday....

>>

WASHINGTON (AP) - After a long weekend spent wondering if he should resign or would be fired, Deputy Attorney General Rod Rosenstein still has his job — for now. President Donald Trump gave Rosenstein a three-day reprieve pending their face-to-face White House showdown Thursday....

>>

SAN JUAN, Puerto Rico (AP) - President Donald Trump on Monday declared himself an "absolute no" on statehood for Puerto Rico as long as critics such as San Juan's mayor remain in office, the latest broadside in his feud with members of the U.S. territory's leadership.

>>

SAN JUAN, Puerto Rico (AP) - President Donald Trump on Monday declared himself an "absolute no" on statehood for Puerto Rico as long as critics such as San Juan's mayor remain in office, the latest broadside in his feud with members of the U.S. territory's leadership.

>>

SAN FRANCISCO (AP) - The co-founders of Instagram are resigning their positions with the social media company. Chief Executive Kevin Systrom said in a statement late Monday that he and Mike Krieger plan to leave the company in the next few weeks. Krieger is chief technical officer. They founded the photo-sharing app in 2010 and sold it to Facebook in 2012 for about $1 billion.

>>

SAN FRANCISCO (AP) - The co-founders of Instagram are resigning their positions with the social media company. Chief Executive Kevin Systrom said in a statement late Monday that he and Mike Krieger plan to leave the company in the next few weeks. Krieger is chief technical officer. They founded the photo-sharing app in 2010 and sold it to Facebook in 2012 for about $1 billion.

>>

WASHINGTON (AP) - Supreme Court nominee Brett Kavanaugh declared in a televised interview Monday that he never sexually assaulted anyone in high school or at any other time in his life. Kavanaugh and his wife, Ashley, sat down for an interview with Fox News Channel's "The Story with Martha MacCallum" after a second woman accused him of sexual misconduct.

>>

WASHINGTON (AP) - Supreme Court nominee Brett Kavanaugh declared in a televised interview Monday that he never sexually assaulted anyone in high school or at any other time in his life. Kavanaugh and his wife, Ashley, sat down for an interview with Fox News Channel's "The Story with Martha MacCallum" after a second woman accused him of sexual misconduct.

>>

CHENEY, Wash. - The flames got a little too close for comfort to a local elementary school along I-90. KHQ met with a group of responders who were ready to help students escape the danger at a moment's notice if needed. When a brush fire started spreading rapidly, Ellen Holland got her team ready at Snowden Elementary.

>>

CHENEY, Wash. - The flames got a little too close for comfort to a local elementary school along I-90. KHQ met with a group of responders who were ready to help students escape the danger at a moment's notice if needed. When a brush fire started spreading rapidly, Ellen Holland got her team ready at Snowden Elementary.

>>

MEDICAL LAKE, Wash. - It's been a month since Spokane saw those nasty air quality numbers get so hazardous from wildfires and it would be easy to think fire season is over. But Monday, we had a reminder that fire season is still here, and will be for quite some time.

>>

MEDICAL LAKE, Wash. - It's been a month since Spokane saw those nasty air quality numbers get so hazardous from wildfires and it would be easy to think fire season is over. But Monday, we had a reminder that fire season is still here, and will be for quite some time.

>>

SANDPOINT, Idaho. First - it was a robocall, now a threat, targetting a Sandpoint newspaper and one of its writers, has surfaced on YouTube. "Ben Olson is a cancer on wholesome North Idaho," the video states. "And cancers must be burned out." The 56-second video clip shows a picture of Co-owner and Publisher of the Sandpoint Reader, Ben Olson, next to a stack of the newspaper he writes for. The papers are doused in a clear liquid then lit on fire.

>>

SANDPOINT, Idaho. First - it was a robocall, now a threat, targetting a Sandpoint newspaper and one of its writers, has surfaced on YouTube. "Ben Olson is a cancer on wholesome North Idaho," the video states. "And cancers must be burned out." The 56-second video clip shows a picture of Co-owner and Publisher of the Sandpoint Reader, Ben Olson, next to a stack of the newspaper he writes for. The papers are doused in a clear liquid then lit on fire.

>>

DALLAS (AP) - A white Dallas police officer who fatally shot her black neighbor inside his own apartment was fired Monday, the same day the man was being buried in his Caribbean homeland. Police Chief U. Renee Hall dismissed Officer Amber Guyger during a hearing Monday, according to the Police Department.

>>

DALLAS (AP) - A white Dallas police officer who fatally shot her black neighbor inside his own apartment was fired Monday, the same day the man was being buried in his Caribbean homeland. Police Chief U. Renee Hall dismissed Officer Amber Guyger during a hearing Monday, according to the Police Department.

>>