President Trump: Death of Colts linebacker by person 'illegally in our country' was a 'preventable tragedy'
Posted:
Updated: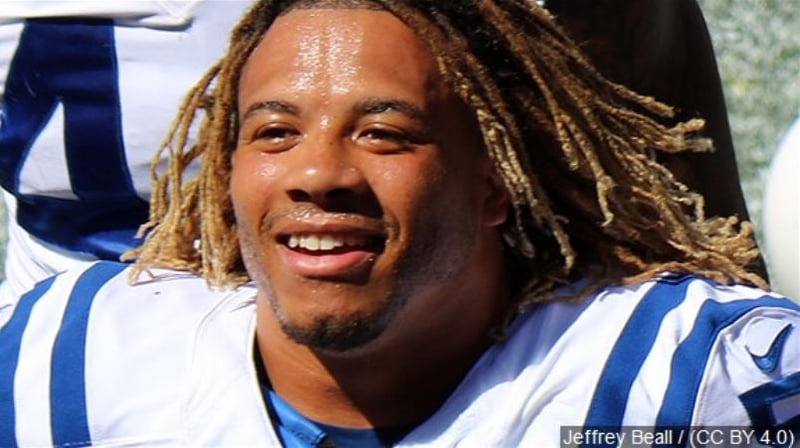 Edwin Jackson - Indianapolis Colts linebacker, Photo Date: 9/18/2016
The 37yo driver of the Ford F-150 was using the alias Alex Cabrera Gonsales. His given name is Manuel Orrego-Savala and he is a Guatemalan citizen. Detectives say he's in the U.S. illegally and has been deported twice before, in 2007 and 2009.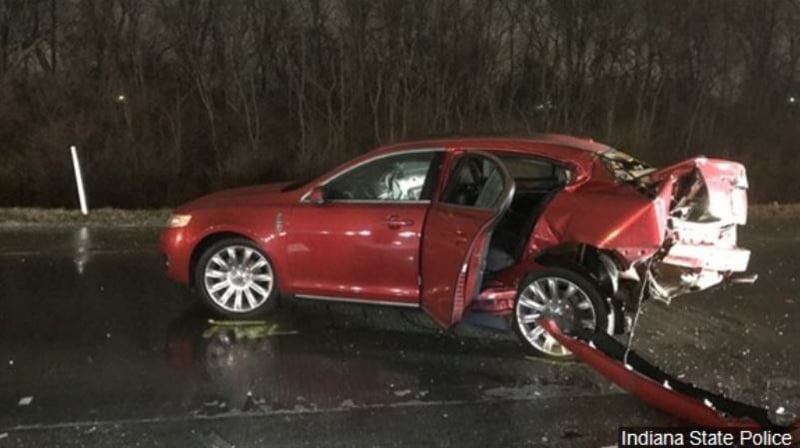 Colt's Linebacker Edwin Jackson and Uber driver Jeffrey Monroe were killed when drunk driver Manuel Orrego-Savala hit them in the truck he was driving.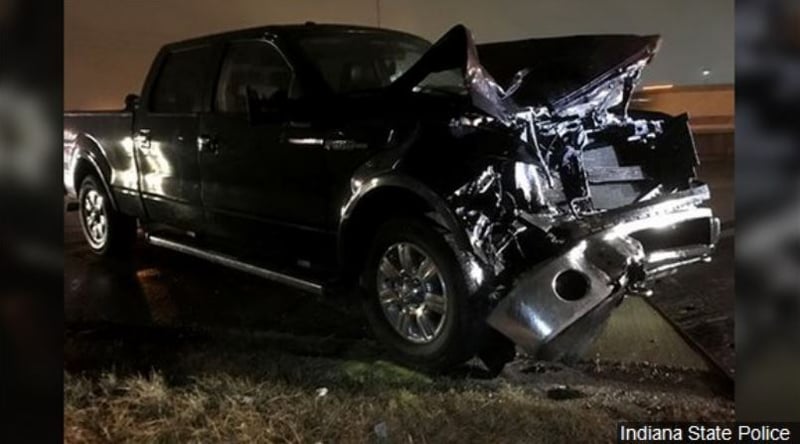 This is the truck Manuel Orrego-Savala was driving during the crash that killed Colt's Edwin Jackson and Uber driver Jeffrey Monroe, Photo Date: 2/4/18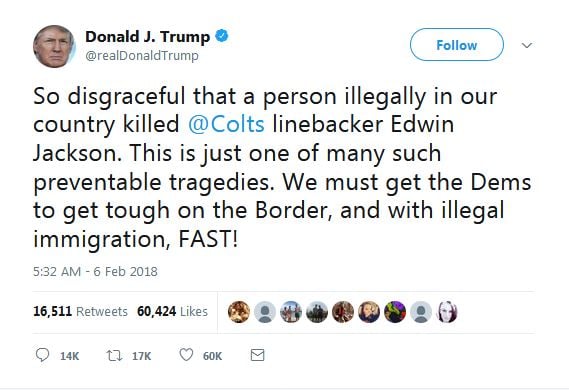 Also on KHQ.com

More>>

Wake up with KHQ and The Wake Up Show -- everyday from 7 to 9 a.m.

>>

Wake up with KHQ and The Wake Up Show -- everyday from 7 to 9 a.m.

>>
Most Popular Stories

Most Popular Stories

More>>

SPOKANE, Wash. (AP) - A new 100-bed psychiatric hospital is coming to Spokane. The Inland Northwest Behavioral Health hospital, which opens to patients in October, will have about 200 employees. The Spokesman-Review says the $33 million facility will be split into four units, each with 25 beds for inpatient services. One unit will be reserved for adolescent patients between the ages of 13 and 17.

>>

SPOKANE, Wash. (AP) - A new 100-bed psychiatric hospital is coming to Spokane. The Inland Northwest Behavioral Health hospital, which opens to patients in October, will have about 200 employees. The Spokesman-Review says the $33 million facility will be split into four units, each with 25 beds for inpatient services. One unit will be reserved for adolescent patients between the ages of 13 and 17.

>>

SPOKANE, Wash. - The State Department of Vocational Rehabilitation (DVR) is a life-changing resource for hundreds of disabled people in Spokane. Finding them jobs, counseling and places to live. A big part of the agency's mission is at a standstill after DVR cut ties with one of it's major contractors without warning. For twenty-seven years, Compass has been a one-stop shop for launching disabled and disadvantaged residents on a path to a better, independent life.

>>

SPOKANE, Wash. - The State Department of Vocational Rehabilitation (DVR) is a life-changing resource for hundreds of disabled people in Spokane. Finding them jobs, counseling and places to live. A big part of the agency's mission is at a standstill after DVR cut ties with one of it's major contractors without warning. For twenty-seven years, Compass has been a one-stop shop for launching disabled and disadvantaged residents on a path to a better, independent life.

>>

COEUR D'ALENE, Idaho - Surveillance video obtained by KHQ from the McDonald's in Spokane Valley shows an alleged thief who Krystalynn Tekancic says broke into her home while she was moving. "We're pretty sure that the person who broke in my house while I was home and they took my laptop and my phone and a few personal items," Tekancic said.

>>

COEUR D'ALENE, Idaho - Surveillance video obtained by KHQ from the McDonald's in Spokane Valley shows an alleged thief who Krystalynn Tekancic says broke into her home while she was moving. "We're pretty sure that the person who broke in my house while I was home and they took my laptop and my phone and a few personal items," Tekancic said.

>>

SACRAMENTO, Calif. (AP) - Sacramento police have arrested a married 58-year-old man in connection with at least 10 rapes across Northern California between 1991 and 2006. Sacramento police say they arrested Roy Charles Waller of Benicia on Thursday in the NorCal Rapist case. He was arrested at the University of California in Berkeley, where he worked as a safety specialist in the office of environment, health and safety.

>>

SACRAMENTO, Calif. (AP) - Sacramento police have arrested a married 58-year-old man in connection with at least 10 rapes across Northern California between 1991 and 2006. Sacramento police say they arrested Roy Charles Waller of Benicia on Thursday in the NorCal Rapist case. He was arrested at the University of California in Berkeley, where he worked as a safety specialist in the office of environment, health and safety.

>>

SPOKANE, Wash. - Update: Detectives have identified the woman found in the Spokane River September 15 just hours after releasing a rending of what she may have looked like. Detectives continue to work to determine what occurred prior to her death.

>>

SPOKANE, Wash. - Update: Detectives have identified the woman found in the Spokane River September 15 just hours after releasing a rending of what she may have looked like. Detectives continue to work to determine what occurred prior to her death.

>>
Top Stories from KHQ

Home

More>>

LONDON (AP) - British regulators say Comcast has beat 21st Century Fox in a rare auction that allowed both sides to bid for European broadcaster Sky. After three rounds of bidding behind closed doors, Comcast offered the higher price of 17.28 pounds ($22.58) per share, the equivalent of nearly 30 billion pounds ($39 billion). Fox offered 15.67 ($20.47) per share.

>>

LONDON (AP) - British regulators say Comcast has beat 21st Century Fox in a rare auction that allowed both sides to bid for European broadcaster Sky. After three rounds of bidding behind closed doors, Comcast offered the higher price of 17.28 pounds ($22.58) per share, the equivalent of nearly 30 billion pounds ($39 billion). Fox offered 15.67 ($20.47) per share.

>>

SAN SEBASTIAN, Spain (AP) - Actor Danny DeVito has been honored with a lifetime achievement award at Spain's most prestigious film festival in the northern coastal city of San Sebastian. DeVito, 73, received the award from the San Sebastian International Film Festival during Saturday's gala. The American comic film star is promoting the animated children's film "Smallfoot" at the festival.

>>

SAN SEBASTIAN, Spain (AP) - Actor Danny DeVito has been honored with a lifetime achievement award at Spain's most prestigious film festival in the northern coastal city of San Sebastian. DeVito, 73, received the award from the San Sebastian International Film Festival during Saturday's gala. The American comic film star is promoting the animated children's film "Smallfoot" at the festival.

>>

WASHINGTON (AP) - Lawyers for the woman who's accusing Supreme Court nominee Brett Kavanaugh of a sexual assault decades ago when they were teenagers say they've accepted the Senate Judiciary Committee's request for her to tell her story. But attorneys for Christine Blasey Ford say in a letter to the committee's Republican majority that they want to set up a time later Saturday to keep discussing terms of Ford's appearance.

>>

WASHINGTON (AP) - Lawyers for the woman who's accusing Supreme Court nominee Brett Kavanaugh of a sexual assault decades ago when they were teenagers say they've accepted the Senate Judiciary Committee's request for her to tell her story. But attorneys for Christine Blasey Ford say in a letter to the committee's Republican majority that they want to set up a time later Saturday to keep discussing terms of Ford's appearance.

>>

NEW YORK (AP) - The Washington Post. Time Magazine. The Atlantic. The Village Voice. The Los Angeles Times. All American media icons, all bought by billionaires in the past half decade. Some are thriving. One died. On the rest, the jury's still out. Still, for beleaguered news organizations the prospect of a deep-pocketed savior - even from the very same tech industry that has kneecapped the media's traditional business model - is all but irresistible.

>>

NEW YORK (AP) - The Washington Post. Time Magazine. The Atlantic. The Village Voice. The Los Angeles Times. All American media icons, all bought by billionaires in the past half decade. Some are thriving. One died. On the rest, the jury's still out. Still, for beleaguered news organizations the prospect of a deep-pocketed savior - even from the very same tech industry that has kneecapped the media's traditional business model - is all but irresistible.

>>

PLAYA VISTA, Calif. - A contractor was caught on camera creeping through children's clothing at a home in Playa Vista, California. According to NBC Los Angeles, the repairman came to Jason Cooper's condo to fix several scratches in the hardwood floors. But Cooper could never fathom what he would later find on his security camera, which is positioned in clear view on his daughter's crib.

>>

PLAYA VISTA, Calif. - A contractor was caught on camera creeping through children's clothing at a home in Playa Vista, California. According to NBC Los Angeles, the repairman came to Jason Cooper's condo to fix several scratches in the hardwood floors. But Cooper could never fathom what he would later find on his security camera, which is positioned in clear view on his daughter's crib.

>>

OCEAN CITY, N.J. - A raccoon in New Jersey appears to have one-upped the infamous #MPRRaccoon. According to Fox 29, a South Carolina man caught video of a raccoon scaling the wall up about nine stories of an apartment building in Ocean City. Onlookers in the video gasp as the raccoon decides to abruptly end his ascent and dismounts, executing a sweet spinning back-flip before landing in some sand.

>>

OCEAN CITY, N.J. - A raccoon in New Jersey appears to have one-upped the infamous #MPRRaccoon. According to Fox 29, a South Carolina man caught video of a raccoon scaling the wall up about nine stories of an apartment building in Ocean City. Onlookers in the video gasp as the raccoon decides to abruptly end his ascent and dismounts, executing a sweet spinning back-flip before landing in some sand.

>>

KITTITAS COUNTY, Wash. - A military vehicle was involved in a collision on eastbound I-90 that sent four to the hospital with injuries in Kittitas County Saturday morning. Washington State Patrols responded to scene around 7:30 a.m. near milepost 125 near the Ryegrass Hill rest area. It was reported that the military vehicle was conducting training exercises when it rolled down an embankment onto I-90.

>>

KITTITAS COUNTY, Wash. - A military vehicle was involved in a collision on eastbound I-90 that sent four to the hospital with injuries in Kittitas County Saturday morning. Washington State Patrols responded to scene around 7:30 a.m. near milepost 125 near the Ryegrass Hill rest area. It was reported that the military vehicle was conducting training exercises when it rolled down an embankment onto I-90.

>>

BILLINGS, Mont. (AP) - The Latest on a former Montana high school athletic trainer being sued for sexually abusing athletes (all times local): 2:50 p.m. A former Montana high school athletic trainer has apologized to student-athletes via media interviews after they accused him of sexual abuse in the community of Miles City that lasted for decades.

>>

BILLINGS, Mont. (AP) - The Latest on a former Montana high school athletic trainer being sued for sexually abusing athletes (all times local): 2:50 p.m. A former Montana high school athletic trainer has apologized to student-athletes via media interviews after they accused him of sexual abuse in the community of Miles City that lasted for decades.

>>

MEDICAL LAKE, Wash. - Crews responded to a structure fire Saturday morning in Medical Lake where a shop was a total loss. The fire began around 6:45 a.m. Saturday when a neighbor noticed and called it in. Upon arrival, the 30-by-50 foot shop was fully involved. Crews from Fire District 10, Airway Heights Fire and Fairchild AFB responded to the scene.

>>

MEDICAL LAKE, Wash. - Crews responded to a structure fire Saturday morning in Medical Lake where a shop was a total loss. The fire began around 6:45 a.m. Saturday when a neighbor noticed and called it in. Upon arrival, the 30-by-50 foot shop was fully involved. Crews from Fire District 10, Airway Heights Fire and Fairchild AFB responded to the scene.

>>

SPOKANE, Wash. - The State Department of Vocational Rehabilitation (DVR) is a life-changing resource for hundreds of disabled people in Spokane. Finding them jobs, counseling and places to live. A big part of the agency's mission is at a standstill after DVR cut ties with one of it's major contractors without warning. For twenty-seven years, Compass has been a one-stop shop for launching disabled and disadvantaged residents on a path to a better, independent life.

>>

SPOKANE, Wash. - The State Department of Vocational Rehabilitation (DVR) is a life-changing resource for hundreds of disabled people in Spokane. Finding them jobs, counseling and places to live. A big part of the agency's mission is at a standstill after DVR cut ties with one of it's major contractors without warning. For twenty-seven years, Compass has been a one-stop shop for launching disabled and disadvantaged residents on a path to a better, independent life.

>>