Zags beat Xavier 79-75
Posted:
Updated: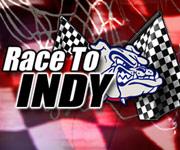 SALT LAKE CITY - In another down-to-the-wire game, the Gonzaga Bulldogs pulled out another close win in the first round of the NCAA Tournament, beating Xavier 79-75 in Salt Lake City.
Adam Morrison led all scorers, connecting on 11-of-22 shots and scoring 35 points. Xavier coach Sean Miller called Morrison "relentless". His play late in the game gave the Zags the boost they needed. Morrison sealed the win with a pass down low to J.P. Batista with :42 remaining. Batista laid the ball in and put the Zags up 76-73.
Both Derek Raivio and Errol Knight scored seven points.
The Zags advance to the second round with a win, but it was a win that coach Mark Few says was a tough won to get.
"That was as much adversity as we've seen all year – especially with all the foul trouble," Few said.
Few said the Musketeers played tough defense and that Xavier looked more like a higher seed – possibly a 6, 5, 4, or 3.
The Musketeers concentrated much of their defensive efforts on the Zags' big man, Batista. Batista scored 18 points and made all eight of his free throws. He played much of the second half with four personal fouls.
Xavier led throughout much of the game, led by sophomore guard Stanley Burrell. Burrell scored 22 points on 14 attempts, connecting on more than half of his shots from the field. He shot 50 percent from behind the 3 point line. The Musketeers also saw strong performances from senior forward Justin Cage, sophomore forward Josh Duncan and freshman guard Johnny Wolf, who all scored in double figures.
Watch KHQ Right Now for both teams' post-game news conference.