Vinyl Installation
Posted:
Updated: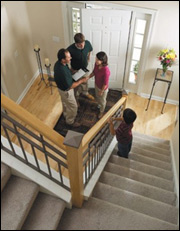 Installation Excellence-just what it says. At a Carpet One Installation Excellence store, you can be sure you'll receive the best installation service in the floor covering industry.
Carpet One members who participate in the Installation Excellence program know what it takes to provide you with superior service. Our salespeople will thoroughly review what to expect during the installation. And our installers will explain all aspects of the job at the beginning of the installation and actually walk you through the completed installation at the end.
In fact, we're so concerned about service that we ask for your feedback. At the conclusion of the installation, our installers will ask you to fill out a customer satisfaction survey just to make sure we did what we said we would do-professionally install your flooring and give you the best purchasing experience in the floor covering industry.
And our Lifetime Installation Guarantee is your assurance that we stand by our word.
Please review our installation checklist and consult the nearest Carpet One for all of your floorcovering and installation needs.
Installation Checklist
When preparing to install new flooring there are some things you should keep in mind:
Who will remove old flooring?
Who will move furniture/appliances?
What is the condition of the subfloor?
Will trims or special edgings be installed?
Will there be visible seams?
Possible need to plane doors before re-hanging.
Possible need to touch up baseboards or quarter rounds.
Is the direction of planks/tile determined?
Please consult Carpet One installation experts for more information on pre-installation needs.