Winter storm continues path through Inland Northwest
Posted:
Updated: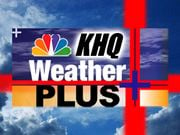 SPOKANE, Wash. - A Snow Advisory is in effect for the eastern slopes of the Cascades and other areas around eastern Washington and Northern Idaho. The Department of Transportation Department says the combination of holiday traffic and forecast snow could result in delays tomorrow on Snoqualmie Pass.
Forecasters say a storm moving through the area Friday night and Saturday could bring significant snow that could make driving difficult. The National Weather Service says there will be periods of heavy snow this afternoon and tonight in the Cascade passes. Total accumulations by tomorrow morning could be 8-12 inches.

Expected snow accumulations are as follows:
Spokane 2-4 inches
Palouse 1-3 inches
Okanogan Highlands 3-6 inches
Okanogan Valley and Moses Lake 1-3 inches
Leavenworth and Winthrop 4-6 inches
Wenatchee 2-4 inches
Kittitas and Yakima valleys 4-7 inches
Thursday morning's snowfall covered Spokane-area roads, causing several accidents on both city streets and state highways. The Spokane Police Department reported 21 different minor crashes between 6 and 10:45 a.m., and those don't include calls to WSP of the Spokane County Sheriff's Office.
At 6th and Cowley on the lower south hill, 6 cars slid into each other. No one was injured in the accident.
An accident on Highway 2 at Riverside was originally thought to be weather related. The elderly driver behind the wheel died after crashing his vehicle into a tree. But investigators later said the man may have had a medical condition, causing him to drift off the road.
In the Tri-Cities, WSP asked drivers to stay home unless absolutely necessary. Freezing rain and snow left roads dangerously icy. Troopers there were busy with a number of collisions.
Snoqualmie Pass was shut down for a time early in the morning for avalanche control. The Department of Transportation said chains would be required for all vehicles on the pass, except for all-wheel drive vehicles.