Seahawks still alive after nail-biter wildcard game
Posted:
Updated: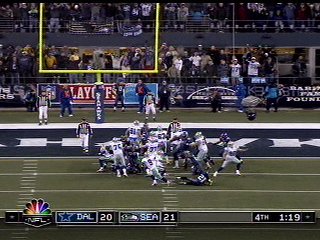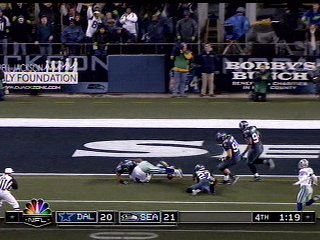 Seahawks 21 - Cowboys 20
Final @ Qwest Field

All Tony Romo had to do was put the ball down and let Martin Gramatica make a short kick. He couldn't do it, and the Seattle Seahawks are still alive in the NFL playoffs after a 21-20 victory over the Dallas Cowboys.
The Dallas Cowboys will remember this loss for awhile. Tony Romo's botched hold on a 19-yard field goal try with 1:19 left forced the Pro Bowl quarterback to scramble but he was tackled at the two-yard line. Seattle was able to run all but a few seconds off the clock, leaving Dallas with just one play at the end.
The Cowboys had gotten a huge spark with Miles Austin's 93-yard kickoff return that put the Cowboys ahead 20-13.
But thanks to a Dallas fumble-turned-safety, Seattle drove and produced the go-ahead 37-yard touchdown from Matt Hasselbeck to Jerramy Stevens on the ensuing drive.
Romo moved the Cowboys the Seattle two-yard line. Martin Gramatica, who already had made two longer field goals for the Cowboys, was all set to kick the potential game-winner but Romo
mishandled the snap and the Cowboys are eliminated.
Seattle moves on the play either Chicago or New Orleans.

Seattle entered the postseason tournament after winning their third consecutive NFC West title. Before last season, the team had never won consecutive division titles. The Seahawks also ended a five-season NFL streak in which the Super Bowl runner up has not made the following postseason. Seattle became just the second team (Tennessee, 2000) in the last eight seasons to return to the playoffs having lost the previous Super Bowl.

(The Associated Press and www.seahawks.com contributed to this story.)