Meissner wins first national title; first place in senior ladies free skate
Posted:
Updated: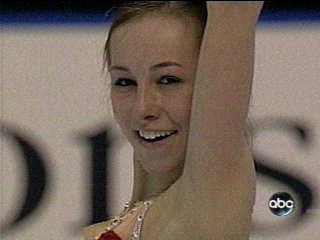 SPOKANE, Wash. - World champion Kimmie Meissner can now add "U.S. champion" to her resume after winning the 2007 State Farm U.S. Figure Skating Championships in Spokane, Wash., Saturday in front of a sold out crowd of 10,393. She overcame a wobble early in her free skate to edge fellow Olympian Emily Hughes -who won the silver medal - by less than a point overall.
The victory caps a run for Meissner at the U.S. Championships that has included a bronze medal in 2005 and a silver medal in 2006.
"I'm very happy that I was able to keep a hold on the lead," Meissner, 17, said. "It was a tough competition tonight. I'm pretty excited."
Skating to "Galicie Flamenco," Meissner put a hand down on her opening triple Lutz-triple toe combination. She rallied to finish the program strong though, hitting five triples in all. Her performance ranked third in the free skate.
Hughes, the 2006 U.S. bronze medalist, followed Meissner on the ice. An 18-year-old as of Friday, Hughes was cruising during her free skate to music from the ballet "Sylvia," when she fell on her triple flip. Hughes, like Meissner, regrouped and finished strong with six triples.
Alissa Czisny turned in the most electric performance of the day and won the free skate, which pulled her up from fifth after the short program to third overall. She landed five clean triples, and her signature spins and spirals left the crowd in awe. For Czisny, it was a redemption of sorts from last year when she placed seventh at the U.S. Championships in St. Louis.
Meissner, Hughes and Czisny will represent the United States at the World Figure Skating Championships in March, in Tokyo, Japan.
The men's free skate takes place Saturday night. The Exhibition of Champions brings the 2007 U.S. Championships to a close on Sunday, Jan. 28. It will feature the top four finishers in the four senior events, as well as the novice and junior champions.