Shock remains second in latest af2 coaches poll
Posted:
Updated: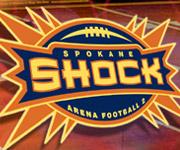 Sign up for ShockMail from KHQ!

Sign up now to get the latest news on the Spokane Shock in your e-mail inbox. Get updates on scores, signings, injuries and other news you can't get anywhere else.

* denotes required fields

Thank you for signing up! You will receive a confirmation email shortly.