Month-by-month calendar to plan your wedding.
Posted:
Updated: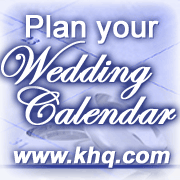 12 MONTHS BEFORE
Talk to your fiancé and all parents about the big picture - starting with the wedding budget, style and size of the wedding, possible dates, and sites. Whether, you will be hiring a wedding planner, do it now - you'll want to her on board to help with research.
Decide on the ceremony and reception sites - reserve them both.
Start shopping for your dress - when ordering your dress remember it will take about 6 to 8 months to come in.
Choose your attendants - wait at least a couple of weeks after the proposal - it's easy to get caught up in the excitement and you want to make sure the people you are asking are the people you want to stand up with you.
Mail save-the-date cards - or notify must-have guests such as: close family member and friends by phone; especially if you are planning marrying over a holiday weekend or in a faraway location.
Send your engagement announcement - to local newspapers where both families live.
10 MONTHS BEFORE
Start scouting for a caterer, baker, florist, musician or disc jockey, photographer and videographer for both the ceremony and reception
Visit your clergy-member - some religions require that you undergo premarital counseling.
8 MONTHS BEFORE
Book your caterer, baker, florist, musician or disc jockey, photographer and videographer
Choose and order your dress
Register for your presentsBegin your guest list
6 MONTHS BEFORE
Start researching the honeymoon
Plan the details with all the wedding professionals
Finalize the guest list
Order all wedding stationary - invitations, response cards, maps, announcements, programs, and thank you notes
Book a calligrapher
Shop for the bridesmaids' dresses
Reserve a block of hotel rooms for out-of-town guests
Secure rentals
4 MONTHS BEFORE
Finalize your honeymoon plans and make bookings
Make an appointment for your first dress fitting
Order the wedding rings
Make an appointment with your hairstylist
Schedule the rehearsal and rehearsal dinner
Visit the tuxedo shop in the town where you'll be marrying
Book a hotel room for the wedding night
Choose and order favors
2 MONTHS BEFORE
Visit your officiant, judge or justice of the peace
Buy a guest book
Shop for lingerie and honeymoon clothes
Have your portrait taken - if you are getting your makeup and hair done professionally this is a great trial run.
Check to see if the state that you are marrying requires blood tests
Mail your invitations
Choose gifts for all attendants
Arrange to transport your belonging - if either of you are moving.
Get name - change forms
6 WEEKS BEFORE
Schedule the final dress fitting
Pick up rings
Get programs printed
Plan your bridesmaids' party
Write thank you notes as you receive your gifts
Send your announcement to the newspaper
Make copies of ceremony readings
Buy each other a wedding gift
2 WEEKS BEFORE
Get marriage license
Submit list of must - take shots
Arrange the seating plan
Confirm honeymoon reservations
Break in your shoes
Write toast for the rehearsal dinner and reception
1 WEEK BEFORE
Pack for the honeymoon
Check about using your ATM card - at your honeymoon site. If traveling abroad, purchase a small amount of the local currency.
Give the final guest count to your caterer
Check final details with the wedding vendor
Keep up with the thank you notes
Remind all attendants of the rehearsal details
Through the bridesmaids' party
Pick up your dress a few days before the wedding - put a sheet on the floor to protect it from dust, and hang it from a tall hook or a door in a room that is off limits to children and pets.
1 DAY BEFORE
Treat yourself and your mom to a manicure and pedicure
Place a reminder call to the wedding vendors
Hold the rehearsal and rehearsal dinner