Shock wrap up Western Division Title
Posted:
Updated: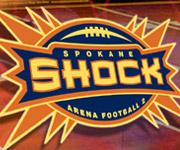 SPOKANE, Wash. - It's been said that defense wins Championships, and that's exactly what happened tonight as the Spokane Shock defeated the Amarillo Dusters tonight, 55-19. The win wrapped up the American Conference's Western Division title and also assured the Shock of at least one home play-off game.
But despite the victory, the Shock did lose two key members of their offense. QB Andrico Hines went down in the first quarter with a strained back while WR Antwone Savage went down with an injured toe. After the game, Head Coach Adam Shackleford said that Hines will be ready to return to action next week, while Savage will be a game time decision. However, with only one week left in the regular season, Shackleford will be very cautious.
"With the Division wrapped up and the playoffs coming up we are going to be real careful with our decisions this week," Shackleford explained.
The Shock defense forced Dusters' QB Steve Panella into 3 interceptions, and kept him off-balance all night. Panella struggled, going 19 of 40 for 143 yards with just 1 touchdown. The Dusters were unable to muster any running game against the Shock, totaling 0 net yards on 6 attempts as a team. Derek Watson led the Dusters with 10 catches for 53 yards and 1 touchdown.
"I can't say enough about our defense," Shackleford said. "We needed them to step up tonight and that's what they did."
Meanwhile, quarterback Justin Rummell of the Shock took over for an injured Hines early in the first quarter, and was careful with the football for the remainder of the game. He completed 8 of 16 passes for 164 yards and 3 touchdowns, and did not turn the ball over. Chico Mackey and Katon Bethay had impressive nights rushing the football. Mackey carried the ball 4 times for 38 yards and 2 touchdowns, while Bethay had 9 carries for 29 yards and a touchdown as well. Antwone Savage led all receivers with 2 catches for 81 yards and 2 touchdowns.
With the victory, the defending af2 Champion Shock improve to 11-4 on the season, and travel to in-state rival Everett for the regular season finale on July 28th before they begin playoff action.
The Dusters fall to 3-12, and will conclude their 2007 campaign as they travel to Arkansas to take on the Twisters on July 28th.