September note from Stephanie .
Posted:
Updated: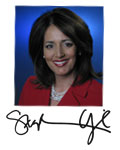 It's time to wrap up the warm summer months and get ready to welcome the crisp days of fall!!
This is the first year my kids wanted to go back to school before I wanted them to!
I often find there are 2 times in the year that I consider New Beginnings. They are of course New Year's Day and the start of the school year!
What habits did I form last year that I need to break? How can I stay on top of our busy schedule without feeling so overwhelmed? What will I resolve to do differently now that we have a fresh start?
It's never too late to break old habits, especially if they don't benefit you or your family.
I have vowed to walk my dog more... she's the one I slighted this year! So daily I take Lucy for a 2 mile walk. She seems a lot more content and has actually dropped a few pounds.
I'm also consciously trying to make dinner before I leave for work and setting out a healthy snack for the boys to eat when they get home from school. Speaking of school, here is a link to an article on how to communicate with your school about your diabetic child. It has some interesting information to help you organize a support plan.
Also, take a look some new notes from Keith Campbell on keeping up with Diabetes information. I introduced Keith to you a few months back. He is a Distinguished Professor of Pharmacy at WSU College of Pharmacy. He also has had diabetes for 58 years.
I know it's only the second week of the new school year... but it's a start... a beginning... and that's all I can ask for!!
Enjoy Fall!