Expressive Cakes
Posted:
Updated:
Wedding Cakes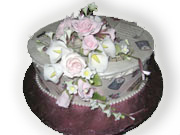 Except for the bride and groom, the most memorable part of any wedding is the part you can eat - the cake! If the cake isn't perfect, your perfect wedding plans can fall flat in an instant.
Expressive Cakes is a local business that understands the importance of perfection. We take time to understand what it is that you want. And then we take all the time necessary to create the cake of your dreams.
Cakes for All Occasions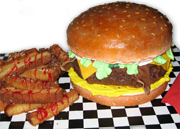 Expressive Cakes creates cakes for ANY occasion.
Birthdays
Baby Showers
Retirement Parties
Anniversaries
...or just for fun!
Cheesecake anyone?
Expressive Cakes makes some of the best Cheesecakes in the Inland Northwest! We'll create an 8" or 10" cake - just for you. Just pick your style:
New York Style (plain or with Lemon, Raspberry, Strawberry or Cherry topping)
Mocha
Chocolate
Chocolate Swirl
Cinnamon Streusel with Buttercream Frosting