Eastern Washington over Idaho State 34-7
Posted:
Updated: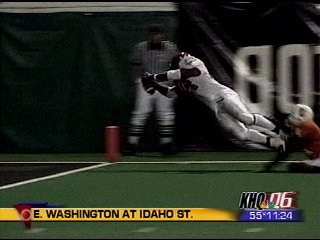 POCATELLO, Idaho - The offensive performance was expected, but the stellar defensive effort was even better. Sophomore quarterback Matt Nichols passed for 232 yards in the first half to stake Eastern Washington University to a 27-0 lead and the Eagles went on to open Big Sky Conference play with a 34-7 football victory over Idaho State Saturday at Holt Arena in Pocatello, Idaho.
Alexis Alexander added three rushing touchdowns as the 25th-ranked Eagles had 285 yards in the first half and a total of 418 in the game. Eastern's defense did its part in the win as it forced four first-half turnovers, held the Bengals without a point for the first 50:51 of the game and allowed 104 yards in the decisive first half and 404 in the game.
"Anytime you go on the road and win by 27, you'll take it," Eastern head coach Paul Wulff said. "Defensively we played great. We played physical and we played smart."
Eastern is now 3-0 overall heading into next Saturday's (Sept. 29) league home game versus Portland State at Woodward Field at 6:05 p.m. The Vikings defeated Eastern in Portland, Ore., last season 34-0.Eastern matched its win total from a year ago with the victory over the 1-2 Bengals. Just 3-8 overall and 3-5 in the Big Sky a year ago, Eastern ended the 2006 season on a high note by drubbing ISU 40-6 on Nov. 11, 2006. Eastern had a 364-179 advantage in total offense in last year's meeting.
Eastern hasn't started a season 3-0 since beginning the 1997 season with four-straight wins en route to a 12-2 finish.
Nichols finished the game 17-of-30 for 285 yards and one touchdown. He has now thrown for nine touchdown passes with just one interception after having a school-record 17 interceptions and eight touchdowns in 2006 as a freshman.
"Matt threw the ball well," said Wulff. "They were lined up to take the run away, so they gave us the pass. We took advantage of it."
Sophomore receiver Tony Davis had six catches for 150 yards, including four grabs for 126 yards in the first half. Senior Shane Eller added three catches for 52 yards, and Aaron Boyce had three grabs for 46 yards and a touchdown.
"Matt was putting the ball on the money most of the time," Wulff added.
"Our receivers did a good job for the most part, but we dropped some balls. In a close game, we can't do that."
Alexis Alexander led the running game with 57 yards, but 38 of those came in one carry. Sophomore cornerback Lonnie Hosley had two interceptions, two passes broken up and five tackles.
Idaho State scored its first points in the game with 9:09 left on the game with a 92-yard drive. Although Eastern was out-gained 296-133 in the second half, Wulff was pleased with the defense.
"Most of the third quarter our defense had its backs against the wall and faced a big challenge," Wulff added. "Ultimately, they did a great job."
Linebacker Marcus Walker led the Eagles with 10 tackles and Ira Jarmon had eight tackles and an interception. Senior Bryan Jarrett also had an interception, and sacks were recorded by Josh Jacobson, Greg Peach, Jason Belford and Tyler Jolley.
Idaho State had three turnovers in the first 18 minutes and Eastern turned them into points to take a 13-0 lead. An interception by Jarrett led to a 21-yard field goal by Felipe Macias.
Another ISU turnover, this time an interception in EWU's own end zone by Hosley, resulted in a seven-play, 80-yard drive for the Eagles. Alexander ran the final 38 yards for the score.
Another Macias field goal, this time from 50 yards, came after a fumble that was forced by Makai Borden and recovered by Belford. The field goal equaled the 15th-longest in school history and gave Eastern a 13-point cushion with 10:47 left in the second quarter.
Eastern added two more scores before halftime on impressive drives after ISU punts. The first was highlighted by a non-scoring 78-yard pass from Nichols to Davis and capped by a 1-yard run by Alexander.
The Eagles took a 27-0 lead on a nine-play, 74-yard drive, with Nichols passing 27 yards to Boyce for the touchdown. At that time, just 27:36 into the half, Eastern had a 291-100 advantage in total offense.
A 44-yard rush on a reverse by Boyce led to Eastern's lone score in the third quarter. Alexander scored his third touchdown of the day on a 3-yard run with 5:21 left in the period, giving Eastern a 34-0 advantage.
The Eagles have now won nine of the last 12 meetings, with the winning team averaging 40.7 points in those last 12 meetings. Eastern has outscored ISU 74-13 in the last two games in the series.
It was Eastern's first road trip of the season, and the Sept. 22 date equals EWU's latest road opener since 1987. Each of Paul Wulff's seven previous seasons as head coach had begun with games on the road.
Idaho State's first-year coach is John Zamberlin, a former NFL linebacker who spent three seasons as Eastern's defensive line coach from 1992-94.