What is Long Term Care?
Posted:
Updated:
78% of adults living in the community and in need of long term care depend on family and friends as their only source of help.
Source: Georgetown Univeristy, 2004 Long-Term Care Financing Project
What is Long Term Care?
Service and supports needed when one's ability to care for self has been reduced by chronic illness, disability, or fraility.
Breakdown by age group of who might need long term services and support: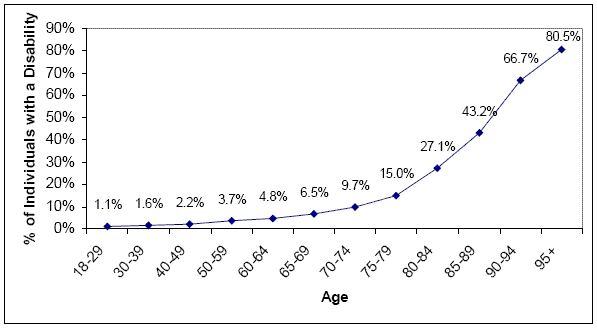 1999 National Long Term Care Survey and the 1994 National Health Interview Survey Disability Supplement
Services are usually provided:
Family and friends at home
Through home and community-based services, such as home health care, personal care, and adult day services.
In institutional settings, such as nursing homes or residential care facilities.
Now that you know about what Long-Term care is, click the following to learn about:
Independent Living/Retirement Communities, Assisted Living Communities, Skilled Nursing Facilities, and Adult Family Homes. How are they different and how do you know which one is right for you?

>>

An explanation of the difference between each and the resources to find help and support for patients and families dealing with memory loss.

>>

Assisted Living is for adults who need help with everyday tasks but they don't need full-time nursing care. >INSIDE: Find local providers

>>

Trained professionals are here to guide you through the evaluation of physical and emotional well-being and help determine what living or care situation is best for you or your loved one.

>>