Ah, the power of tart cherries
Posted:
Updated: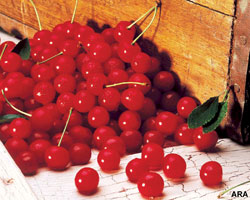 (ARA) - For decades the natural health benefits of the tart cherry have been known to a select few. However, as time passes more and more people are learning about the amazing benefits of the tart cherry. This tiny red fruit has been credited with an array of health benefits including helping people get a good night's sleep, helping soothe sore muscles due to physical exercise and relieving achy joints.
As more people are searching for natural remedies, the tart cherry is fast becoming the first choice for those wanting to enjoy an active lifestyle. So what makes the cherry so special and why are we only starting to hear about them now? Old wives tales and folklore about the tart cherry have been around for decades, however, with 21st Century food technology we now know those folklores tales are more than legend.
Tracking Down a Reliable Source
Ongoing research from several leading Universities offers supporting evidence of the benefits of the tart cherry. According to research conducted at the University of Vermont, a tart cherry juice blend, used in the study, helped soothe muscle soreness due to physical exercise. In addition, research by Michigan State University (MSU) has shed light on the tart cherry. The MSU research found that a person eating 20 tart cherries a day could realize antioxidant or anti-inflammatory benefits.
"Twenty cherries provide 25 milligrams of anthocyanins, which help to shut down the enzymes that cause tissue inflammation in the first place, so cherries can prevent and treat many kinds of pain," says Muraleedharan Nair, the lead researcher on the cherry project at Michigan State University.

The "Dean of Melatonin," Dr. Russel Reiter, professor of neuroendocrinology at the University of Texas Health Science Center in San Antonio, has conducted research on the tart cherry and melatonin. His research results indicate that tart cherries are a natural source of melatonin, which helps regulate the body's natural clock. Tart cherries may help many get more restful sleep.

Where to Get Your Daily Dose of Tart Cherry
Eating fresh tart cherries daily is an ideal way to get the health benefits of this fruit, however, hectic daily schedules may inhibit the ability to fully enjoy fresh cherries. In addition, the seasonality of tart cherries can also hinder year-round access to fresh cherries . One popular option is Fruit Advantage Tart Cherry capsules. These capsules are convenient, kosher, vegan-friendly and gluten-free. In fact, each daily serving delivers the specific antioxidant benefit of over five glasses of cherry juice without the sugar. Fruit Advantage Cherry Prime is available directly from the Fruit Advantage Web site at www.fruitadvantage.com or by calling (877) 746-7477.
Courtesy of ARAcontent