Cougars over the Bruins 27-7
Posted:
Updated: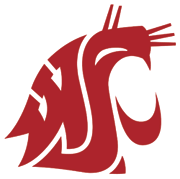 PULLMAN, Wash. - The Cougs got a much-needed conference victory Saturday, beating the UCLA Bruins, 27-7. WSU returned to Martin Stadium following its bye week to host conference-leading UCLA Saturday. The Cougars are playing just their third home game of the season and looking for their first conference victory. The Bruins enter the contest following a 30-21 upset of then-No. 10 California in Pasadena.
WSU-UCLA SERIES: UCLA holds a 35-17-1 advantage in the all-time series, although the Cougars did capture a 37-15 win last season in Pasadena. That win was WSU's fifth in the past six meetings dating back to the 2001 season. The last time these two teams played in Pullman, the Bruins came away with a 44-41 overtime victory during the 2005 season. UCLA holds a 9-7-1 record when playing in Pullman. The last Cougar home win came in the 2003 season, a 31-13 victory.
COUGARS NAMED TO MID-SEASON ALL-CONFERENCE LIST: Five Washington State University Cougars were represented on the All-Pacific-10 Conference teams following the release of Phil Steele's college football mid-season awards. Junior wide receiver Brandon Gibson highlighted the list, earning the Cougars' lone selection to Steele's All-Pac-10 first team. Gibson leads the Pac-10 in receiving yards (94.5) and is second in receptions at 6.50 per game. Fellow WSU wide receiver Michael Bumpus earned second team honors, as did senior quarterback Alex Brink and senior tight end Jed Collins. Senior offensive guard Bobby Byrd rounded out the list with third team accolades.
BRINK NAMED SEMIFINALIST FOR DRADDY AWARD: Senior quarterback Alex Brink has been named a Draddy Award semifinalist and a candidate for The National Football Foundation and College Hall of Fame (NFF) 2007 National Scholar-Athlete Awards, it was announced recently. Brink is among 153 semifinalists for the Draddy Award, which recognizes an individual as the absolute best in the country for his combined academic success, football performance and exemplary community leadership. Semifinalists must be a senior or graduate student in their final year of eligibility, have a GPA of at least 3.2, have outstanding football ability as a first team player, and have demonstrated strong leadership and citizenship.
NO BREAK IN SCHEDULE: Starting with the Oct. 6 game against Arizona State, the Cougars are in a stretch when they face four opponents with a combined record of 23-5 entering this week. The Sun Devils remain unbeaten at 7-0, while Oregon improved to 6-1 with its win at Washington last Saturday. This week's opponent, UCLA, currently stands at 5-2 and at the top of the conference with a 4-0 mark. WSU closes out the stretch at No. 19 California, which is 5-2.
THREE DOWN, ONE TO GO: By moving ahead of Jason Gesser for the top spot on the all-time passing yards list, quarterback Alex Brink now holds three of the four major passing records in WSU history. Earlier this season Brink moved to the top of the attempts and completions lists, and added passing yards to the group during the Arizona State game (Oct. 6). Next up for Brink is the career touchdown passes list, which he trails Gesser (70) by two. Brink has thrown 18 touchdowns in his first seven games and if he keeps at his current pace, could pass Gesser at home against UCLA, Oct. 27.
FSN TO BROADCAST WSU-UCLA CONTEST: For the sixth time this season the Cougars will play before a live television audience when Saturday's game against the Bruins is televised by FSN. The broadcast team will include Brian Davis, former Cougar great Mark Rypien and Michael Eaves. Saturday's game will be the first of two straight WSU contests on FSN as the network will also televise the WSU-California game Nov. 3 at California, set for a 7 p.m. start.
BUMPUS CLIMBING CAREER RECEPTIONS LIST: Senior wide receiver Michael Bumpus entered the 2007 season tied for seventh with Tim Stallworth (1986-89) on the Cougars' all-time receptions list with 125. Following his five-catch effort at Oregon, Bumpus inched closer to the top of the list. He passed former Cougar greats Philip Bobo and Jason Hill last month against USC to move into second place and now needs 11 to pass Hugh Campbell for the all-time mark. Should he continue on his season average of six catches a game, Bumpus would pass Campbell in early November. In WSU's last game at Oregon, Bumpus moved into the Top 10 in career receiving yards with 1,711.
MATTINGLY CONTINUES STRONG PLAY: Sophomore linebacker Andy Mattingly took advantage of his first career start against Arizona State and responded with career-highs in tackles (13), sacks (4) and tackles-for-loss (5). Starting in place of the injured Kendrick Dunn, Mattingly tied a school record with his five TFLs while his four sacks rank second on the all-time list, trailing only Mkristo Bruce, who recorded five sacks last season at Stanford. The sophomore followed up that performance with a 13-tackle, two-sack performance at Oregon. He added four tackles-for-loss and two forced fumbles to his stat line as he started his second straight game. In his two starts he has averaged 13 tackles, 4.5 tackles for loss and three sacks. The nine tackles-for-loss in back-to-back games is the most recorded by a Cougar in school history.
ACCORDING TO POLLS, TOUGH PART OF SCHEDULE OVER: Just over half way through the 2007 campaign and if the polls are any indication, the difficult part of the schedule is behind the Cougars. Starting with the season-opener at then No. 7 Wisconsin, four of WSU's first seven games have come against ranked teams, three on the road. In addition to the Badgers, the Cougars have faced No. 1 USC and No. 9 Oregon on the road, along with No. 18 Arizona State at Martin Stadium. Three of WSU's final five games will be played at home and according to the most recent AP poll, No. 18 California is the only ranked team remaining.
COUGAR PUNTING ON THE RISE: In the last two games the Cougar punt team has found its groove. Over that span WSU freshman punter Reid Forrest has punted 12 times for an average of 40.7 yards per punt, which would rank sixth in the Pac-10 this season. More impressive has been the punt team defense, which has limited opponents to just 27 total yards in seven punt returns, an average of 3.9 yards per return. In those two games the Cougars have a net punting average of 40.1 yards, which would be the third highest total in all of Division I football according to the latest rankings. That is more than a 10-yard improvement over WSU's net punting average through the first five games of the season.
COUGAR DEFENSE GETTING MORE AGGRESSIVE: In the past two games the Cougar defense has displayed a knack for getting into the opponents' backfield. Against nationally-ranked teams Arizona State (No. 18) and Oregon (No. 9), the WSU defense collected 10 sacks and 23 tackles-for-loss, led by sophomore Andy Mattingly's six sacks and nine tackles-for-loss in that span. Compared to the first five games, where WSU collected eight total sacks and 19 TFL's, the Cougar defense is spending far more time in the opponents' backfield.
WSU-UCLA - LAST MEETING: October 28, 2006, Pasadena, Calif. - Alex Brink threw for a season-high 405 yards while the Cougar defense pitched a shutout in the second half as WSU scored the final 23 points of the game to defeat UCLA, 37-15 in front of a 53,058 at the Rose Bowl. WSU scored 14 first-half point son touchdown passes to Brandon Gibson and Jason, yet trailed 15-14 at halftime. In the second half WSU ran off 23 straight points as Gibson added a second touchdown grab and DeMaundray Woolridge rushed for two scores. The defense did the rest, holding the Bruins scoreless the final 30 minutes. Hill finished the game with 115 receiving yards while Gibson had eight catches for 92 yards.
TURNING IT AROUND WITH UCLA: Each of the last two times Washington State entered its game with UCLA on a four-game losing streak, the Cougars came away with a victory. In 2004 WSU defeated UCLA on the road (31-29) after losing its previous four games. And in 1997, WSU knocked off the Bruins (37-34) after losing the first two games of the season and the final two games in 1996.
WSU-UCLA NOTES: Saturday's contest will mark the 54th meeting in the series, with the Bruins holding a 35-17-1 advantage...the Cougars have won four of the last five meetings in Pullman, with UCLA snapping the streak in 2005 with a 44-41 overtime win...WSU has scored at least 20 points in each of its last nine home meetings with the Bruins...senior quarterback Alex Brink has completed 65-of-98 passes (.653) for 759 yards and six touchdowns in three career games against UCLA...that includes a 405 yard, three touchdown performance last season at Pasadena, after which he was named Pac-10 Offensive Player of the Week...the last time these two teams met in Pullman was the last overtime appearance by a Cougar team.