Eastern over Sacramento 38-30
Posted:
Updated: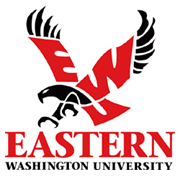 CHENEY, Wash. - Eastern Washington University needed every bit of a 21-point third-quarter lead, four takeaways and two fourth-down stands to win for the ninth-straight time in Sacramento, Calif.
Sophomore Matt Nichols returned to his home territory to pass for 328 yards and three touchdowns as Eastern held-off Sacramento State 38-30 in a Big Sky Conference football game Saturday (Oct. 27) at Hornet Stadium.
Eastern had a 21-point lead in the third quarter, but needed a goal line stand and fumble recovery in the fourth quarter to preserve its win. Eastern was out-gained in total offense 469-466, but forced four turnovers while having just one itself.
Sophomore Aaron Boyce caught eight passes for 177 yards and two touchdowns in the win. Junior Dale Morris had a career-high 92 yards rushing and a score, including a key third-down conversion in the final minute.
"It feels good to come out of here with a victory," said a relieved Eastern head coach Paul Wulff after his team held Sac State scoreless for the final 8:51 "I said all along that I would take a win here by one point. The unfortunate thing it that we had so many times to take control and we couldn't do it."
Eastern is now 9-0 all-time in Sacramento and leads the all-time series 13-3. The Eagles are 5-3 overall this season and 3-2 in the conference, and must win their final three games if they hope to advance to the NCAA Football Championship Subdivision Playoffs, which begin on Nov. 23.
Eastern, now tied for second in the Big Sky in the loss column with Northern Arizona (4-2) and Montana State (3-2), returns home Nov. 3 to face Northern Colorado in a 2:05 p.m. Homecoming game at Woodward Field in Cheney, Wash. Sacramento State, which has lost all of its Big Sky games by 14 points or less, is now 1-7 overall and 1-5 in the league.
"We went on the road and got a Big Sky win at a place where they play very tough," said Wulff. "We got a win and that's all that matters."
Eastern's goal-line stand came after an errant EWU snap gave Sac State the ball on EWU's 8-yard line with 6:16 to play and the Hornets trailing 38-30. But Eastern held, with Anthony Dotson and Bryan Jarrett making a tackle on fourth down to give EWU the ball back.
The fumble, forced by Ira Jarmon and recovered by Kevin Hatch, came with 1:36 remaining in the game at the EWU 33-yard line. A 12-yard rush by Morris on third down iced the game for the Eagles.
"They were both huge stops," Wulff said. "Then we had a big play to be able to get the first down on that third down play. We were able to get the first down and not have to punt it and give them another opportunity."
Jarmon finished with 11 tackles to lead EWU's defense, with Ryan Kelley adding nine tackles and a pass broken up. Hatch had a pair of fumble recoveries, five tackles and a pass broken up.
"Our defense was definitely bending all day," said Wulff. "But they didn't break at times and they came up with some really big turnovers and stops. They were huge when Sacramento got down in the red zone. Our defense really came up with some big plays."
"It definitely fired us up," said Nichols, who attended high school 131 miles away from Sacramento in Cottonwood, Calif. "The defense has been doing that all year. When we need them to come up big they do. All year they've carried us a bit when the offense hasn't put up the points we want to. In the end, we came through by scoring 38 points and the defense came through by getting stops when we needed them to."
Nichols completed 20-of-29 passes for 328 yards, no interceptions three touchdowns, including a pair of 46-yard strikes to Boyce. Boyce had his fifth-straight 100-yard receiving performance and sixth of the year.
Nichols has now passed for 2,381 yards, 20 touchdowns and five interceptions this season after having 17 interceptions and eight touchdowns as a redshirt freshman. His yardage total is already the 11th-best in school history with at least three games left to play this season. His average of 297.6 yards per game is currently second.
Boyce already has 63 catches for 1,031 yards and eight scores. His catch and yardage totals already rank seventh all-time at EWU.
"<>Aaron is amazing," said Nichols. "At any time I can really just throw the ball up and Aaron can make a play. It's great having a guy like that. Not every quarterback gets that luxury. If I get in trouble, I'm going to No. 9 and he gets open. Teams know where he's at on the field and double team him, but he still gets open."
Both teams scored the first two times they had the ball as the Eagles opened a 14-10 lead in the second quarter. Eastern's drives were 80 and 65 yards, capped by a 13-yard pass from Nichols to Brynsen Brown and an eight-yard run by receiver Nicholas Ramos, respectively.
Eastern could have broke the game open on its next two possessions, but lack of execution held the Eagles to a lone field goal and 17-10 advantage. On the first possession, Nichols mis-fired on a pass to a wide-open receiver for a sure touchdown. On the second, Boyce dropped a pass in the end zone that would have also been a TD.
The Eagles were out-gained 253-243 in total offense in the first half, but interceptions by Anthony Dotson and Jared Kuhl helped Eastern keep the Hornets out of the end zone the rest of the half. Early in the second half, Lance Witherspoon batted down a pass on fourth down that squelched another threat.
Nichols and Boyce took over to start the second half, with twin 46-yard touchdown connections coming within 5 1/2 minutes of each other. The first capped a six-play, 80-yard drive and the second was the first play following a Hornet punt and gave EWU a 31-10 lead with 6:59 to play.
But after the Hornets cut the lead to 14 on a 50-yard pass play, Eastern's offense suddenly turned sluggish and had to punt three times. A forced fumble by Witherspoon that was recovered by Hatch helped preserve EWU's two-touchdown lead, but Sac State scored with 14:10 left in the game to cut the score to 31-24.
Eastern, helped by two roughing the passer calls on Sacramento State, Eastern put together an 80-yard scoring drive on 11 plays that took 4:31 off the clock. An 18-yard TD run by Morris on a draw play helped Eastern regain a 38-24 advantage with 9:39 to play.
A 62-yard touchdown pass just 1:08 later pulled the Hornets to within a touchdown yet again. But that was the last score of the game as defense, absent for most of the first 51 minutes of the game, took over from there.