Cougar Athletics: Good news, and bad news...
Posted:
Updated: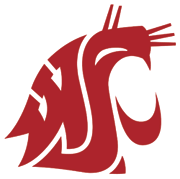 PULLMAN, Wash. - Thursday brought good news, and bad news for Cougar Athletics.
The Good News:
In a poll of media members who cover the league, the WSU program was picked to finish second behind UCLA in the 2007-08 Pac-10 men's basketball race.
The Bruins received 33 of 34 first-place votes and 339 points. Second-year coach Tony Bennett's Cougars got the other first-place vote and 273 points. UCLA and Washington State were followed, in order, by Oregon, Arizona, Stanford, USC, California, Washington, Arizona State and Oregon State.
In his first season as the head coach in Pullman, Bennett led the Cougars to a 26-8 record and the second round of the NCAA tournament before the team lost in double overtime to Vanderbilt.
Back for their senior years in Pullman are guards Derrick Low and Kyle Weaver and, forward Robbie Cowgill.
Sixth-year coach Lorenzo Romar's Huskies return four starters from a 19-13 team. But returning starting guard Ryan Appleby fractured his right thumb on his shooting hand in practice Wednesday and may be sidelined up to six weeks.
The Huskies lost freshman center Spencer Hawes, who was the 10th selection in the 2007 NBA draft.
The Bad News:
Washington State coach Bill Doba says running back Dwight Tardy suffered a knee injury that will require season-ending surgery.
Tardy, a junior, rushed for a career-best 214 yards and two touchdowns on 37 carries in the 27-7 rout of UCLA last weekend.
Doba says backup senior Kevin McCall, who gained 51 yards on 11 carries against UCLA, will start Saturday at California.
The Cougars coach says it appeared the anterior cruciate ligament in Tardy's left knee was injured during a 51-yard touchdown run in the final minute of the game. After making a cut near midfield, Tardy raced down the left sideline for the score, but limped back to the bench.
Tardy, from Santa Fe Springs, California, had carried 143 times for 676 yards, or 4.7 yards per carry, averaging 84.5 yards per game this season.