Stephanie's November Diabetes Notes
Posted:
Updated: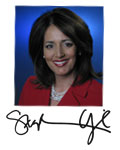 Hi Everyone...
As we move into November, I hope you are enjoying this wonderful fall weather. November is an important month in the focus to educate, prevent, and manage Diabetes.
On November 14th, the International Diabetes Federation will hold World Diabetes Day. IDF's theme, this year, is Diabetes in Children and Adolescents. Among the 240 million people who have Diabetes, an increasing number are children.
Starting on November 14th, you can order tip sheets and take an online quiz at www.YourDiabetesInfo.org.
I also want to alert you to a special section on KHQ.com that addresses Diabetes in seniors. It's called Senior Smiles and walks you through tips to keep your body and your mouth healthy. There is a special video on the page that specifically addresses the impact of oral health and diabetes.
Also, mark your calendar for Tuesday, November 27th. The KHQ Help Center will be manned with people from Eastern Washington Diabetes Network to answer your questions on preventing and managing Diabetes.
Finally, Keith Campbell is a professor of Pharmacy at Washington State University and he has lived 58 years with Diabetes. Keith often contributes artlcles to the Diabetes page. This month he questions whether there could be a cure on the horizon? It's a very good article. Take look when you can.
Before I say goodbye, a link to help you prepare some diabetic-friendly dishes for Thanksgiving.
Enjoy the month and the holiday.