Eagles keep playoff hopes alive with win over N. Arizona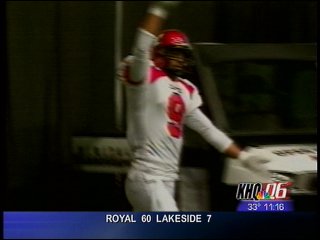 CHENEY, Wash. - The 20th-ranked Eagles kept their playoff hopes alive by rolling past Northern Arizona 52-24 in a Big Sky Conference football game Saturday at the Walkup Skydome in Flagstaff, Ariz.
Defensive end Jason Belford intercepted a pass and returned it for a touchdown barely a minute into the game, and Eastern's offense did the rest of the damage in a 28-point first quarter explosion. Matt Nichols passed for 316 yards, 186 in the first quarter alone, as EWU ended the game with 556 yards of total offense.
Eastern had 280 of those offensive yards in the first quarter on just 19 plays. Eastern added 21 points in the third quarter as the 52 points EWU scored was the second most in a Big Sky Conference victory and equaled the third-most overall in 158 Big Sky games all-time for the Eagles."In this ballgame it was big -- it would be nice if it carried over to the next game," said Eagle head coach Paul Wulff of the quick start. "To get a quick score on defense was something we hadn't done all year. Starting fast was our goal, obviously. We were able to get that done and that just set the tone. We were able to keep the pressure on and never allowed them to kind of re-surface."
The victory, Eastern's third-straight overall and fourth-straight in Big Sky Conference play, keeps Eastern's hopes alive to garner one of eight at-large berths in the NCAA Football Championship Subdivision Playoffs that start on Nov. 24. Eastern is now 7-3 overall as the Eagles took over sole possession of second place from the Lumberjacks in the Big Sky with a 5-2 record.
Eastern ends the regular season at home on Nov. 17 against a 5-5 Weber State team that has won its last three games while scoring an average of 57.7 points per game. The Wildcats have won four of their last five Big Sky games, with the lone loss a 29-20 setback to Northern Arizona on Oct. 20. Weber State defeated Fort Lewis 48-3 in a non-conference game on Saturday.
Northern Arizona had also entered the game against the Eagles hot. The Lumberjacks had won four of their last five games after a 2-3 start, and the lone loss in that span was 21-16 setback to undefeated Montana. They ended their season 6-5 overall and 5-3 in the league."It was a big win for us just because we knew we were playing a really good football team at their place," said Wulff. "They were a team with five league wins and in sole possession of second place. For us, if we had postseason hopes, we knew we had to come down here and beat a good football team this week. But we play perhaps an even hotter team next week."Nichols completed 17-of-22 passes for 317 yards and five touchdowns with no interceptions for an impressive efficiency rating of 273.3. He also had 48 yards on the ground to finish with 365 yards of total offense."He did a nice job taking care of the football," praised Wulff. "He didn't force anything, which was important. He had a good game, but if we are going to win games, he has to."It was the fifth 300-yard passing game in his 20-game career, including his fifth this season. He entered the game ranked in the top 10 in FCS in all three passing categories, including seventh in passing offense (283.7).
Seven different Eastern receivers caught passes from Nichols, led by the four catches for 67 yards and a touchdown by Aaron Boyce. Boyce now has 73 catches for 1,194 yards and nine touchdowns this season.
Junior Dale Morris added 109 yards rushing and a touchdown rushing and a touchdown receiving as Eastern finished with 240 yards on the ground. It was his second 100-yard rushing game as an Eagle, but first against a NCAA Division I opponent."It's very important," Wulff said of its running game. "It's just vital in our offensive scheme to keep that balance. It's tough on any defense if you can establish both ends -- a passing game and a running game. It just puts more stress on them."Defensively, Belford also finished with eight tackles, including three for losses totaling eight yards. Bryan Jarrett led the Eagles with 10 tackles and a pass broken up."He was always around the ball and made a lot of tackles," said Wulff of Belford. "He played well."Eastern had a monstrous first quarter, piling up 280 yards of offense on just 19 plays. Eastern scored its 28 points in the quarter in just 2:36 of possession time as Nichols completed 8-of-9 passes for 186 yards in the first quarter alone and Morris had 77 of his rushing yards.
Belford started EWU's first-quarter scoring barrage just 1:11 into the game when he stepped intercepted a NAU screen pass and stepped into the end zone for a 4-yard touchdown return.
Eastern scored on its first offensive possession to take a 14-0 lead as Tom McAndrews recovered a fumble in the end zone after a 17-yard catch by Boyce. After NAU scored, Eastern responded with an 80-yard touchdown catch and run by Shane Eller. Later in the quarter, after 52-yard run by Morris, Boyce hauled in a 21-yard touchdown catch from Nichols to give the Eagles a 28-7 advantage.
The two teams traded field goals in the second quarter as Eastern led 31-10 at intermission.
The Eagles scored on back-to-back possessions in the third quarter to take a 45-10 lead with 7:30 left to play in the period. A drive of 66 plays was capped by a 3-yard touchdown run by Morris. On EWU's next possession, Nichols found A.J. Jimerson for an 18-yard touchdown pass to cap a short, 47-yard drive.
Eastern closed its scoring on an 8-yard TD pass from Nichols to Morris that came after an interception and 10-yard return by EWU's Makai Borden.
Northern Arizona finished with 469 yards of offense as this year's game was a reversal from last season. The Lumberjacks scorched the Eagle defense for 541 yards of total offense as NAU scored 24-straight points in the second half to beat EWU 44-36 in Cheney, Wash. The two teams combined for 1,005 yards of offense, with Eastern finishing with 464.
Alan Henderson, who entered this year's meeting with 838 yards and six touchdowns this season, had 265 yards and two touchdowns for NAU last year against EWU. He finished with just 70 on 17 carries in this year's meeting.
Eastern has now won four-straight Big Sky Conference games, something that has happened just twice since becoming a league member in 1987. The Eagles won their last four games in 1993 to just miss the playoffs with a 7-3 record, and in 1997 the Eagle won their last five league games en route to a 12-2 finish and semifinal appearance in the FCS Playoffs. Even in EWU's playoff years in 1992, 2004 and 2005, Eastern was not able to win four-straight league games.
Besides the winning streak, Eastern is just happy to win a game decisively after struggling to wins the last two weekends over the bottom two teams in the league. Eastern beat Sacramento State 38-30 and then edged Northern Colorado 17-7.
"I think we lost some focus talking about something that is way out there, and it still is," added Wulff. "We aren't good enough to play poorly and win. If we lose any kind of focus and our mind isn't right, then we're going to stub our toe. There was too much talk of that going into the Sac State and Northern Colorado games. We won the games but we didn't play as well as we should have."

(www.goeags.com)