Spokane Tribe enters major partnership with Shock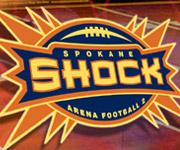 Spokane, WA - The Spokane Shock have announced that the Spokane Tribe of Indians has entered a three-year corporate sponsorship with the team. The partnership will give the Spokane Tribe exclusive naming rights to the field, which will now be named "Spokane Tribe Field at the Spokane Arena" for Shock home games.
"This is a great day for the Shock," Owner/CEO Brady Nelson said. "The Spokane Tribe has maintained an active role supporting the Spokane community and this partnership is an extension of that relationship."
"The Spokane Tribe is proud to partner with such a quality organization such as Shock Football," Tribal Spokesperson Jamie Sijohn said. "The team and its administration hold similar family goals as the Spokane Tribe and we believe this is a win-win partnership."
In what will be the first of many shared events, the Shock and the Spokane Tribe are teaming up today (Monday) to kickoff the annual Christmas Wish Drive. Members of the Spokane Tribe and the Shock, including Head Coach Adam Shackleford and SHOX the FOX, will be on hand at Spokane Veterans Memorial Arena to accept donations for the Christmas Wish Drive from 11-2 p.m. The purpose of Christmas Wish is to provide needy families in the community with goods and services they may need at Christmas time.
Fans are encouraged to donate toys for children of all ages. Cash donations will also be accepted. Paper Christmas ornaments can also be purchased in any denomination with the proceeds benefiting Christmas Wish. Donations can be dropped off in the arena's main parking lot - Lot A - just off of Boone Street.
Season tickets for the 2008 season are on sale now and can be purchased by calling 509 242 7462.