Zags vs. Cougs: A hard game to watch in the Inland Northwest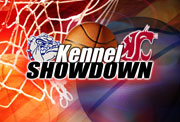 SPOKANE, Wash. - Viewing this week's Gonzaga-WSU match-up will prove to be quite the challenge for most fans. Not only is the game at the McCarthey Athletic Center totally sold out, but most fans won't even be able to see the game on TV either.
The 17
th
ranked Bulldogs host the 8
th
ranked Cougars Wednesday. GU Athletic Director Mike Roth said Tuesday that tickets to the game sold out faster than any other game the Bulldogs have played. And why not? If last year is any indicator, this year's game promises to be even better than last year's when the Cougars upset Gonzaga 77-67 in Pullman. The win snapped Gonzaga's seven-game winning streak in the series.
The problem for most fans this year is that watching the game will prove to be next to impossible. ESPN has decided to put the game on ESPNU, a station not available through local cable companies. That means if fans want to see the game, they'll have to subscribe to ESPNU on either DirectTV or DishNetwork.
ESPNU is available on DishNetwork Channel 148 with "America's Top 250" programming package and DirectTV channel 609 with "Premier 265+" programming package.
It might not have been that way if KHQ would have had its way. Before the season began, SpokaneSports Television (operated by KHQ TV) fought to win
rights to the GU-WSU game, but lost the bid due to the West Coast Conference's existing deal with ESPN. ESPN decided it wanted the game, then decided to place it on ESPNU instead of ESPN or ESPN2 - both of which are easily offered on local cable companies' systems.
Boiled down to simple terms, both KHQ and Gonzaga were powerless in the fight and lost out to the bigger, national network and a TV deal that doesn't always benefit the home team (or teams in this case).
So instead of watching the game over free TV (KHQ) or via cable, viewers will either have to subscribe to satellite service, head to a local sports bar, or just tough this one out.
Viewers wanting to lodge a complaint about the availability of the Gonzaga-Washington State basketball game can call the West Coast Conference at (650) 873-8622, or they may leave a comment through their website at: http://wccsports.cstv.com/feedback/west-feedback.html
ESPN may be contacted by calling: (860) 766-2000.