December Diabetes note from Stephanie
Posted:
Updated: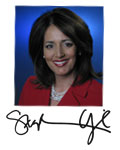 I am sure many of you are planning your holiday festivities in the coming weeks. Between juggling holiday gatherings and events for the kids and yourself, it can become stressful. In this newsletter I want to share a couple of links I have found to help you deal with both.
First, let's talk about those holiday parties. If you are working to keep your diabetes under control, this time of year can be a bit challenging --- between tempting foods and that holiday eggnog. I have located an article from the University of Iowa on some tips and information to manage what you eat and drink before and after you arrive at the party.
The American Diabetes Association also has a link to holiday meal planning that can be really helpful. While you are on that site, take a look at the recipe of the day or click here to see it.
Now for the kids, children with diabetes can often feel a little deprived around all those holiday foods. The goal is to help him or her enjoy the holidays and not let those food restrictions make them feel left out. The University of Pittsburgh Medical Center has good information to help parents cope with this. What I like is that it addresses age groups so you can tailor things to the stage your child is going through. Click here to see it.
In the meantime, I know we are in to the cold months but don't forget how important exercise is to managing your diabetes. Please, get out and walk the dog when you can. Also, continue to check out the diabetes page for the newest stories as they come into the newsroom.
Happy Holidays