President Bush calls Bhutto assassination "cowardly act"
Posted:
Updated: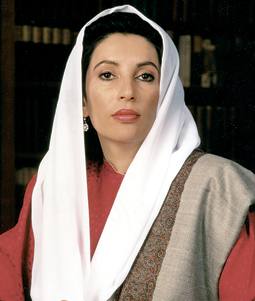 CRAWFORD, Texas (AP) - President Bush is demanding that those responsible for the assassination of Benazir Bhutto today in Pakistan be brought to justice. He spoke to reporters at his ranch in Crawford, Texas this morning, after the death of the former Pakistani prime minister who's been a leader of the opposition to President Pervez Musharraf.
Bush said the U.S. "strongly condemns" what he calls a "cowardly act by murderous extremists who are trying to undermine Pakistan's democracy." He says, "Those who committed this crime must be brought to justice." Bush expressed his condolences to Bhutto's family and to the families of others who were killed - and to the people of Pakistan. He called on them to honor Bhutto's memory by, in his words, "continuing with the democratic process for which she so bravely gave her life."
There has been grief and fury in Pakistan, following Bhutto's assassination. Supporters have been attacking police and burning tires in several cities. At the hospital where Bhutto died, some smashed glass and chanted slogans against President Pervez Musharraf.
The 54-year-old former prime minister was killed by a suicide attacker who struck just minutes after Bhutto addressed thousands of supporters in Rawalpindi. Bhutto's security adviser says she was shot in the neck and chest by the attacker, who then blew himself up. At least 20 others were killed in the attack.
Bhutto was rushed to the hospital and taken into emergency surgery. She died about an hour after the attack. As news of her death spread, angry supporters took to the streets in the northwestern city of Peshawar as well other areas, chanting slogans against Musharraf. In Rawalpindi, the site of the attack, Bhutto's supporters burned election posters from the ruling party and attacked police, who fled the scene. In Karachi, shop owners quickly closed their businesses as supporters from Bhutto's party burned tires on the roads.
For complete advancing coverage tune in to NBC Nightly News with Brian Williams at 530 p.m.