January 2008 Wedding Notes
Posted:
Updated: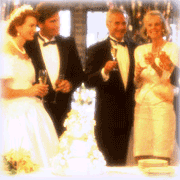 Happy New Year!
The Christmas holiday is often a popular time to get engaged. Congratulations, if you are one of the new brides-to-be who are joining this wedding community.
There is a lot of excitement ahead. We hope this monthly note will help you with your planning.
This month we have several new articles to share. The first is a guide to help you plan your wedding. This article is good whether you are just starting your wedding planning or in the final stages.
There is also a fun article if you want to compare proposal stories or know someone right now who is considering proposing. These are ideas you can borrow and make your own. Here is the link to the list of celebrity wedding proposal stories.
Have you signed up for your honeymoon registry yet? If not, Katie is back from the Deer Park Travel Agency with information on a complimentary honeymoon registry.
Also congratulations:
Alma Hinojosa
Renee Duncan
Jaquela Norman
Michelle Allen
All are winners of the Close to My Heart scrapbooking contest that was held in December. If you want to learn more about scrapbooking for your wedding click Close to My Heart.
As always, before we leave you we want to remind you of the printable month-by-month wedding checklist so that you can continue to plan your dream wedding.
We hope this January is the start of a incredible New Year.