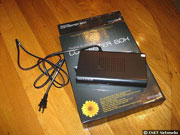 Courtesy: CNET
WASHINGTON - Coupons are now available to help those with older TV sets make the transition to digital television.
Beginning Feb. 18, 2009, anyone without a digital TV set who still gets their programming over the air instead of satellite or cable will no longer be able to receive a picture. That's because TV stations across the country are mandated to switch to all digital on that date. Anyone without the ability to receive a digital transmission will be left out in the dark.
To continue using an old analog set, viewers will need a converter box that's expected to cost between $50 and $70. The federal government has decided to help make the transition a little easier by offering $40 coupons to offset some of the cost.
Converter box coupons started to become available on January 1, 2008 through the National Telecommunications and Information Administration. On that date the agency began accepting requests for up to two coupons per household.
More about this story:
Feds share coupons to help TV transition (Yahoo News)
About Digital TV (KHQ)