Cougars' Caleb Forrest: big off the bench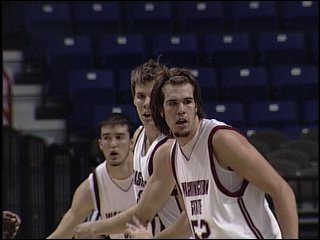 PULLMAN, Wash. - Caleb Forrest has been a backup his whole career with the Cougs. But the junior from Pagosa Springs, Colorado has made a name for himself with his energy off the bench, as well as his look.
Sometimes you can't see the forrest for the trees, which, in this case, are Aron Baynes and robbie Cowgill. Forrest has shown flashes of brilliance throughout his career and despite being a backup for three years, he wouldn't have it any other way saying, "The way I look at it is, I'm very blessed to be on a team where when I came in, we weren't very good. And now i'm on a top 10 team in the nation. I've always trusted coach and I told him before that it doesn't matter to me how much I play, because I know he's going to make the right decision to give us a chance to win."
That kind of attitude coupled with his all out effort has the whole team won over, including Robbie Cowgill who says, "I don't know if I've ever seen anyone play as hard as caleb does out there. Sometimes we'll joke, the ball won't even be in play and he'll be diving for it and making a play on it. You gotta love that kind of effort."
And Coach Tony Bennett who says, "You watch him, he's not the smoothest guy, he's not poetry in motion. But he's pretty effective. And he just has kind of an iron will inside."
The Colorado native's unique look also draws a lot of attention and ribbing from his teammates, especially Kyle Weaver.
"He reminds me of a man versus wild type of guy. I just think of a guy out there in the wild with a knife, just trying to make it, you know, surviving."
But Caleb might have to take that knife to the Forrest on his face after losing at UCLA.
"I was getting ready to cut it and Daven was like man, you should just keep it until we lose."
Even if he does have a new look this week, you can count on him bringing the same kind of energy