KHQ launches new traffic alerts for your commute home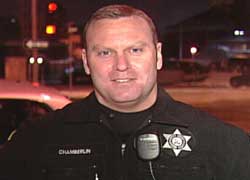 Deputy Craig Chamberlin (SCSO)
KHQ Right Now Traffic Alerts

KHQ Right Now wants to help make your commute home a little quicker and little safer. Sign up for KHQ Traffic Alerts, and before the work day is done you'll receive an email alerting you to any trouble spots out on the roads.

* denotes required fields




Thank you for signing up! You will receive a confirmation email shortly.
News Right Now

More Local News

More>>

TORONTO, Canada- According to police in Toronto, multiple injuries have been reported after a shooting outside of a restaurant Sunday evening. According to their Twitter, 9 people have been shot and the shooter is dead. Victims were taken to various trauma centers. Toronto fire crews are also on the scene, helping with recovery efforts. This is a developing story.

>>

TORONTO, Canada- According to police in Toronto, multiple injuries have been reported after a shooting outside of a restaurant Sunday evening. According to their Twitter, 9 people have been shot and the shooter is dead. Victims were taken to various trauma centers. Toronto fire crews are also on the scene, helping with recovery efforts. This is a developing story.

>>

SPOKANE, Wash. - Now this is a situation that's perm pressed for pun material. A suspect was found hidden inside a dryer unit during a domestic violence call by the Spokane Police K-9 unit. Early Sunday morning, police were working on a tip from the Domestic Violence unit that an offender could return to the victim's house, which would be in violation of a protection order. After officers spotted the suspect, he ran inside and refused to come out.

>>

SPOKANE, Wash. - Now this is a situation that's perm pressed for pun material. A suspect was found hidden inside a dryer unit during a domestic violence call by the Spokane Police K-9 unit. Early Sunday morning, police were working on a tip from the Domestic Violence unit that an offender could return to the victim's house, which would be in violation of a protection order. After officers spotted the suspect, he ran inside and refused to come out.

>>

RATHDRUM, Idaho - Idaho State Police responded to a fatal crash involving a California man Sunday afternoon in Rathdrum. Around 2:46 p.m., 68-year-old Jesse Villa of Torrance, Calif., was traveling westbound on Hwy 53 approaching Ramsey Rd. in a Honda motorcycle when 22-year-old Joseph Bitner of Athol, Idaho, turned to go northbound on Ramsey and collided with Villa's motorcycle. She was thrown from the motorcycle and succumbed to her injuries.

>>

RATHDRUM, Idaho - Idaho State Police responded to a fatal crash involving a California man Sunday afternoon in Rathdrum. Around 2:46 p.m., 68-year-old Jesse Villa of Torrance, Calif., was traveling westbound on Hwy 53 approaching Ramsey Rd. in a Honda motorcycle when 22-year-old Joseph Bitner of Athol, Idaho, turned to go northbound on Ramsey and collided with Villa's motorcycle. She was thrown from the motorcycle and succumbed to her injuries.

>>

SPOKANE VALLEY, Wash. - They say one of the hardest things to do is to forgive. But that's exactly what Danielle Williams has done. Last week, the mother of three was getting ready for work when she was surprised by her daughter. Sometime overnight, someone shattered her passenger side window outside her Spokane Valley home. Amazingly, whoever broke the window, didn't steal a single thing.

>>

SPOKANE VALLEY, Wash. - They say one of the hardest things to do is to forgive. But that's exactly what Danielle Williams has done. Last week, the mother of three was getting ready for work when she was surprised by her daughter. Sometime overnight, someone shattered her passenger side window outside her Spokane Valley home. Amazingly, whoever broke the window, didn't steal a single thing.

>>

MOSES LAKE, Wash. - Last month a Moses Lake man was arrested for drug possession, and it turns out some of those drugs were more serious than originally expected. During the arrest, the man was in possession of what appeared to be oxycodone pills. The pills had markings on them consistent with actual oxycodone medication, but they seemed inconsistent in shape and color. Officers sent the pills to the Washington State Patrol crime lab for analysis.

>>

MOSES LAKE, Wash. - Last month a Moses Lake man was arrested for drug possession, and it turns out some of those drugs were more serious than originally expected. During the arrest, the man was in possession of what appeared to be oxycodone pills. The pills had markings on them consistent with actual oxycodone medication, but they seemed inconsistent in shape and color. Officers sent the pills to the Washington State Patrol crime lab for analysis.

>>

MICA, Wash. - The John Belmont is now 60 percent contained. Crews say the fire reached 50-60 acres, but they have a line around 90 percent of the fire. They expect 3-4 days total for full suppression of the fire. Level 2 and 3 evacuations remain in place through the night into tomorrow morning. Red Cross has set up a shelter for evacuees at Bowdish Middle School in Spokane Valley.

>>

MICA, Wash. - The John Belmont is now 60 percent contained. Crews say the fire reached 50-60 acres, but they have a line around 90 percent of the fire. They expect 3-4 days total for full suppression of the fire. Level 2 and 3 evacuations remain in place through the night into tomorrow morning. Red Cross has set up a shelter for evacuees at Bowdish Middle School in Spokane Valley.

>>

PROSSER, Wash. (AP) - A student has sued two school districts in south-central Washington, alleging officials knew a former educator engaged in grooming behavior with students yet allowed him to keep working. The Tri-City Herald says the lawsuit names the Prosser and Granger school districts, where Stephen Castilleja worked. Castilleja was sentenced last fall to 27 years for taking pornographic photos and video of children.

>>

PROSSER, Wash. (AP) - A student has sued two school districts in south-central Washington, alleging officials knew a former educator engaged in grooming behavior with students yet allowed him to keep working. The Tri-City Herald says the lawsuit names the Prosser and Granger school districts, where Stephen Castilleja worked. Castilleja was sentenced last fall to 27 years for taking pornographic photos and video of children.

>>

MATTAWA, Wash. - The Southeast Washington Interagency Incident Management Team says the Buckshot fire is now 93 percent contained Saturday afternoon. The Road L fire near the Vernita bridge is now 75 percent contained.

>>

MATTAWA, Wash. - The Southeast Washington Interagency Incident Management Team says the Buckshot fire is now 93 percent contained Saturday afternoon. The Road L fire near the Vernita bridge is now 75 percent contained.

>>