Fairchild joins nation in prayer for deployed service members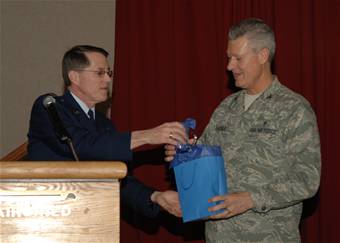 Capt. Mark Williams joined Fairchild to other groups across the nation in praying for the United States and its deployed service members.
by Staff Sgt. Connie L. Bias
92nd Air Refueling Wing Public Affairs
FAIRCHILD AIR FORCE BASE, Wash. -- Give them peace when they feel stressed, strength when exhaustion sets in, and hope when they feel alone far away from home.

This prayer, cited by 92nd Air Refueling Wing chaplain Capt. Mark Williams during Fairchild's National Prayer Luncheon Feb. 21, joined Fairchild to scores of groups across the United States praying for our country and its deployed servicemembers. About 130 attendees gathered at Club Fairchild to give thanks for our freedoms and appeal to God for continued guidance.

"It's especially appropriate during this time of war," said Col. Roger Watkins, 92nd Air Refueling Wing acting commander, "when many of our coworkers, friends, family and loved ones are deployed serving our nation in harm's way, defending our right to celebrate today, that we take pause and a moment to stop, remember and thank them for that service."

The National Prayer Breakfast or Luncheon originated in the Senate and House of Representatives. Official prayer groups were inaugurated in 1942 to bring together U.S. leadership figures in prayer. Since those first meetings, the national prayer observance has spread from the government to all 50 states, bringing together thousands of people in common prayer.

"We are very religiously diverse," said 92nd ARW chaplain Lt. Col. Jeffrey Neuberger. "Our nation guarantees the right of free exercise of religion in the first amendment of the Constitution. This is a right guaranteed to us as Americans and protected for us by those in uniform."

A right also protected by God and those who pray, according to guest speaker Col. Brian Van Sickle, Air Mobility Command's command chaplain. The 29-year chaplain traveled from Scott Air Force Base, Ill., for Fairchild's luncheon.

"You being here says something," said Colonel Van Sickle. "It says you believe in God. It says that you believe in prayer, and it says that you believe in a God who, when we invite Him in our prayers to care for our nation, will intervene because He loves us and is concerned about our nation."

The colonel went on to compare Team Fairchild members with the Biblical warrior Caleb, whose story can be found in the book of Exodus. Caleb was one of 12 men who scouted out the Lord's Promised Land, kept his hope high in the promises of God, and proved worthy to enter and claim the Promised Land after more than 40 years of following God's direction and leading others in the desert.

"Team Fairchild, you are trustworthy scouts," said Chaplain Van Sickle. "You are honorable survivors. You are people concerned with your successors. And as your command chaplain, as your prophet today if you will, I want to beg you today: please be faithful. Be strong and courageous. Claim the promises that are ours to claim and be patient. Most of all, be prayerful."