20-year-old arrested for double homicide in north Spokane fire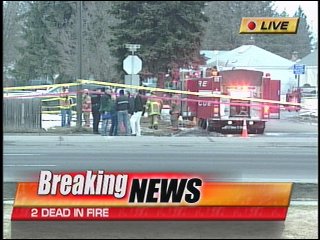 NORTH SPOKANE, Wash.- Sheriff's major crimes detectives arrested a 20-year-old Las Vegas, Nevada man for the slayings of a man and woman in north Spokane County on Thursday. Their bodies were found in a burning house on 512 east Elm.
Justin Crenshaw was arrested and booked into the Spokane County Jail about 2:30 a.m. Friday. He is charged with two counts of First Degree Murder.
Detectives developed Crenshaw as an acquaintance of the female victim late Thursday and contacted him at a relative's home. He was taken downtown where a search warrant was executed to obtain his fingerprints.
Although tentative identification has been made of the female victim, her name is being withheld until it is confirmed. The male victim was identified Thursday evening as Tanner E. Pehl, 20, the son of the homeowner where the crime occurred.
Detectives revealed Friday that the two victims apparently died from cutting and stabbing wounds.
Two swords, one similar to a scimitar and the other similar to a Samurai, were found near the bodies. However, detectives said their relationship to the murders was still unclear and they would continue searching for other possible murder weapons.
Crenshaw has only been in Spokane a couple of weeks and is believed to be a short-term boyfriend of the female victim, detectives said.
Investigators plan to return to the home at 512 E. Elm this morning to continue processing the home for evidence.
KHQ will be following this breaking news story throughout the morning and bring you the latest right here on our web channel and on KHQ Local News at 5 and 6.