WHL Playoffs: Spokane 5 - Everett 2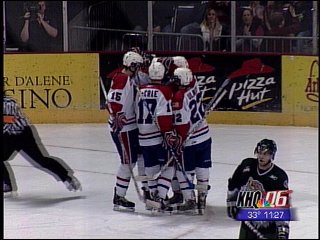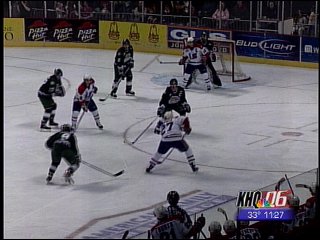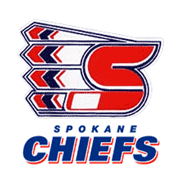 SPOKANE, Wash. - The Spokane Chiefs scored three first period power play goals and four total in a 5-2 win over the Everett Silvertips in game one of the first round of the playoffs Friday night.
The Chiefs hold a 1-0 lead in the best of seven series with game two on Saturday night in Spokane.

Drayson Bowman scored his first of two goals at 12:03 of the first as Spokane took advantage of an unsportsmanlike conduct call on Everett's Dane Crowley at 10:58. Trevor Glass and Mitch Wahl assisted on the goal.

David Rutherford then scored at 12:52 on the power play from Stefan Ulmer and Ondrej Roman. Judd Blackwater made it 3-0 after one at 17:51 with a slapper from the left wing. Roman and Justin McCrae had the assists.

The Silvertips scored 12-seconds into the second, but the Chiefs captain Chris Bruton pushed the lead back to three with a goal from the right circle at 3:37. That tally, Spokane's lone even strength goal, chased Leland Irving from the game.

Each team would score one more time, Everett at 5:19 of the third and Bowman at 11:42.

The Chiefs outshot Everett 44-28 on the night as Dustin Tokarski stopped 26 shots, including 12 in the first period. In total, Spokane was 4-9 on the power play, 2-3 on the penalty kill and took just three minor penalties.

Wahl, Glass and Roman each had two helpers on the night.