WHL Playoffs: Spokane 4 - Everett 1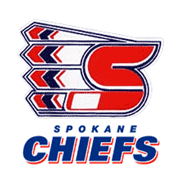 SPOKANE, Wash. - Ondrej Roman scored two goals and the Chiefs outshot the Everett Silvertips 45-19 on their way to a 4-1 win in game two of the best of seven first round on Saturday night in the Spokane Arena.

The Chiefs won both games this weekend and hold a 2-0 lead in the series with games three, four and five shifting to Everett next week.
The win guarantees that Spokane will host at least one more playoff game, whether that be game six of the first round or game one of the second round. Tickets for the Chiefs third home playoff game will go on sale on Monday morning at 9:00 am at the Chiefs office or at TicketsWest at (800) 325-SEAT.
Roman's first goal was a laser from the right circle on the power play, Spokane's fifth in two games versus Everett, at 15:57 of the first. David Rutherford assisted on the play.
Seth Compton tallied at 10:37 of the second for his first career playoff goal on assists from Dustin Donaghy and Stefan Ulmer.
Roman scored again after Rutherford fed the puck from behind the net to the 18-year-old in the slot for his second of the night at 2:18 of the third.
Everett's lone goal was scored at 14:36 by Clayton Bauer.
Mitch Wahl iced the game with an empty netter at 18:06 giving the 6,529 home fans a look at a 2-0 lead in the series.
The Chiefs and Silvertips will face off on Wednesday night at 7:00 in game three.

(www.spokanechiefs.com)