SHOCK WEATHER THE BLIZZARD, 64-48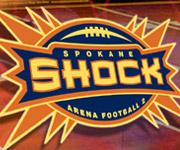 GREEN BAY, Wis. - For the third consecutive season, the Spokane Shock (1-0) opened up with a win, as they defeated the Green Bay Blizzard (0-1), 64-48.
"Coming in here and getting a win - although not always playing our best - is a big thing," Head Coach Adam Shackleford said. "Green Bay is a well-coached, physical football team and for us to come into their building and get a win is definitely a good thing for this football team."
The first touchdown of the season was a 28-yard completion by rookie QB Jason Murietta to fellow rookie (and roommate) WR Andy Olsen to cap off a 3-play scoring drive that tied the game at seven early in the first quarter.
The Shock continued to battle and took the lead for the first time on a two-yard touchdown reception by Kelvin Dickens with 3:51 left in the first quarter. On the ensuing drive, the Shock defense came up with a big stop and limited the Blizzard offense to a quick three and out and a field goal attempt. Blizzard K Bob Forstrom missed the kick wide right allowing Raul Vijil to return the missed attempt 36-yards for a touchdown. Vijil, who led the Shock receivers with eight receptions, added two more touchdowns - one rushing and one receiving.
Defensively, the Shock came up with six turnovers - four interceptions and two fumble recoveries - that proved to be the difference in the game. DB Sergio Gilliam - who was selected as the Defensive Player of the Game - tied the Shock record for most interceptions in a single game with three. Fellow, rookie LB Kevin McCullough came away with an interception that he ran back for a 34-yard touchdown that helped seal the victory for the Shock in the 4th quarter. Veteran DL Devon Parks also had an outstanding game with a forced fumble and a sack.
"We knew that we had to get some turnovers to get the ball in the hands of our offense," Gilliam explained. "We did that today."
The Shock will return to Spokane for the home opener presented by the Spokane Tribe of Indians and the US Army. Tickets for the April 5th game are still available and can be purchased by calling 325-SEAT.
"I can't wait to get home, we have the best fans in the af2," Shackleford said.